Birmingham band La Dharma talk origins, lyrics and isolation
A few weeks ago, in what now seems like another world, local indie heroes La Dharma were looking forward to playing a series of dates in support of their new single, Devils.
Then you-know-what came along and derailed their plans, as well of those of the whole live music scene and… well, everything else really. Cold comfort perhaps, but at least the internet is still up and running, meaning that Counteract can conduct remote interviews we had planned with up-and-coming rock stars – very useful as we implement our social distancing policy while getting the La Dharma low-down from lead singer Chris Leedham.
This is a terrible situation for everyone, not least musicians. How has it affected La Dharma in particular?
Well I think it's just put things on hold for everybody hasn't it? So many people are being affected by it all and obviously health comes first, so we all need to concentrate on that and help each other where we can. I'm sure I'll be annoying the guys with awful alcohol-induced song ideas I've come up with during a night of isolated drinking before long though, I've been guilty of that before. They very rarely tend to make it to the studio.
The songs or the guys?
No! The songs! The guys usually make it most of the time.
Glad to hear! Where did the name come from?
Jonah, our guitarist, read a book by Jack Kerouac called the Dharma Bums, then he looked up the meaning of Dharma and there was no official meaning for it in any western language, which we quite liked. We just added the 'La' to make it sound a bit French.
Sirens made quite a big impression on us when it was released. Where does that one sit in the La Dharma timeline?
It was the first single with the current line-up and was always designed to kind of set the scene for the first EP if you like.
We've had a listen to the new one. It rattles along at a good pace, with powerful, distinctive vocals and the trademark La Dharma storming chorus. As Tim Senna might say, it slaps harder than a Saturday night fight on Broad Street.
Thanks so much. A chorus is always going to be the make or break on whether somebody listens to the next verse I guess, so that's good to hear.
Most bands take a while to find their voice. It's amazing how you've established your sound so early on in your career.
Our sound was just kind of something that happened when blending all of our musical interests. I think we've found the type of music we want to make so it's sure to be a continued theme with the music we put out this year. Feels like there is a lot of space for variety which we tried to get across in the first EP.
Yeah, we loved the EP, but fon't rest on your laurels, tell us about the new one!
The new song's called 'Devils' and it's one we've had for a while to be honest. We've recently re-written it to try and give the melodies as much of an impact as the opening guitar riff and just decided it was ready to be released now. So yeah, people that have been kind enough to come and see us play live over the last year or so will hopefully recognise it. As far as the meaning behind the song, it's basically about that little devil you get on your shoulder that causes you to romanticise things that you maybe shouldn't.
The lyrics are important to you aren't they?
Yeah definitely, lyrics are massively important to us. I always struggle to just settle on lyrics and sometimes have had to re-record them after last minute changes. I like the idea of linking songs together as well, so there's a lot of references to previous songs and stuff so every song has a reason and it's all a bit of an ongoing story.
Read: Review: La Dharma soar on 'I Don't Believe That I'm Ready'
Sounds like there might be a concept album one day maybe?
Yeah that's certainly the plan!
Who do you look up to as lyricists and songwriters?
I'm personally a big 1975 fan and especially the lyricism of Matt Healy, I find their songwriting very honest. Van McCann and more recently Sam Fender always engage me with their lyrics as well. Then going back a bit, Ian Curtis, especially after watching 'Control'.
We always see you at gigs in town – you seem to make an effort to support other local bands. Is there anyone in particular you rate?
Yeah of course, there's so many I rate, which is why I'm at so many gigs, it's great! If I was going to pick one out I'd have to say The Nu, they've had a great year and the headline show they did at Mama Roux's was my favourite show of last year.
Finally then, and back on topic, how does the La Dharma magic come together?
Lyrics, vocal and synth melodies are usually me, but the whole song writing process is a collective thing with everybody's input. Sometimes we'll have a particular riff that Jonah (guitar) has written and build a song around that, or sometimes I'll take a song in and the lads will bring it to life. James and Boothy always write their own parts as well, on drums and bass. Then it's a case of making sure the song has it's part in the La Dharma story. We've got a fair few written that just don't fit at the minute either contextually or musically. I can be quite guilty of trying to push forward with songs that I relate to at that particular time.
So it's a bit like Peace then? As Harri Koisser puts it – "I plant the seeds and the rest of the boys fertilise it."
Haha! I'd prefer to say "I plant the bulb and the boys bring the rain and the sun."
Ah, so that explains why Devils has grown on us so much. (Sorry). Devils is out now on all good streaming platforms.
Like this? Try these…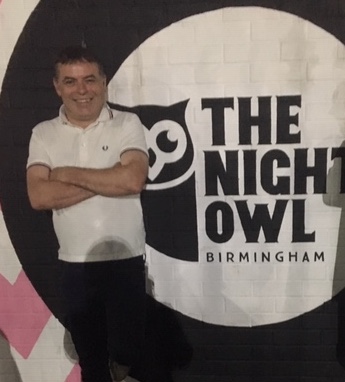 Militant anti-racist and Brummie. Lucky to be born in the most innovative musical city on Earth. If I hadn't been, I'd have moved here by now.