Dorcha talk app design, the fifth dimension and new single, Last Minute
Birmingham's genre-fluid experimentalists Dorcha haven't taken 2020 lying down. Last month they treated us to the wonky noise-pop of Monkey Dust, and we've now been treated to another slice of weirdness in the form of electro banger Last Minute.
Both singles are taken from their upcoming album, Honey Badger, a multimedia odyssey thats equal parts Kate Bush and King Crimson. You'll have to wait until it's released on 6th November to hear the whole thing. In the meantime, we caught up with Dorcha to talk introversion, collaboration, and the fifth dimension…
---
How's 2020 been for Dorcha?
Pretty weird, as is for the world over. It's pretty mad to think we were originally aiming to launch the album in May. I don't know how we'd have pulled that off but somehow things would just happen back then? We were rehearsing at the start of the year for the live show. Which was about to amp up even more then lockdown BAMMED us in the face. So we're all a bit disjointed now. We haven't played live since November 2019, as we were freeing up some time for start of 2020 to just rehearse. Which is a bit tough to think about now. But we're excited to finally unleash the beast, the album. It's been a long time coming and we were still determined to get it out this year, live shows or not. We've just reimagined how we're doing it. Which isn't a bad thing.
What's been the driving force behind Honey Badger?
Embracing weirdness. Accepting our output for what it is; a mad concoction of styles, genres, personalities. Wanting to take listeners on a bit of a wild trip. There's a loose concept of a party behind it all… we won't enforce too much of our own direction on this as we want everyone to take what they want from the album without imposing meanings on people. But as a bunch of introverts, we hope people might be able to relate to the feeling of being flung into the maelstrom, trying to navigate this big ol' party.
How does 'Monkey Dust', which features some of Dorcha's noisiest moments to date, fit in to Honey Badger as a whole?
Conceptually it's a bit of an experimental anthem for introverts, so encompasses the meaning of the album as a whole quite well. Words often falter and fail us at the best of times. This song is a search for inner-strength, a brave attempt at throwing yourself out of yourself in order to find yourself, through the chaos, noise & confusion.
Sonically, the bookended choruses nod to the psychedelia present across the album, then there's a mad synth disco punk party in the middle… which you'll also find in other places… then one of our favourite bits to play together live… 'the grungy bit'. Hopefully there's a few boxes ticked there.
---
You mention that there's a feature-length film to accompany Honey Badger – how did this come about? Can you tell us who you collaborated with on it?
Originally we'd planned to do the whole AV experience thing with the live launch, working with different people to dress and light the space, having different zones and live visuals. So I guess the visuals project now encompasses all that – it's us trying to communicate how the space might have looked and felt but in the new remote situation we're all in. It's not a feature-length film in the sense of a narrative but more a full length visual stream that'll explore each tune in the same spirit we might have approached them in our live show. We're working with some amazing people to get it together, trying not to put too many lines in place so everyone can react pretty freely to the same source material… In theory, reflecting the different characters we found popping out of the album sonically. It means we keep being greeted with interpretations we hadn't imagined ourselves which is really exciting.
Our good friends Brid and Stu from Matters are doing a lot of the visuals and helping us tie it all together. But we've stepped outside of Brum, across the world even, for more collaborators. Other collaborators include IMPATV, the visual art duo from Manchester behind the first single Monkey Dust. As well as Natalie Sharpe, aka Lone Taxidermist (visual artist), Shiyi Li (animator) and Eric Tobua (visual artist) plus further performers and contributors which we'd like to save announcing til closer to the time. It's gonna be awesome.
There's a tab on your snazzy new website that reads – "ARCADE – COMING SOON". What's that all about?
The website actually started out as a huge app design… then we realised that might be nuts and a step too far for now, but we still wanted to push some weirdness everyone's way. So, although the app's on the back burner, the arcade is a way for us to explore that more interactive tech. Our glorious coding guy Ben Lee has been working with our Beth on some fun stuff, all will be revealed in the next couple of weeks…
I think the Arcade is like the seedy little back room at a bar; a different scene when you need a little space from the main room.
Meesha and Anna – your side project Pretty Grim just scored a residency with Fat Out festival in Manchester next month – what can viewers expect?
Ah thanks for picking that up. Yeah we're dead chuffed to be off up to Salford's infamous Islington Mill to just spend some time with our lovely pal Kaila Whyte making music and art madness for Fat Out. It's such an awesome festival so we're just so happy to be a part of it, whatever form that may end up taking. As for what to expect… well that's for us to figure out whilst we're on the residency but we're aiming to create an adaptable and immersive AV experience combining our loves of raucous live gigs, electronic music, queer culture & immersive performance art.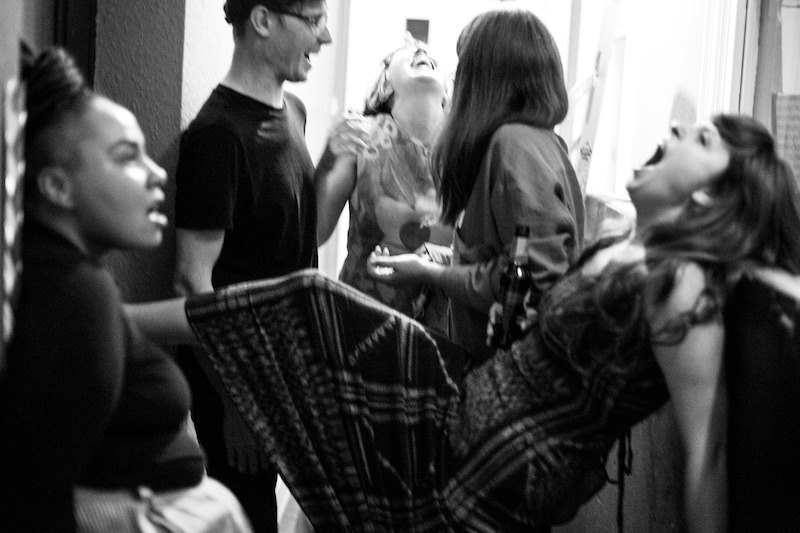 When, and how, do you envision fans seeing Dorcha play again?
At the minute we would love to visualize us playing that album launch party we had planned for May 2020, in a multi-sensorial space that supports and enhances the musical experience. We're thinking big, man! But in reality, we would just love to get in a room together and play the music. Making music in the company of others is something that has been a huge part of our lives since we were kids, and we're missing it like hell! The first priority is for us to regroup and play together. It could be the deepest musical moment of our lives – the arrival home from a long and troubling journey. All of that will have to happen in the rehearsal room without an audience, but I'm sure that the first gigs back will be a sweet relief like no other. As for when, we would imagine it will be as soon as we can play live in public, hopefully generating cyclical audience energy to boost us off into the 5th dimension.
Dorcha's new single 'Last Minute is out now, via Box Records. The album, Honey Badger, is out 6th November and available to preorder now via bandcamp.
Header image by Sam Wood
Like this? Try these…
Visual artist, multi-instrumentalist, and scrounger. Always wearing headphones, probably listening to Ezra Furman, Sleater-Kinney or Goat.