10 gigs in Birmingham this February for less than a tenner
Great music doesn't have to come out of the arena. There are countless independent venues in Birmingham hosting great talent daily for less than you think. Here are 10 gigs in the city this month with tickets all for under a tenner!
---
Kaleidoscope: Sunshine Frisbee Laserbeam, The Lizards and Nova
Who: Live music and art night featuring Sunshine Frisbee Laserbeam as headliners
When: 1st February
Where: The Night Owl
Tickets: Free entry
Kaleidoscope is a brand new monthly event hosting local live music and artwork at Digbeth's The Night Owl. Local heroes Sunshine Frisbee Laserbeam bring their raucous energy and high octane indie riffs alongside supports The Lizards and Nova. Plus a chance to purchase artwork to support local, independent artists.
---
Trudy and the Romance, Quinn, Deaf Balloons and Hankks
Who: Indie rock with a beachy, shanty-sea tale edge
When: 2nd February
Where: The Castle & Falcon
Tickets: £7, here
Lovelorn and seasick, Trudy and the Romance bring back the true hopeless romantic furore of indie music. Expect rocking waves of chords and chorus that echo each other like drunk sailors at sea. Supports Quinn and Hankks hold you right with bear hug guitar riffs, whilst Deaf Balloons take inspiration from 90's indie greats including The Pixies and Dinosaur Jr.
---
Jerry Williams, She, Huds and Lucy Shaw
Who: Singer-songwriter performing colourful guitar-pop.
Where: The Flapper
When: 3rd February
Tickets: £6, here
21 year old Jerry Williams captures her crowd with strong performances, sugary sweet with a punch of strong emotion. Her charismatic persona has seen her play The Great Escape festival and play with Declan McKenna. Support comes from dream pop band She, avant-garde rock group Huds and enchanting songstress Lucy Shaw.
---
Peach Club,  Future Fires and Miss World
Who: Norwich riot grrrls alongside garage-rock group Future Files and acoustic duo Miss World
Where: The Sunflower Lounge
When: 6th February
Tickets: £6, here
Don't be fooled by the image of a girl band, as Peach Club will tear you apart through grungy guitar riffs and heated lyrics. This group are not to be messed with, and are one to keep an eye on as they conquer the world with music that doesn't take anything lying down.
---
The Sunset Beach Hut, The Institutes, Second Hand Genes and Second Cities
Who: Ethereal dream pop fully loaded with synth
Where: The Sunflower Lounge
When: 9th February
Tickets: £6, here
Celebrating the release of newest single "Comfort" – The Sunset Beach Hut will be performing at one of their favourite venues. Ethereal and glowing, Sunset Beach Hut are loaded with synths and drum beats the float between subdued guitar riffs. Fans of The Japanese House will dig this band, who are supported by The Institutes, Second Hand Genes and Second Cities.
---
Victories at Sea, Hoopla Blue, Arc Vel, MATTERS, Outlander, Flamingo Flame and Mystereon
Who: This is Tmrw presents an all dayer of new music, including indie-disco headliners Victories at Sea.
Where: Hare & Hounds
When: 10th February
Tickets: £7, here
All the new, local music you need to hear, all in one day. Local favourites Victories at Sea bring indie-disco into the new age, combining their sound with post punk guitars. Having received high praise in NME, The Guardian, XFM and more, this act is sure not to be missed. Victories at Sea are just the icing on the cake though, as they top a bill of brilliant local talent.
---
Higher Power, Chamber and Stranded
Who: Leeds based hardcore alongside local talent
Where: The Asylum
When: 13th February
Tickets: £7 on the door
Flying the flag for Leeds hardcore are Higher Power, embarking on a headline tour after an incredible year supporting Every Time I Die & Comeback Kid. West Midlands/ Manchester based Chamber will be supporting alongside local act Stranded.
---
RedFaces and Rai Kah Mercury
Who: Sheffield based indie maestros alongside local blues/rock and roll act
Where: Hare & Hounds
When: 14th February
Tickets: £8, here
Alternative guitar music that packs a punch. RedFaces return to Birmingham to celebrate their new singles "Take it or Leave It" and "Wise Up". Expect pounding bass and hypnotic drums that builds into indie-verging-on-electro with chant-able chorus to appease hungry festival crowds. Supported by blues/rock and roll hybrid Rai Kah Mercury, who recently supported Violet.
---
Free Throw and Dry Jacket
Who: Good, old-fashioned American pop-punk
Where: The Sunflower Lounge
When: 20th February
Tickets: £9, here
In their words, Free Throw are "five dudes in a van trying to play shows, drink beer, and make friends". With their name originating from a basket ball game, Free Throw are care free and easy going, much like their lyricism and pop-punk sound. Support hails from pessimistic post-punk outfit Dryjacket.
---
High Tyde, Bad Nerves and Ivory Wave
Who: Fresh faced and brand spanking new indie band from Brighton
When: 22nd February
Where: Mama Roux
Tickets: £8, here
Don't let their young appearance fool you, High Tyde have the smarts to conjure up an indie smash hit such as "Young Offenders". Big drums and even bigger guitars match lyrics of anarchy and adolescence. High Tyde have spent years growing a following on the south coast, and now its time to give the midlands a go. Support comes from Bad Nerves and Ivory Wave.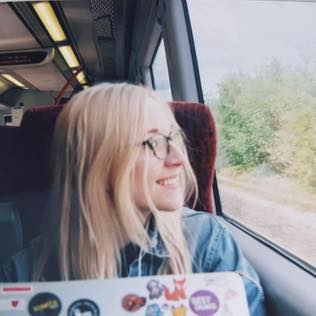 PR, events and social media by day, lover of all things geeky and retro. Can often be found scribbling notes at the back of the gig.