Venue guide: The Asylum, Birmingham
The Asylum is a 600-capacity purpose-built music venue, which is around a ten minute walk from Snow Hill station.
Venue information
Specialising in the heavier and alternative sides of the musical spectrum, The Asylum has hosted a range of acts including Funeral for a Friend, Trivium and The Automatic. It is also home of Birmingham's Uprawr club night every Saturday.
Asylum 1 on the ground floor has full disabled access and toilets and staff are happy to assist patrons accessing Asylum 2 via stairs. Cloakroom services are available (£1 per item) and snacks are available, although the venue advises you eat before arrival.
What's on
Information on upcoming events can be found via theasylumvenue.co.uk.
Getting there
The Asylum is just a few minutes from Snow Hill train station – walk along Constitution Hill before taking a right up Hampton Street.
By car
For cars, there is lit on street parking outside the venue or a car park directly opposite the main entrance.
Public transport
Bus services that stop on Constitution Hill (a short walk from the venue) include the 7, 16, 46, 74, 79
Midland Metro trams run frequently between Wolverhampton and Birmingham 7 days a week and stop at St Paul's metro stop on Constitution Hill. For more information on public transport in the West Midlands, please visit networkwestmidlands.com.
Spot something wrong? Are we missing a venue? Let us know at richard@counteract.co.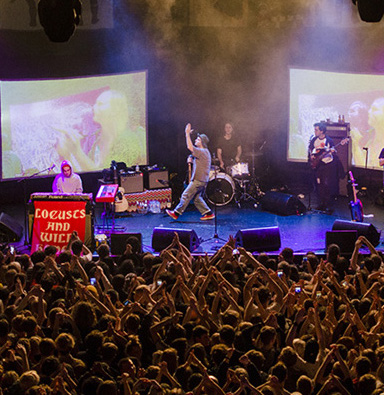 Key information on the best live music venues in and around Birmingham, Coventry, Wolverhampton and the surrounds.