Venue guide: Actress & Bishop, Birmingham
The Actress & Bishop is a late-night bar and terrace situated in the residential city suburb of St. Paul's Square, just moments away from the historical Jewellery Quarter.
A standard-barer of the Birmingham music scene for years, The Actress & Bishop sits a few short steps from another vintage local venue, The Jam House. The Actress is famed for its late opening hours, nightly bands and DJs and Scenic Smoking Terrace. Ice cold Jagermeister is served at good prices, as is a large range of world beers.
Venue information
The Actress & Bishop claims to be Birmingham's best and original music pub. The main venue is upstairs from the bar, and the small stage downstairs hosts acoustic acts and DJs all week long. The venue sits at the foot of the BT tower, among several other bars and restaurants.
What's on
Find out what's coming up at the The Actress & Bishop here.
Getting to the Actress & Bishop
By car
The Actress & Bishop is situated just off St Paul's square, a 30 second drive from the Jewellery Quarter. It is a minute or two from Birmingham City Centre and accessible from all main arterial roads.
Parking
Minimal parking is available at the side of surrounding streets, or the venue is a 5 minute walk from the multi-storey Livery Street car park.
By public transport
Buses to the Jewellery Quarter run all day, as well as trains to Snow Hill station and the JQ metro station. For more information on public transport in the West Midlands, please visit networkwestmidlands.com.
Spot something wrong? Are we missing a venue? Let us know at richard@counteract.co.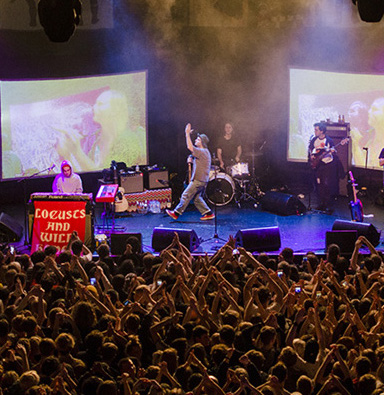 Key information on the best live music venues in and around Birmingham, Coventry, Wolverhampton and the surrounds.