Creation Records founder Alan McGee to talk Britpop, Oasis & more on UK tour
Oasis. One of the biggest bands to come out of the UK. The Britpop five piece who took full control of the charts, airwaves and festival circuits of the 1990s, paving the way for the future of British music. However, if you look beyond the Gallagher brothers, you'll find the man who started it all: Alan McGee.
[amazon bestseller='oasis vinyl']
Along with Oasis, Alan McGee also signed other critically acclaimed bands Jesus and Mary Chain, My Bloody Valentine, Primal Scream and The Libertines to name a few to his label Creation Records, a leading label that he co-founded and ran from 1983 to 1999. Now, Alan is taking his knowledge and stories from the golden era of Britpop and indie music on the road across the UK for a series of discussions and Q&A style events, heading to Digbeth's The Night Owl on Saturday, May 11.
As well as a special appearance by McGee, music fans will be joined by host Rob Fiddaman, broadcaster and author known for The Britpop Revolution Show on BBC Radio Stoke. If that's not all, the charismatic rock and roll group The Jade Assembly will be performing live. Known for their hits 'Walking Down Manny Road' and 'Our Town', the colossal rock and roll quartet will soundtrack the evening with poetic indie rock ballads that fans of Oasis, Kasabian, The Stone Roses, Arctic Monkeys and more will love. Support also comes from acoustic act Chris Bloor, a Midlands based solo guitarist, writer and performer as well as being the drummer for Birmingham rising stars Blue Nation.
Alan McGee will be taking his Q&A on tour across the UK:
10 May – Pyramid Arts Centre – Warrington
11 May – The Night Owl – Birmingham
25 May – Square Chapel – Halifax
30 May Norwich Arts Centre
31 May – The Thunderbolt – Bristol
6 June – Corran Halls – Oban
7 June – Queens Hall – Dunoon
11 June – Exeter Phoenix
21 June – St Pauls – Worthing
22 June – The Guildhall – Cambridge
28 June – The Old Dr Bells Baths – Edinburgh
29 June – Café Drummond – Aberdeen
23 August – The Venue – Derby
30 August – The Shed in Leicester
An Evening with Alan McGee takes place at 7:30pm on Saturday, May 11. Tickets include the discussion and Q&A with Alan McGee, live music from The Jade Assembly and DJs until 4am.
Like this? Try these…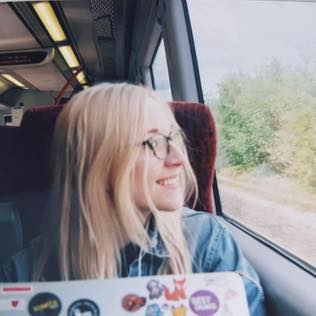 PR, events and social media by day, lover of all things geeky and retro. Can often be found scribbling notes at the back of the gig.