Review: Snapped Ankles bring dendrophilic ecstasy to Kings Heath
Snapped Ankles brought their shamanic electronica to the Hare & Hounds on 9th October, with support from Adrena Adrena and Nuha Ruby Ra.
Tickets for this show were snapped (heh) up before This Is Tmrw had announced the line up of support acts, so it's fair to assume that most of the audience didn't know quite what they were in for. Adrena Adrena, a project comprised of E-Da Kazuhisa (best known as drummer of Japanese noise band Boredoms) and visual artist Daisy Dickinson, are first on. The crowd are greeted with an 8ft tall white orb, across which Dickinson's projections are mapped. The natural world is a recurring theme, with fungi and slime moulds blooming across the sphere. Kazuhisa's drums underpin the sea of electronic noise, and beneath the dances a light triggered by the percussion. Adrena Adrena are microcosmic, cramming an otherwordly performance into their short stage time.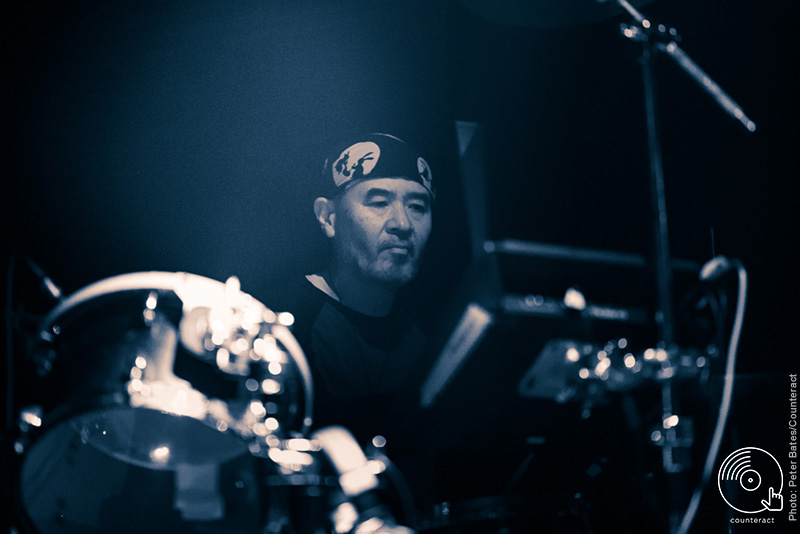 Adrena Adrena
Nuha Ruby Ra is next. The house music cuts out and is replaced by an authorative shreiking as Ra cuts through the crowd, holding the mic. Best known for her role in London alt-rock collective Arrows of Love, Ra is a force to be reckoned with as a solo performer. Carefully placed strobes cast her face in chiaroscuro as howls into the crowd.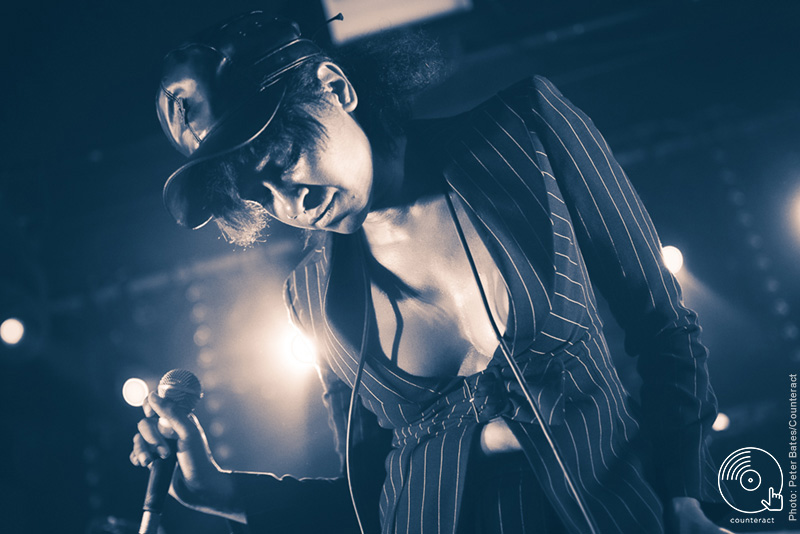 Nuha Ruby Ra
"I usually play with a band, but tonight I have a machine". The backing track whirrs into action as Ra steps back into the audience, singing directly into the faces of nervous individuals. The room is tightly packed but subdued, and Ra's frustration is palpable – she later admits that at this point in the set she was scanning the crowd for women, who were few and far between. The set itself is a triumph, though. An ethereal vocal performance reminiscent of Björk or Kate Bush is offset by apocalyptic electronic beats.
The headline act are a lot more unassuming when they make it to the stage. Clad in their trademark boiler/ghillie suit combos, Snapped Ankles' set gets off to a slow start as they layer up a drone of resonant synths and beats. The restless crowd turns their attention back to the stage as that drone morphs into the hazy 'Let's Revel' from their 2017 debut Come Play The Trees. The temperature's rising in the Hare & Hounds, and before long Snapped Ankles have it feeling like a subtropical rave.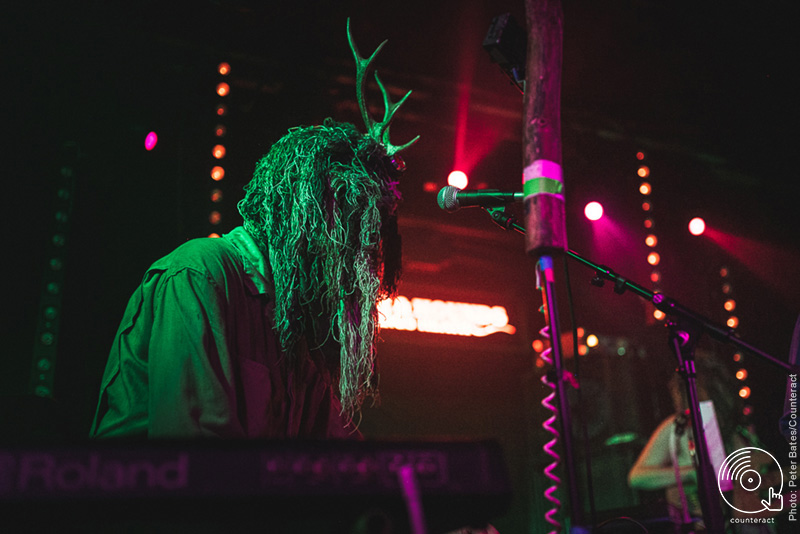 Snapped Ankles
The whistling synth lines that thread their way through the band's 2019 release Stunning Luxury are the driving force behind the set. Their trademark 'log-synths' (for the uninitiated, large tree branches with percussion synths attached to them) lend the performance a satisfyingly shamanic edge – picture the staff carried by Tolkien's Radagast the Brown, but it has a mic affixed to one end and makes a satisfying "ping" noise when hit.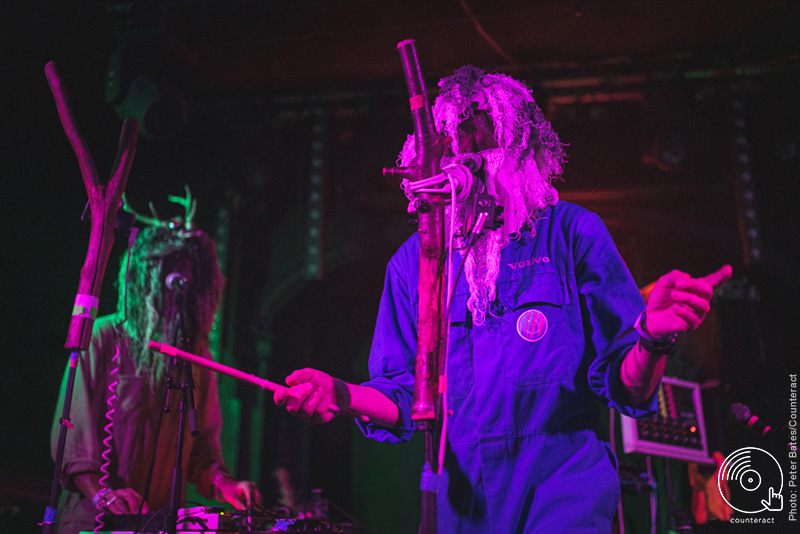 Snapped Ankles
Snapped Ankles' hour-long set feels like a force of nature once it gets going. The jaunty sing-a-long jam 'Pestisound (Moving Out)' injects a bit of festival abandon into the rainy Kings Heath evening, and fan favourites 'I Want My Minutes Back' and 'Johnny Guitar Calling Gosta Berlin' are the cherry on top.
Photographs by Peter Bates
Visual artist, multi-instrumentalist, and scrounger. Always wearing headphones, probably listening to Ezra Furman, Sleater-Kinney or Goat.