Review: Pregoblin bring meticulous madness to the Hare & Hounds
South London duo Alex Sebley and Jessica Winter are Pregoblin, a funk infused, postmodern-romantic duo who brought their years of efforts to Birmingham's Hare and Hounds on Tuesday, May 7th. The fruits of their labour has birthed just one song – 'Combustion'. However, the meticulous madness of Pregoblin could be the key to their come up.
[amazon bestseller="vinyl"]
Opening up, O Girdler were worlds apart from headliners Pregoblin, bringing a tight knit, Southern inspired sound. That ever present All-American-British-Bedroom-Rock indie that has swept the current alternative airwaves, O Girdler brought sunsets of hushes slide guitars and blistering bass lines, similar to the likes of Bright Eyes or the more current Willie J Healey. The synchronised guitar tuning into slide guitars that closed their set was an interesting transition to say the least, but in one way or another helped the paced rock and roll ebb and flow to a natural conclusion.
Birmingham based experimentalists Sofa King brought the most amount of noise and bodies as Dianne Velvet fiddled with reverb and feedback like a chemical formula. The full band threw themselves into the uber anti-capitalist 'Gucci Lemon Square'. A raucous clash of Tetris-like beeps from the guitar tones, to a drum beat that can just about keep up as Dianne chants 'just got to get that Gucci.' But, much like the aforementioned arcade game, everything manages to snap together as each riff, bass line and lyric bounce off another like a pinball.
A funfair carousel of misery follows with 'He Doesn't Love Me Anymore' before springing back to life with fan favourite 'Fighting Mongoose'. Vocal tones similar to Placebo juxtapose preppy guitar riffs and nonsensical lyrics as Dianne sits on the floor, plasters on knees, next to her keyboard. After a brief instrumental Sofa King melt into their debut single 'Sweet and Sticky', almost a homage to the dripping ice-cream gooeyness of Ariel Pink. Now standing, telecaster in hand, Dianne Velvet and co finish on a high with 'Cocaine' and the crowd-pleasing, tongue in cheek mantra of 'We Don't Need No Cocaine.'
With the name inspired by Pregabalin, the drug used by Sebley to kick heroin, the duo transcended into their own euphoric world. Like watching two people drunkenly submerged in karaoke, Pregoblin (with their backs to audiences) serenade modern romance and summarise by repeating 'don't call it pussy it don't live on the floor.' 'Moving On' and 'Everybody's Ill' are prominent leads with 80s funk bass lines and heavy riffs, pulled back into the realm of weird through heavy use of keys.
Closing track, and their only single, 'Combustion' lit alight and seemed to be the way the duo should travel. The demonic hushes Sebley's distorted, robotic voice acted like the demon in the room on a come down, beats and claps flood like a nightclub track as Winter and Sebley serenade mainly each other about setting on fire, but continuing the party. A strong sentiment for a duo just missing the mark on what could have been a dynamic and triumphant welcoming to Birmingham.
Like this? Try these…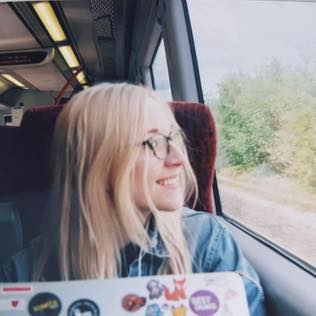 PR, events and social media by day, lover of all things geeky and retro. Can often be found scribbling notes at the back of the gig.