10 gigs in Birmingham this May for less than a tenner
We're nearing closer and closer to the summer. Albums are being teased and pre-festival gigs are well in swing. Before you splurge on a three-figure ticket to sit in a field for three days, warm yourselves up with some fantastic local music – all for less than a pint in an arena tent.
Her's + Pizzagirl + Chartreuse
Who: Refreshingly modern beach scuzz
When: 2nd May
Where: Hare and Hounds
Tickets: £8
Contemplated and melancholic one minute, beachy, scuzzy and laid back the next. Her's keep things fresh and modern, going with the flow like the waves – expect surprises from this summer angst ridden group.  With support from the bounding and 80's inspire Pizzagirl and Chartreuse.
---
Kaleidoscope: The Bank Accounts + GorillaBot + The Nature Centre
Who: Live music and arts market featuring moody, melodic and lo-fi The Bank Accounts.
When: 3rd May
Where: The Night Owl 
Tickets: Free event
Kaleidoscope is your monthly fill of live, psych infused alternative music alongside a loca arts market. This month, the national members of The Bank Accounts are all landing in Birmingham with some indie pop bangers, alongside GorillaBot, The Nature Centre and a special DJ set from The Mother's Earth Experiment.
---
Bad Girlfriend + Rascalton + Drool + P.E.T
Who: Splashed with 70's punk, Bad Girlfriend elevate garage punk to a whole new level.
When: 4th May
Where: The Sunflower Lounge
Tickets: £6
Birmingham has seen a surge of garage punk as of late, which is definitely nothing to complain about. Celebrating the release of their new EP, folk rock and blues inspired Bad Girlfriend are hosting a four part party, kicking off at The Sunflower Lounge with supports hand picked from the blooming punk scene.
---
Sugarthief + Bedroom Boredom + guests
Who: Indie pop rockers performing charity stripped back set
When: 10th May
Where: The Sunflower Lounge
Tickets: £6
Teaming up with local magazine Peace and Indiependance –  Sugarthief, Bedroom Boredom, Echo Beach!, Jack in a Box and Spilt Milk Society are all aiming to raise money for Severn Hospice.  Refusing to be pigeon holed (but they make indie pop music) Sugarthief and co are teaming up a stripped back, acoustic gig with a monumental line up.
---
Riscas + Paris Youth Foundation + Candid + The Clause
Who: West Midlands' rascals
When: 12th May
Where: The Castle and Falcon
Tickets: £7
Well known and loved in Birmingham, Riscas' tropical indie punches bring sunshine to this otherwise grey city. Teasing on Twitter about a special 'supergroup' collaboration at this gig, it's not to be missed. Better hurry, as of writing 75% of tickets have already been sold for one of the most anticipated local gigs of the year.
---
Partner + Specials guests
Who: Canadian alt rock duo.
When: 13th May
Where: The Sunflower Lounge
Tickets: £8
Hailing from the other side of the pond, Partner bring an amalgamation of pop punk, 80's glam and lo-fi indie that makes for chirpy, bittersweet music breaching subjects of hating your job, working all weekend and going out of your way for an above average girl.
---
Alessi's Ark + special guests
Who: London based singer/songwriter with ties to Birght Eyes and the Maccabees.
When: 14th May
Where: The Cuban Embassy
Tickets: £7.70
Ethereal, yet witty with lyricism, Alessi's Ark's tracks bring sunshine to soul pop. A new name to some, but Alessi's Ark is currently touring fourth album "Love is the Currency" – a album fulfilled with the theme of healing someone through music. Alessi's Ark covers love, grief and healing – all with a glittering and ethereal melody.
---
Nilufer Yanya + Alaskalaska
Who: Hotly tipped West Londener with an aching, soulful sound
When: 21st May
Where: The Sunflower Lounge
Tickets: £8
After sharing the stage with the liked of The XX, Mitski and Broken Social Scene, Nilufer is finally taking the centre spotlight. Her hauntingly good singles 'Thanks 4 Nothing' and "Golden Cage" trickle R&B and soul pop influences like honey over heartache lyrics. Nilufer is about to go big, so snap up the chance to see her on the cheap whilst you can.
---
The Regrette's + special guests
Who:  Ferocious garage pop that is anything but girly.
When: 22nd May
Where: The Sunflower Lounge
Tickets: £7
They've been tearing up the LA club scene with the likes of Kate Nash and Deap Vally – which shows you The Regrettes flavour. Witty, ferocious and independent – this is garage pop that can speak for itself. For your new grungy, feminist summer fix, look no further.
---
Only sun + special guests
Who: Indie rock which harps back to the days of early 200s rock glory days.
When: 30th May
Where: The Sunflower Lounge
Tickets: £6
Releasing 12 new tracks in 2018, Only Sun are moving as fast as their tenacious riffs. Having that perfect combination of spoken word pop punk and modern day beachy indie – Only Sun's tracks are both nostalgic and brand new all at once.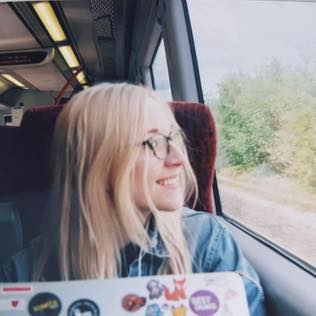 PR, events and social media by day, lover of all things geeky and retro. Can often be found scribbling notes at the back of the gig.