Interview: Getting Wavy with the Sum Cellar Crew
In Birmingham, everywhere you look the Sum Cellar presence looms. It's a name that has crept – steadily but surely – into the city's very foundations, coursing through its urban circulatory system; online, photos of brutalist buildings sit behind held banners adorning the name; on the streets, branded stickers appear on graffiti murals, battered lampposts, and decaying buildings; and on the mouths of the people, tales of their next-level events continue to spread far and wide.
So, just who are the minds behind the collective? What are their hopes, dreams, and motivations? Well, we clustered into an old Irish pub in Digbeth to find out.
Loaded up with pints of Guinness we nestled into a particularly cosy corner. To unmask the troupe once and for all it was time to get some introductions underway. Trying to root out exactly "who's in charge" makes one thing immediately clear: there is no hierarchy. Everyone involved plays a unique role within the outfit with praise and admiration distributed equally throughout their ranks.

Taking care of the brand image, artist and venue bookings, and the artwork are George Hadley and Brad Price. The rest of the gang is populated by the DJing/MCing/Producing trio Jack Heap, Dom Smith, and Jay Cornforth, who perform under the aliases of Sake, Itmek, and Just Jay respectively. Of course, these "roles" are far from fixed constants, the collaborative and free-flowing nature of the group is laid out in less than two gulps of a pint – romantic connotations to one side, the natural chemistry between them is obvious. As Jay neatly puts, "we started this as a group, and that's what made it happen".
Although Sum Cellar is first and foremost a brand, a strong sense of community (dare I say family) resonates through their words and actions. Having never attended university, and always working in the city, they've been able to collectively live, breath and experience Birmingham on the most intimate of levels; a strong understanding of its place in the UK, its people and its history lie at the very core of what you see and hear. Evident in their brutalist and Brum-centric themes (commonplace in the branding's artwork and promotional materials) their motivations lie in creating something of a sub-culture – central to the cultivation of a strong Birmingham identity.
Like all explosive journeys there needed to be a catalyst. For these guys, it was Outlook Festival four years ago. The "no ego" vibe the festival attracts made it the perfect setting for a booze-fuelled vision to be born, as Brad highlights:
"Chatting shit on a beach with a bunch of Brum movers things just felt possible.  We received so much positive feedback about our vision while networking at the festival. I mean, to be honest, we were just trying to save some money and get some free festival tickets but what we ended up getting in return was even more valuable. We finally had the push to turn our vision into a reality"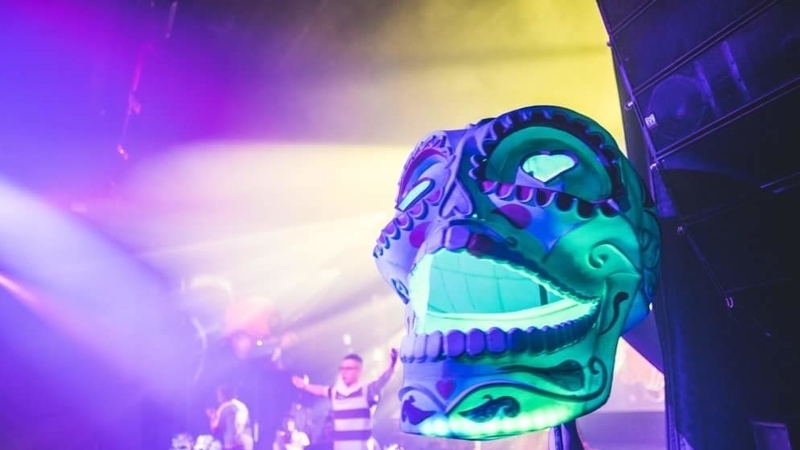 Sum Cellar at Spring Break in Amsterdam
The second round of drinks hits the table, triggering my unrelenting curiosity, "so why the name Sum Cellar?" Following a unified bout of laughter, they all take turns to explain, piece by piece, the name's origin. It goes a little something like this:
The first event was (quite literally) in some cellar in the Jewellery Quarter. During one fateful conversation concerning said cellar, the words "some cellar" thus came to surface. Everyone's minds exploded and a vivacious brainstorm ensued about how the name could best be stylised. The O and E were quickly dropped and replaced with a U (as everyone knows that's way edgier) which was quickly followed by an intense debate around the fate of the R… fortunately for the consonant they left it in, and Sum Cellar was born!
Outlook festival nurtured the ignition spark but it wasn't until touching down on home soil that plans for the debut event made the leap from "shit-chat" to reality. Impressed by a rather smooth pitch – intimate one-off raves doubling up as a platform to showcase the best in Birmingham music and culture – home grown beat-maker Marc Spence became swiftly entangled in the emerging vision.
With adoration and respect heavy in the tone the gang explains the importance of Marc's involvement, a vital kick-start to the Sum Cellar trajectory:
"We had the likes of Chris Lorenzo and Marc Spence from the get-go, both giving some really kind words and advice which we really took on board. As if we weren't stoked enough Spence also hooked us up with loads of bookings in the starting stages, even going as far to speak to Low Steppa on our behalf… everything just sort of fell into our laps after that, from the first event and beyond. We really didn't know anyone in the game in the beginning stages leaving the lead promoters scratching their heads a bit, wondering how we'd done it."
The first run of parties were held in the Jewellery Quarter's elusive Site Office; a low ceilinged stone basement-turned-speakeasy steeped in art-decor, it's covert entrance hidden behind a pseudo building site perimeter. Initial word spread unconventionally, relying on hearsay and passing conversation to generate a buzz whilst maintaining an air of secrecy. Now, as the Sum Cellar phenomenon continues to grow social media and online promotion naturally play a much bigger role, but the levels of community, intimacy, and hype generated at those legendary opening sessions remains very much the same today.
https://www.instagram.com/p/BiEmZYtn6cK/?hl=en&taken-by=sumcellar
Migrating from the JQ basement Sum Cellar has gone on to grace shows all across the globe; in their home city, venues like the Rainbow Courtyard, Amusement 13 and Lab11 have repeatedly been at the centre of sold-out lineups; and internationally, festivals like Budafest and Spring Break Amsterdam have reached out to the hosts with the heat. Of all of these achievements, however, nothing could be more significant than their most recent announcement on the eve of their 3rd birthday:
"We'd talk time and time again amongst ourselves about how sick it would be to be involved with Outlook Festival. Now 4 years later, and our 5th time visiting the festival, our brand will be playing and representing! Outlook Festival 2014 was the main reason we created Sum Cellar when we got back to Birmingham. The festival really opened our eyes and minds. It was the first time we as a group of mates had gone to an international festival and it blew us away; the music, people, the surroundings, just everything. The people we had met at Outlook 2014 have all been a part of Sum Cellar in one way or another, and the same for the other years."
As the third round of drinks land, hand gestures become borderline reckless, the slightly amusing becomes comedy gold, and a potential dream booking of Kurupt FM with James Brown on hype duty comes to surface. Things then quickly shift to more pressing matters. Amid the recent Rainbow controversy George airs some concerns over the future of Digbeth, Birmingham's "cultural quarter":
"We think the city needs to pull its finger out, when the London leftovers start moving up they'll be looking to make an impact so us Brummies need to sort our shit out. The council stains are no better either, all the money is going into property and office space as opposed to more creative space that people like us could use. We want to maintain the Birmingham image before it loses its charm and identity hidden under all the bureaucracy. Clubbing is very popular right now and has seen rapid growth in the last few years which needs to be capitalised on… and that's what Sum Cellar can do. You either work with it or against it, and working with it is the only way to salvage our vibrant creative and music culture!"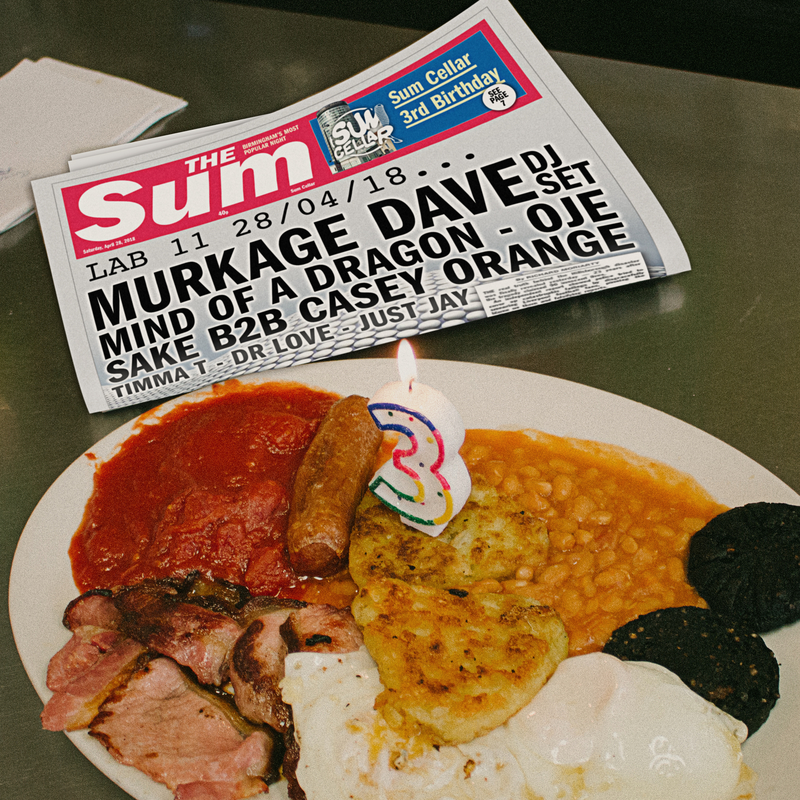 Sum Cellar 3rd Birthday Line-up
Despite the success of the collective, it's never been about the money. It's about preserving the very essence of what it means to be Brummy, it's about embracing doorstep culture and applauding individualism – not incubating an overly saturated, woefully gentrified, grotesque music clone dubbed London 2.0.
While the future security of Birmingham's nightlife may seem uncertain placing faith (and with it support) into overtly passionate, home-grown brands like Sum Cellar is certainly a step in the right direction. With a fourth bev in hand and a rum for the road, I ask for a nugget of thoughtful insight, some iconic words of wisdom, to bring our wavy outing to a neat close:
"We're just going to keep taking the opportunities as they come. When we first started we just wanted to talk to the people, we weren't out to nause it. We're all easy guys to get on with. To be honest we're clueless still… we'll keep doing our thing with all the support we can get 'cos we love this city and we like to think the city is starting to love us back."
Sum Cellar's 3rd Birthday takes place at Lab 11 on April 28th. You can buy tickets here.