Review: Lunar Festival's strongest line-up yet doesn't disappoint
Lunar Festival takes place on the hottest, clearest weekend of 2016 so far at Umberslade Farm Park, Tanworth-in-Arden
Brummie bands including Chartreuse, Victories at Sea, Black Mekon and Sunshine Frisbee Laserbeam dominate the line up and the weekend
Another Brummie band, Bentley Rhythm Ace reform for the first time in over 15 years to the most electric response of the whole festival
Ah, the British Summertime. She's dull and unpredictable to say the least, so you can imagine the surprise for a myriad of festival goers this weekend when the sun decided to shine upon Tanworth-in-Arden for four straight days. The heat stayed in the high twenties all weekend and when you match that to the fact that this year was one of the strongest line-ups the festival has ever boasted…you're going to start wishing you were there. Well don't worry, because we were, and trust us when we say, it did not disappoint.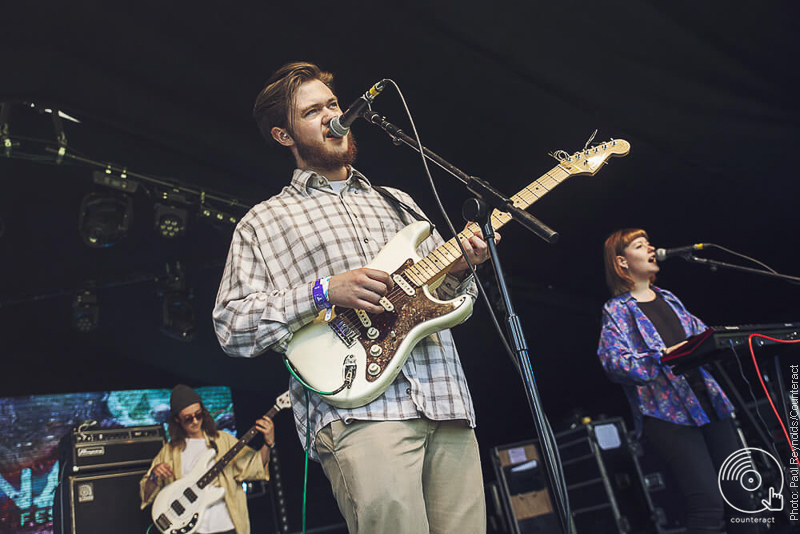 Chartreuse
Kicking off the extensive list of local talent at the festival are Chartreuse, who baptise the sweltering Friday heat perfectly. The first day of the festival appears to get off to a rather relaxed start, with punters filtering in from work as the afternoon hits. Understandably, everybody had to swing by their houses to apply face paint, glitter and novelty hats before making their way to the Umberslade Farm Park.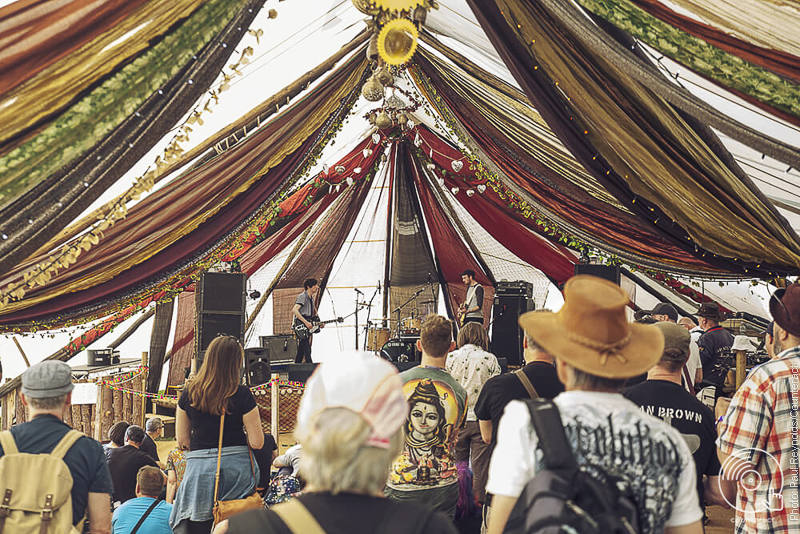 Victories at Sea
Tragic news had permeated the Lunar community just a couple of days before the festival started, with social media later confirming that Birmingham's very own Victories at Sea would have to withdraw from their main stage slot, due to drummer Nick fracturing a rib. Fortunately, the remaining two thirds of the band are able to play a stripped back set on the festival's second stage The Bimble Inn.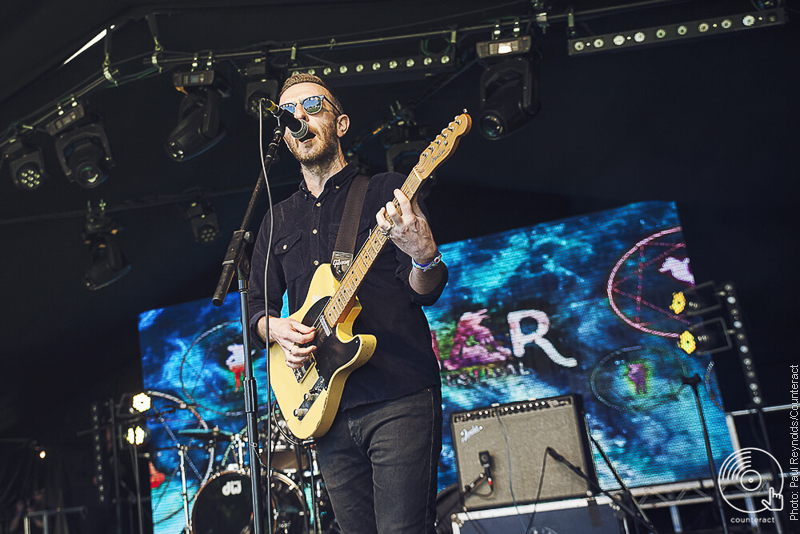 The Castillians
Later, Lunar gets a taste of their last minute replacements, The Castilians. Another Counteract favourite, their infamous brand of garage rock mixed naturally with the rest of the festival's line up, not least because their PNK SLM label mates Black Mekon are also on the bill. They play a knockout of a set (as they always do) and can be seen around the site for the rest of the weekend enjoying the the sunshine with everybody else.
Speaking of sunshine, after three days Lunar has seen sunshine, Frisbees and even lazerbeams (thanks to Super Furry Animals). Only fitting then that Sunshine Frisbee Lazerbeam are the next local act to take to the second stage. Dozens of tiny yellow Frisbees are thrown into a sea of revellers of all ages, as everybody fights to grab theirs. We managed to get about four. And we're keeping them. Members of the storied This Is Tmrw collective are also to be seen enjoying the show ahead of their residency on the same stage later on tonight alongside Dutch Uncles.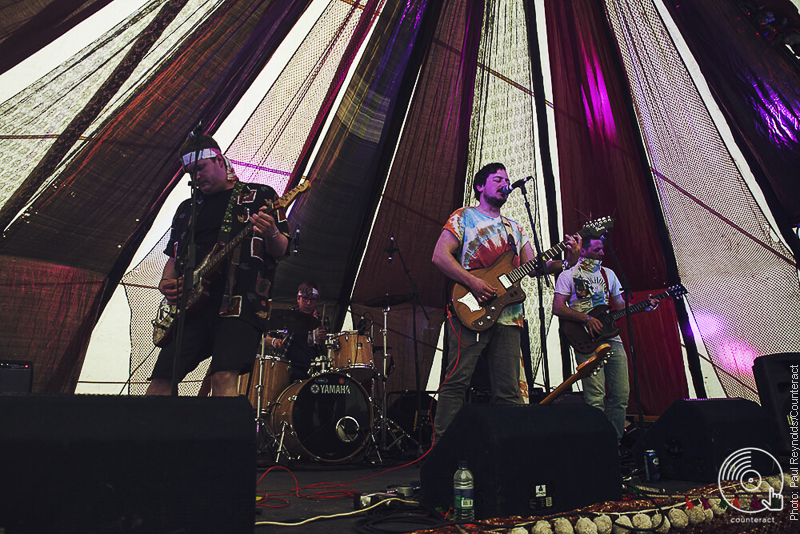 Sunshine Frisbee Laserbeam
It takes five bands to play before we see anything from outside of Birmingham, and we have to venture all the way to Sweden with Josefin Öhrn + The Liberation to do so. Their short set creates a perfect (and just about weird enough) tone for our next guests at The Bimble Inn, the aforementioned Black Mekon.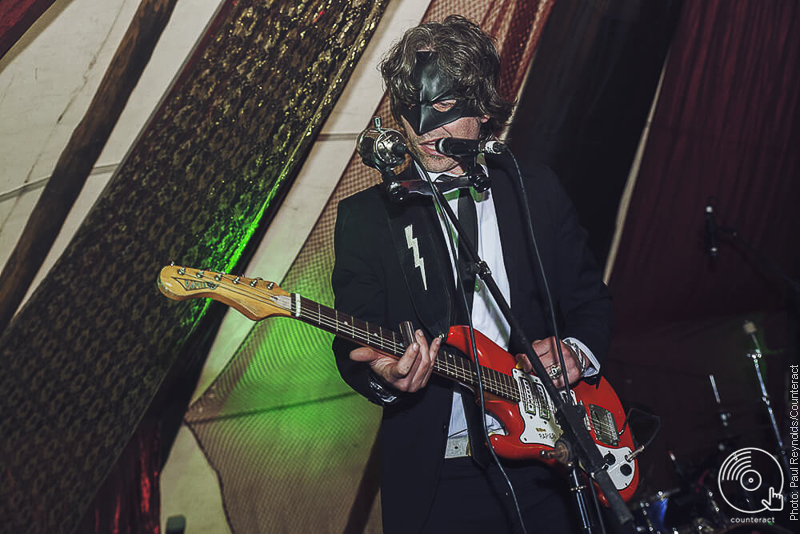 Black Mekon
As the familiar sight of men in black masks and sharp suits fills the stage, we are granted access to probably the filthiest and most debauched performance of the whole weekend. It somehow fits in with the pseudo-sexy surroundings of The Bimble Inn, a bell tent dressed in flowers and Moroccan style sheeting. It's quite the change from the piss-soaked troughs you normally find these three men drinking from, but that doesn't change the fact that it is a captivating and unmissable addition to the Friday line up. Another grand slam for the second city.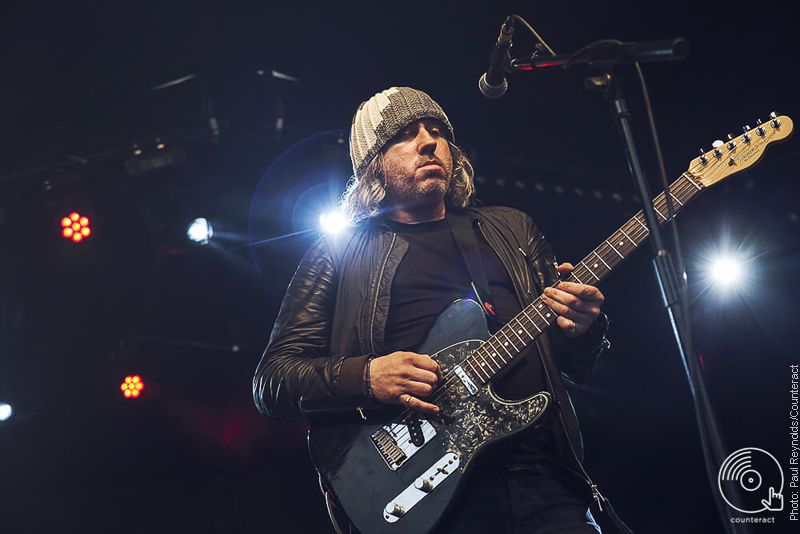 Badly Drawn Boy
The volume of people in front of the main stage has nearly doubled by the time 8 o'clock hits, and Badly Drawn Boy arrives to supply a tour through his songbooks new and old, with an honourable mention going to a cover of a rare Nick Drake song that he 'heard on the radio last week'. This of course is an important statement to the festival, as the man himself is buried not a five-minute walk away from this very farm. For 40 lucky ticket holders, there is even a chance to listen to Drake's personal copy of his 1969 debut album Five Leaves Left at a late night listening party.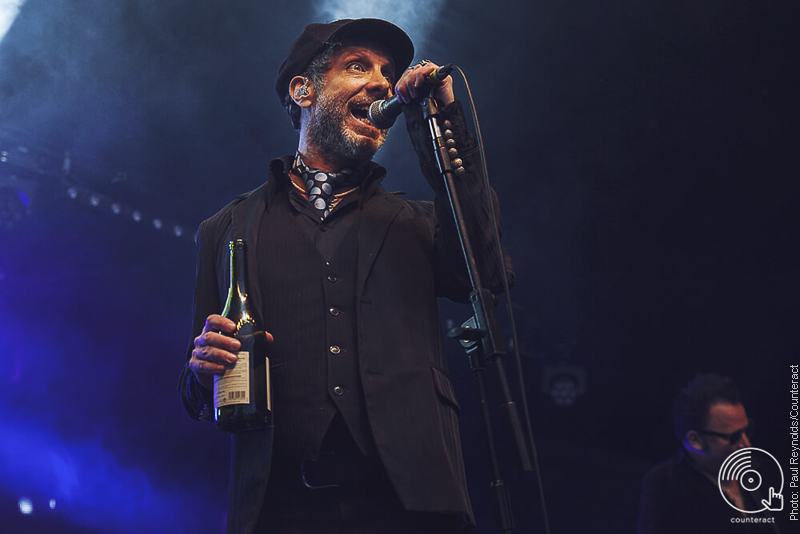 Mercury Rev
The night is closed out beautifully by the main stage headliners Mercury Rev, who perform to the largest crowd of the day with their beautifully woven melodies and ethereal soundscapes. Darkness has finally fallen with a breath-taking desert sunset and bright swirling lights are projected across the lush evergreen forest to the right of the stage. Accompanying the tranquil but disciplined late night psychedelia from the New York festival veterans is a stunned audience. The Lunar crowd lays silent and teary eyed as the band belt out their 1999 single 'Holes' and explode as the final notes fade up into the sky like the feather at the end of Forrest Gump. Just stunning.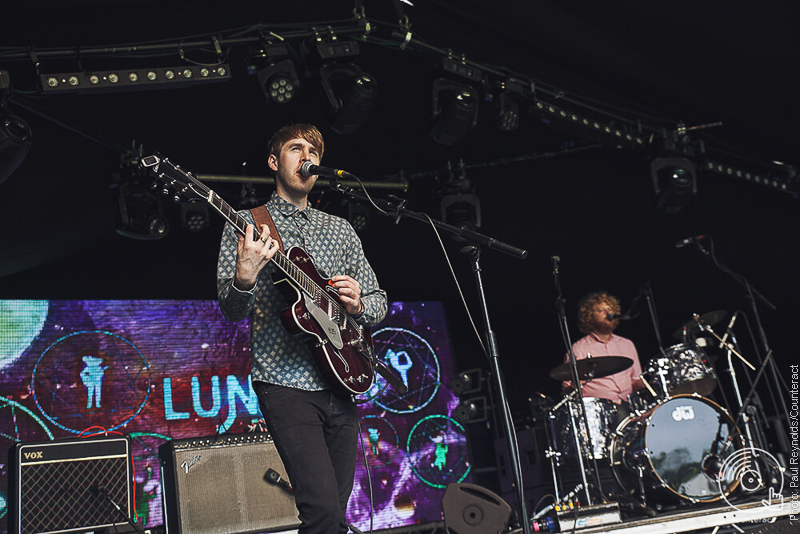 The Good Water
It would be easy to assume that Friday at Lunar couldn't have been beaten. That assumption would be wrong. The afternoon kicks off with stellar outings from two of Birmingham's most promising recent efforts, The Good Water and Kraut rockers Seeland. As The Coral's Bill Ryder Jones' set comes to a close, there is a mass exodus for the second stage, a place which is starting to seem like a hot bed for all of the finest discoveries that Lunar has to display.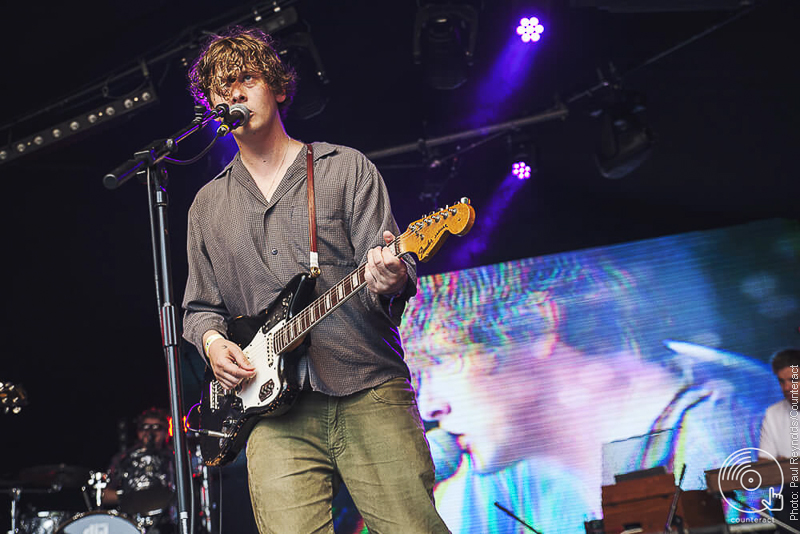 Bill Ryder-Jones
The excitement is fully deserved, as Birmingham rockabilly supergroup The Swampmeat Family Band take to The Bimble Inn stage to deliver what we're willing to call the best set of the weekend, and by far the best show we've ever seen them play. Supergroup is the right word to use too, the band is made up from members of The Terror Watts and The Castillians, plus T-Bird Jones of the legendary Midlands DJ collective Takin' Care of Business.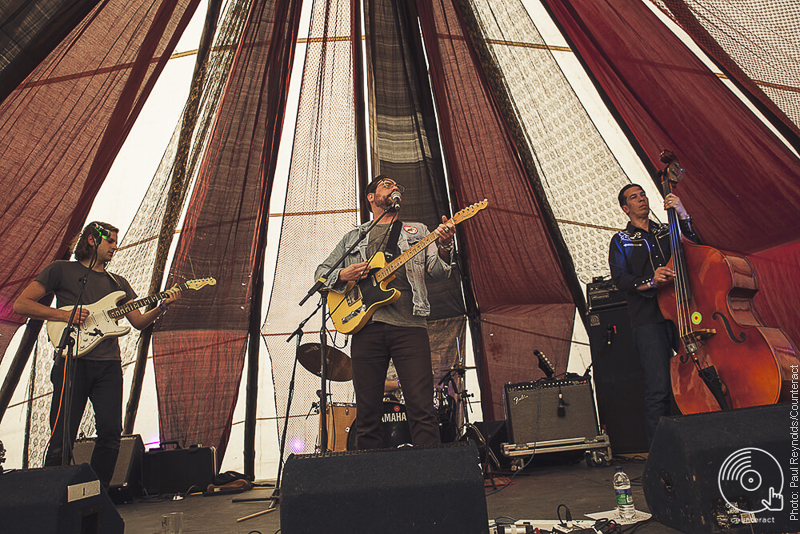 The Swampmeat Family Band
This is also the first of three performances for Richard March, who is undoubtable king of the hill at Lunar this year. His band Rhino & The Ranters follow Swampmeat's set, and we'll talk more later about his performance with tonight's headliners Bentley Rhythm Ace.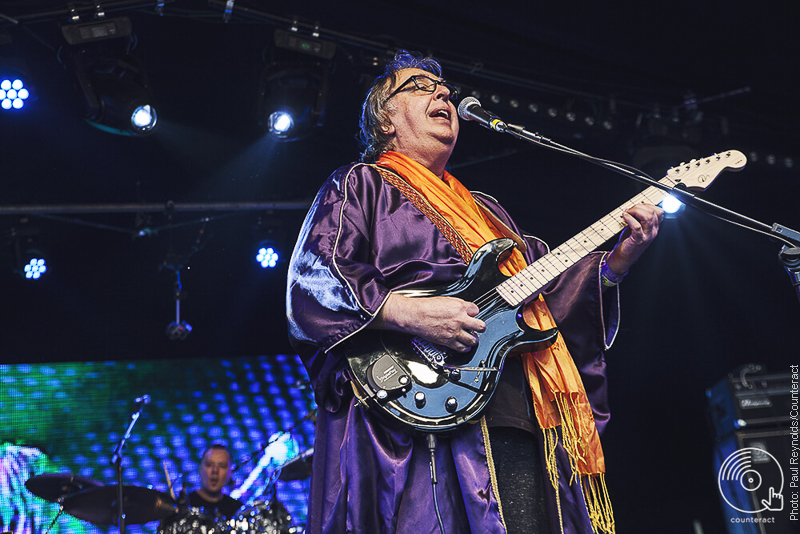 Os Mutantes
It's back once again to the main stage for two stand out world music sets from Ibibio Sound Machine and the legendary Os Mutantes who both add to the eclecticism that makes Lunar the diverse festival it is. As we jump between Africa and Brazil, people in psychedelic robes can be seen dancing around a now very "chemically balanced" field. Saturday is a party and these two acts blend in seamlessly.
Lunar isn't just about the bands, though. As darkness falls each night, the Crow bar plays host to some of the country's finest late night promotions, including our very own Leftfoot, Chicks Dig Jerks, and Magic Door to name just a few. The party continues deep into the morning and we saw some things that, well, should probably stay in that tent. Forever.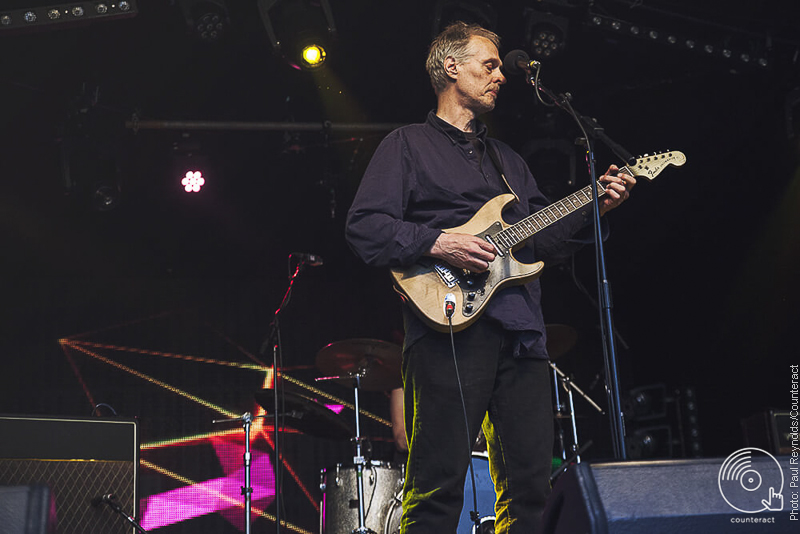 Television
Another huge feather in Lunar's cap was the addition of New York guitar royalty Television, whose line up has only changed slightly in their near 40-year history. Front man Tom Verlaine still sings like he did when the band recorded their eponymous debut Marquee Moon and catching them live these days is a seriously rare sighting. It is that album that they showcase today in full (albeit in the wrong order) and it's a bucket list moment for nearly all of those in attendance. It would've been great to see them play a couple of tracks from their two lesser known albums, but this was a real crowd pleaser. Now onto tonight's main event!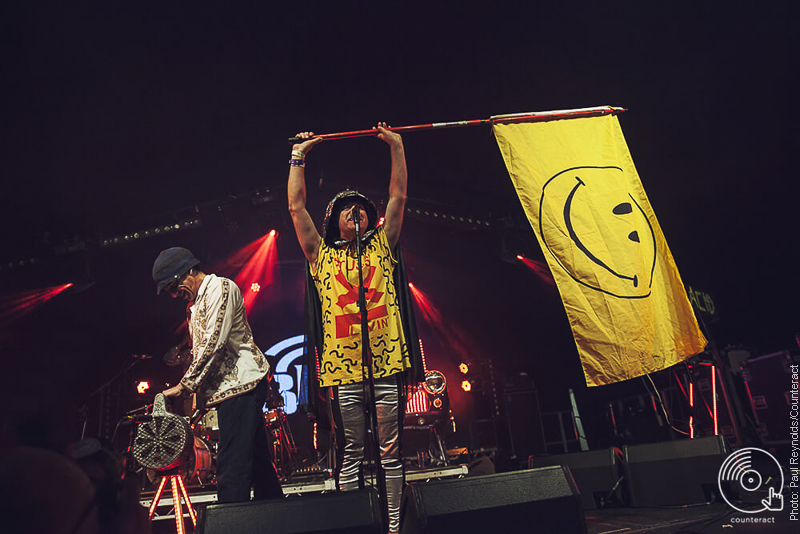 Bentley Rhythm Ace
Bentley Rhythm Ace spent their short lived career making a statement about dance music. Born in an era where rock fans looked down on the art form as knob twiddling and button pushing, BRA were kicking back against common opinion and showing the old guard exactly what a live show should look like. Disbanding in the millennium year, Lunar sees their first live performance in nearly two decades, and by god they have not stopped waving that same flag. Literally.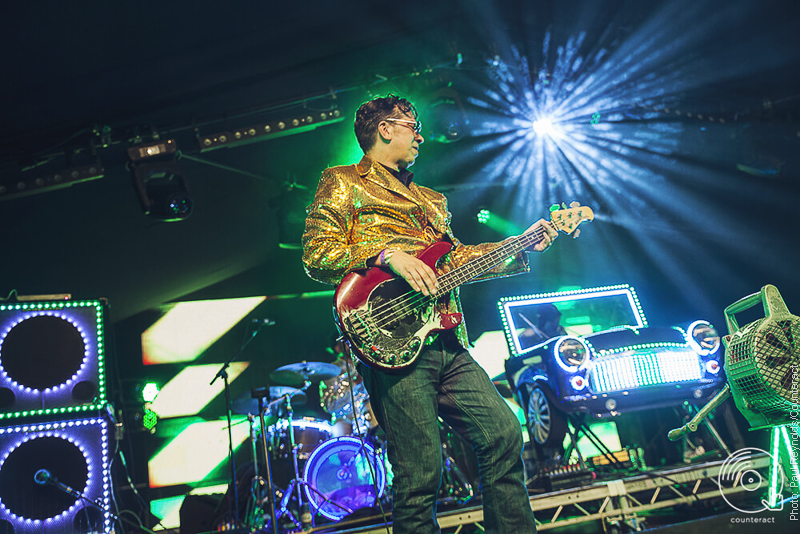 Bentley Rhythm Ace
Clad in sequins and sparkling capes, they are as much a live band as any other that has graced the stage this weekend. The centre piece to the stage show is a hollowed out vintage car covered in LEDs which strobe and flicker like a Wurlitzer throughout the whole set. We see dancing showgirls, fire eaters and an array of costumes and strange noises to compliment a live experience which fully justifies the hype it received. You can't not dance to Bentley Rhythm Ace, and whilst it's fair to say that expectations for this show were high, tonight they manage to surpass them all. King of the festival Richard March is seen the following morning strutting around the site, still in his trademark gold jacket seeming truly appreciative of the love and support being thrown at his band from every person he meets. The bottom line is…they stole the show.
Sunday festival hangovers are always the worst of the week, and whilst ours were pretty bad (there's a Pimms tent, and it got abused), it wasn't going to prevent us finishing the weekend in style. Great shows started the day off from the likes of Flamingods and Andy Wickett, who both found themselves playing to ample crowds in the Warwickshire sun. The same sun that probably made the next act feel very much at home.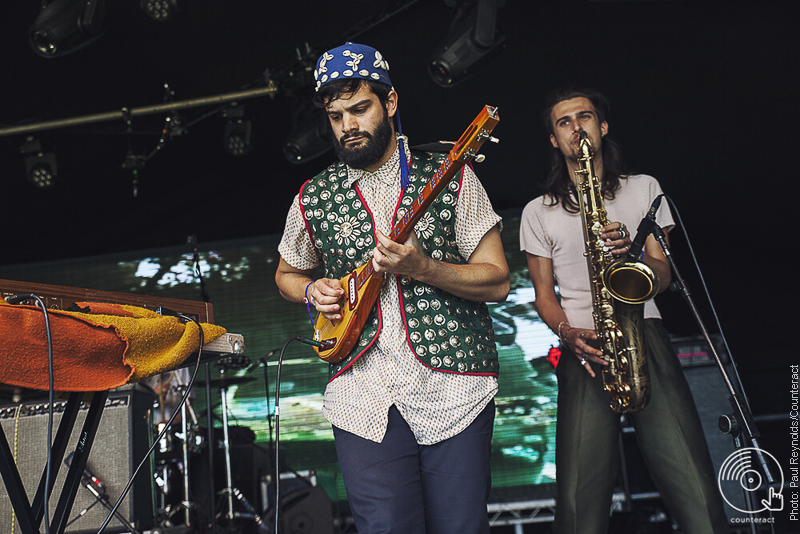 Flamingods
It's not every day you see a band that was made famous by Doritos, but you can, if you go and see The Mariachis. With a name like that, you can't help but feel like they've got the monopoly on Mariachi music. Strong marketing game. That being said, they got a huge crowd reaction with their traditional Mexican take on pop culture classics like The Human League's 'Don't You Want Me' and Status Quo's 'Whatever You Want'. Perfect Sunday afternoon festival fodder.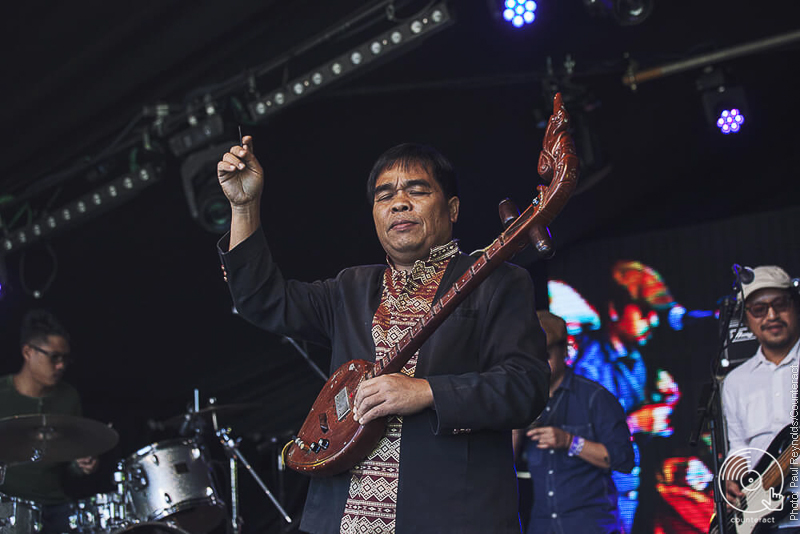 It's not long before we've gone straight from Mexico to Thailand, as the Paradise Bangkok Molam International Band play a full hour of what some might call disco, but all with a Thai fusion twist. Nearly all of the weekend's boastful roster of DJs can be seen in the crowd for a band who say they've come all the way from Thailand just for this one show, and we can only hope they felt the welcome was as warm as the weather.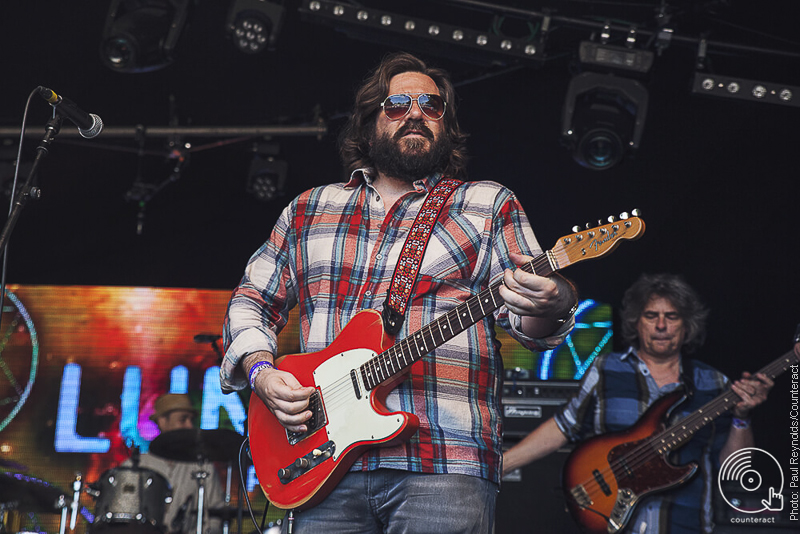 Matt Berry and the Maypoles
The festival's last precious moments are forming before our very eyes as Toast of London actor and comedian Matt Berry can be seen ambling around the site, meeting his fans and looking through the multitude of stalls and tents selling various interesting bits of jewellery, clothing and rare records. This precedes his late afternoon set on the main stage which sees his band The Maypoles play a version of his epic song 'Solstice' ending in what appears to be the opening riff from 'Black Sabbath'. Cheeky.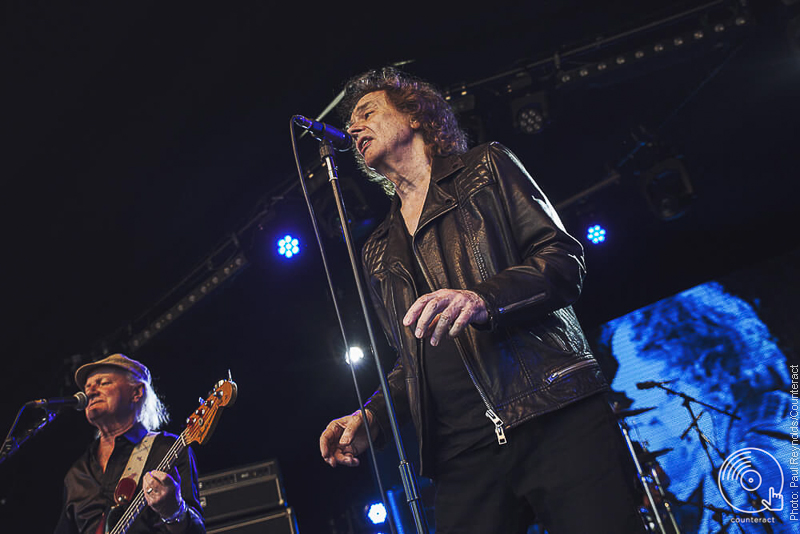 The Zombies
The much anticipated set from The Zombies is over as soon as it begins and it's amazing. They seem thoroughly gratified that so many people young and old are swaying and singing along to their songs, some of which are now 55 years old. Colin Blunstone's voice is still soaring and powerful, except now with an added Bruce Dickinson vibrato. Now that's a Brucey Bonus to round off one hell of a weekend, but it's not quite over yet.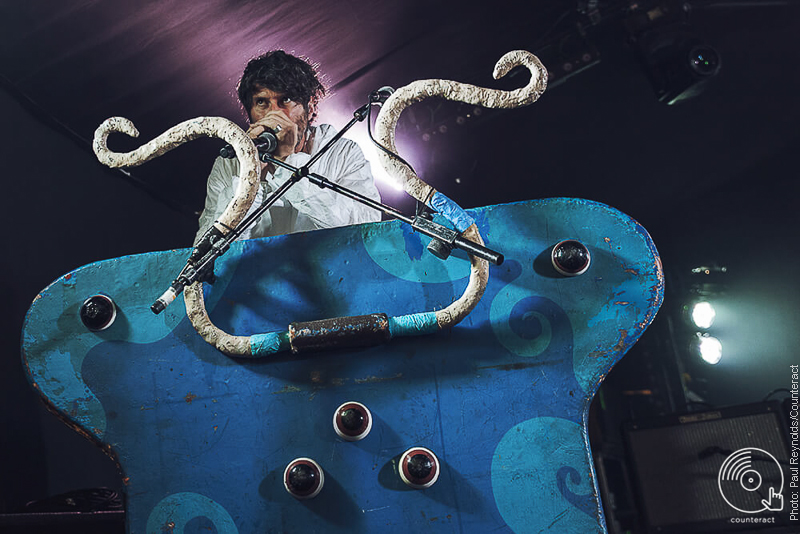 Super Furry Animals
The final live offering of Lunar's 2016 line up is Super Furry Animals, who as we mentioned, come armed with a laser show which echoes around the hills of the site like a beacon. Sunday has apparently sold more tickets than any other day at the festival, and draped in industrial boiler suits the band distribute their off kilter and far from generic ditties in even portions, much to the delight of watching families. 2003 hit 'Golden Retriever' has the foot stomping reaching boiling point until they send everybody home happy with 'The Man Don't Give a Fuck'.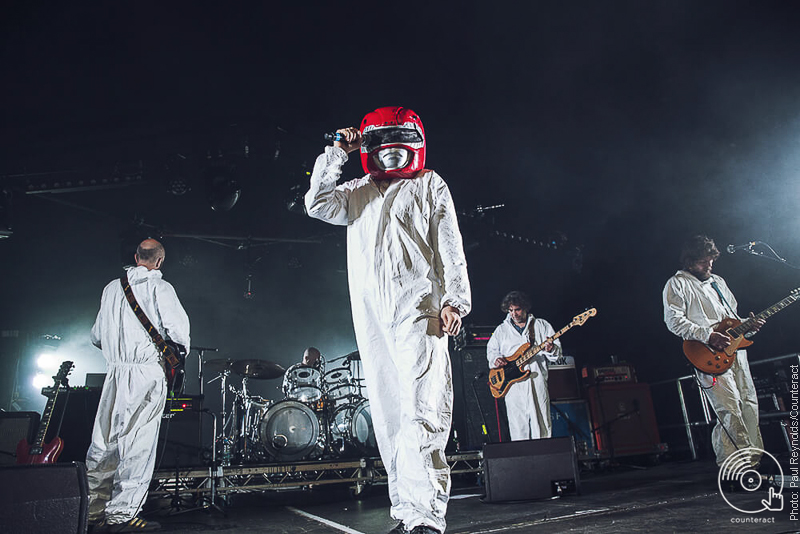 Super Furry Animals
With Craig Charles entertaining one end of the site and Swingamajig Speakeasy dominating the other, Lunar festival continues deep into the night after a successful weekend and a festival that we in the Midlands should be extremely proud of. There is something to do in every corner of the site and that's only if you can pull yourself away from a line-up that keeps coming back year after year stronger than any other festival of its size. Keep your mammoth festivals, this bite size chunk of paradise is great value for money and a perfect place to entertain a whole family young and old. Everybody from the staff to the punters are lovely people who are all here for the same reason, to have the best damn 3 days they possibly can. We'll be back next year.
Photographs by Paul Reynolds