10 gigs in Birmingham this September for less than a tenner
September is usually the month to restart. We'll skip all the cliches about the leaves changing and what not, but what better time to find some new music than in September? And what's even better, all these gigs in Birmingham are less than a tenner, helping you find new music for less.
---
Delta Autumn + Kinds of Light + Sofa King
Who: Free psych event with live music and accompanying arts market
When: 7th September
Where: The Night Owl
Tickets: Free
Monthly psych/progressive music and arts market night Kaleidoscope is your monthly fix of exciting Birmingham bands, this month featuring the jazz/hip hop amalgamation out of Birmingham Conservatoire Delta Autumn, supported by psychedelic pop kinds of light and Birmingham synth pop band Sofa King.
---
The Mighty Young + Cave Girls + The Lizards
Who:  Mighty wild garage punk and rock
When: 7th September
Where: Sunflower Lounge
Tickets: £6
The Mighty Young are mighty mysterious, its not everyday the two piece garage rock, drenched in Southern influences, gig in Birmingham. However, September is the month they emerge from the depths of hell to bring you garage rock like none other, alongside the indie-glam/psych crossover Cave Girl and psychedelic garage punks The Lizards.
---
Harry Jordan + Nonsuch & more
Who: Wild Western debauchery and devilish rock & roll
When: 14th September
Where: Actress and Bishop
Tickets: £6
Part of new music networking event Pivotal, this showcase introduces the new networking event with someone Birmingham's hottest act. Classic rockabilly meets and heavy rock and roll twist with Harry Jordan, a hard hitting, powerful voice backed by rockabilly royalty Wanda Jackson. Also on the bill are Nonsuch, Speak, Brother, Natalie Holmes and Hunger Moon.
---
Blushes + The Skinner Brothers & more
Who: A collective of brand new, Midlands-based alt bands left of the dial
When: 14th September
Where: The Sunflower Lounge
Tickets: £6
Encapsulating indie punk with a hint of melancholy, churned with good old psychedelia. since 2016, Blushes have infected the indie charts with haunting, chasing riffs and 8-bit synths. With support from The Skinner Brothers, The Desert Yetis and Monty Taft.
---
Sunflowers + Secret Support + 118 Strong
Who: Portugal based psych punk with secret support.
When: 17th September
Where: Sunflower Lounge
Tickets: £6
Playing at their alleged namesake, Sunflowers have been heavily compared to Thee Oh Sees and Ty Segall. With "seizure inducing" psych punk, Sunflowers are ready to completely shake up your view on psych music with earth shattering riffs and experimental melodies. Catch them at The Sunflower Lounge with a secret support.
---
Bad Girlfriend + Swampmeat Family Band & more
Who: Birmingham garage punk trio celebrating EP 3.
When: 15th September
Where: Cafe Artum
Tickets: £3
£3 is all it costs to celebrate the launch of EP 3 from garage punk trio Bad Girlfriend. This EP launch is stripped back to an acoustic set, alongside trash country outfit Swampmeat Family Band and Miles Cocker.
---
La Dharma + The Extons & more
Who: Indie synth pop story tellers from Birmingham
When: 22nd September
Where: The Sunflower Lounge
Tickets: £6
Another band hailing from Birmingham, 5 piece indie pop outfit La Dharma mix catchy pop choruses mixed with strong guitars and synthesisers. With support from the anthemic The Extons, M A R C, The Verse and Modern Comforts, this is one gig that packs a whole lot of indie punch.
---
Airways + Sarcoline + The Clause
Who: Refreshing new indie mixed with 90s/00s Britpop influences.
When: 28th September
Where: Castle and Falcon
Tickets: £7
Young, refreshing and exciting indie rock, that's how Airways have been described. The Peterborough via Chicago group combine the witty Brit lyricism from the era of early Arctic Monkeys with modern day anthemic indie hooks. Airways have the 'make it or die trying' mantra, which reflects in their drive, determination, and supercharged indie tracks.
---
Liquid Cheeks + Lilac Noise
Who: art pop meets 80s neon glam in this new project
When: 29th September
Where: The Victoria
Tickets: £7
Liquid Cheeks are the lovechild of Ben Ollis Gibbs and Gregory Clarke, sprouting to life back in July. Their debut performance at The Victoria introduces their garage electro, dripping with art pop influences and retro 80s nostalgia. Joined by an alternative, all girl four piece from Stoke Lilac Noise.
Dead Cuts + Bad Girlfriend + more
Who: Acidic punk with Nu Wave influences
When: 29th September
Where: Muther's Studio
Tickets: £8
Straight off the bat, Dead Cuts influences ring clean in their punky, nu wave meets indie rock. The Cure is a dead ringer in their nostalgic riffs, whilst singer Mark Keds has been described as a "gothic Bowie". Having worked on indie anthem's such as The Libertines' 'Can't Stand Me Now, Dead Cuts know how to hook any alternative fan into their dark world.
---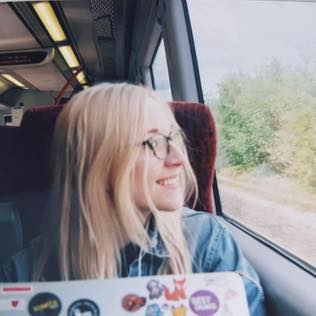 PR, events and social media by day, lover of all things geeky and retro. Can often be found scribbling notes at the back of the gig.