10 gigs in Birmingham this June for less than a tenner
Last month was full of nothing but bangers. Birmingham came alive with powerful comebacks, rising stars and secret supergroup performances. It certainly set the bar high for June, but we're certain these gigs will be good, if not better – get some bangers for your buck with these 10 gigs in Birmingham for less than a tenner.
---
The Cosmics + Lucia + Mass House
Who: How do you not know The Cosmics by now?
When: 1st June
Where: The Dark Horse
Tickets: Free
Fuzzy and scuzzy, chunky, yet punky. The Cosmics are on a satellite careering for stardom, and bad interstellar puns aside, you'd be mad to miss out on one of Birmingham's biggest bands hosting a free event! The three piece garage punk noise makers crash through fast paced sets with grandeur – creating formulaic chaos and punk smash hits.
---
October Drift + Special Gesuts
Who: Lo-fi. weathered power rock
When: 7th June
Where: The Cuban Embassy
Tickets: £7
The juxtaposition in thick, pounding drum beats and softer, hidden harmonies sprinkled within their tracks is what makes October Drift stand of from the rest of the grunge/garage rock scene. Once described as "sugar coated power rock" by Q Magazine, October Drift's music has weathered the stormy seas and seen almost every concert room in the country in the process.
---
Lazy Day + Animal Sons + Hunger Moon
Who: Garage band wielding solo project turned four piece alt/grunge gang
When: 8th June
Where: The Sunflower Lounge
Tickets: £6
Lazy Day are back in Birmingham – bringing their harmonious blend of dreamy, intimate shoegaze-esque music with biting and bold guitar riffs. Brutally honest lyrics of distant love are met with pounding beats and reverb-clad riffs of pure gold. Support hailing from Manchester alt-rock Animal Sons and dark electro duo Hunger Moon.
---
Bloodhound + MY-HI + Marc + Klasside + Minefield
Who: Hull based sludgy grunge trio.
When: 9th June
Where: The Castle and Falcon
Tickets: £6
Drawing influences from contemporary grunge bands Drenge, Royal Blood and Queens of the Stone Age, Bloodhound have evolved their hand crafted melodies into sludgy, high octane and intense forms of modern day grunge. With support from Brighton alt-rock group MY-HI, no nonsense rock and roll band Marc, funk, rap and rock fusion Klasside and up and coming Stafford band Minefield.
---
Palm + Yr Poetry + Coffee Breath
Who: Eccentric and avant-garde progressive indie rock
When: 10th June
Where: Hare and Hounds
Tickets: £8
Firmly attached to the concept of rock, but turning it on its head, Palm are in more ways than one progressive. And although their conceptual ways lie in the epicentre of their new multi-layered material, their handcrafted and concentrated rock riffs have a flair of pop sensationalism, making the avant-garde accessible.
---
Young Chasers + The Clause + Big Ginger Kid
Who: The freshest sounds from up and coming Birmingham acts
When: 15th June
Where: The Sunflower Lounge
Tickets: £6
This Feeling are back with their finger on the pulse for live music, which this time around is beating to the drum of Birmingham based Young Chasers, The Clause and Big Ginger Kid. Headliners Young Chasers, recently rebranded from The Life, are staying hush on their new direction – although inspiration lies within the working class, indie pop greats (Catfish, Arctic etc.) that this country craves.
---
Charlotte Carpenter + Special Guests
Who:  Solo blues with a rough rock and roll edge
When: 16th June
Where: The Sunflower Lounge
Tickets: £8
Charlotte Carpenter should definitely not be pigeonholed as your run of the mill, tough girl indie rock. This is hard blues, shaken up with jagged edges, drama and soulful undertones. For fans of the haunting narrative of Florence Welch, Charlotte Carpenter will leave you comfortably intimidated – as her cinematic croons and ability to craft lust and drama into every riff is something that puts Charlotte poles apart from the competition.
---
Kings of Hong Kong + The Voo Dooms + Table Scraps DJ set
Who: Trash punk meats 1960s garage and psych
When: 22nd June
Where: The Night Owl
Tickets: £7
For a night of 60s garage and spinning psychedelia – look no further than a night with The Kings of Hong Kong, bringing rip roaring trash punk blended with 60s garage and flickers or psychedelia to Sensateria. Stir this up with erratic rock and roll from The Voo Dooms and a special DJ set from Birmingham garage punk legends Table Scraps and you have one hell of a twisted night of psych.
---
Sunshine Frisbee Laserbeam + Sunset Cinema Club + YR Poetry + Burning Alms + Shana Tova
Who: lo-fi indie that moves faster than any label
When: 22nd June
Where: The Flapper
Tickets: £8
The only downside to June is that one of Birmingham's staple music venues The Flapper is closing its doors. going out with a bang, the 50 year old pub is hosting an eclectic range of live music including the ever wild and ever changing Sunshine Frisbee Laserbeam. Surfing a wave of indie scuzz rock since 2011, the band are ready to shake up their lo-fi beginnings with expanding and eccentric riffs, but still keeping as authentic and as genuine as their first EP which had people hooked from day one.
---
Sugarthief + Violet + Mass House
Who: Unsigned local legends singing tales of adolescence.  
When: 26th June
Where: The Flapper
Tickets: £7
Part of The Flapper's final roster of shows are unsigned local legends Sugarthief. Expect tales of adolescence, jangly-pop guitars and high addictive melodies that will help sing out the final days of The Flapper. Support by grunge-drenched indie from Violet and local debuts Mass House.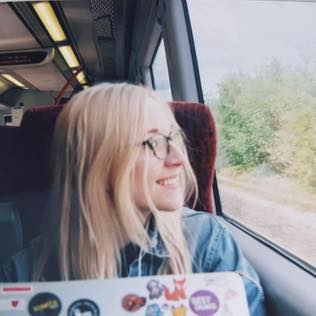 PR, events and social media by day, lover of all things geeky and retro. Can often be found scribbling notes at the back of the gig.