Review: Broken Social Scene's Brum show was a cathartic, musical triumph
On May 31st, Broken Social Scene played their first headline gig in Birmingham since 2010
London darlings Honey Harper opened the show with their delicate, ethereal sounds
Frontman Kevin Drew soothed the audience with the promise of better times ahead as he dedicated the song 'Halfway Home' to everyone present 
Every Broken Social Scene live show is inevitably a surprise. As people climbed the stairs to enter the O2 Academy 2 on May 31st, with each step new questions began to fill the dance floor, whispered between friends but echoed by the multitude of voices pronouncing them at the same time. Who is going to be on stage tonight? Which songs are they going to play? How many guitars are there going to be? Before any of these could be answered, Honey Harper gently took to the stage, persuading every head to turn their direction.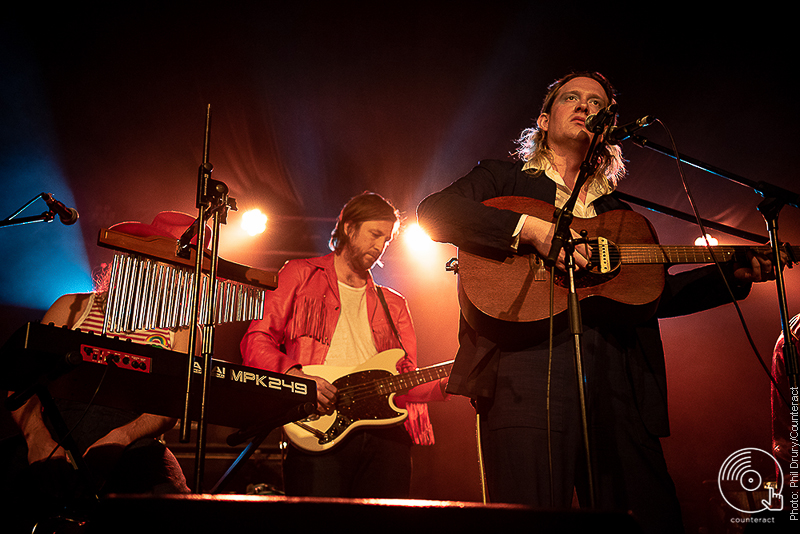 Honey Harper
Striped red and white tank tops, imposing cowboy hats, suede fringed jackets, dazzling silk shirts, and bright blue eyeshadow: Honey Harper demanded undivided attention. Playing songs from their EP Universal Country, placeless country music, deviating completely from the American tradition, but without parodying it, Honey Harper transported the audience to another dimension: Edenic, fantastical, yet somewhat unreachable. Nostalgia and melancholy filled their songs; fallen angels remembering their lost paradise. As they moved from one track to the other, bird songs and celestial sounds ensured that their magical spell did not wear off the enraptured crowd.
Appearing to be floating in the smoke on the stage, heavenly beings condemned to earth, Honey Harper sang of half-hearted loves, and lost connections: "It's hard to fall in love when you don't know what it is," declares lead singer and guitarist William Fussell, after showcasing his impressive vocal range throughout the whole set. Some slow songs and more curious sampling choices later, their set ended with a cover of Dusty Springfield's 'You Don't Have To Say You Love Me', Fussell stealing his keyboardist's hat and waking the whole room from their own charm with his passionate singing, as the rest of the band quietly tidied up the stage.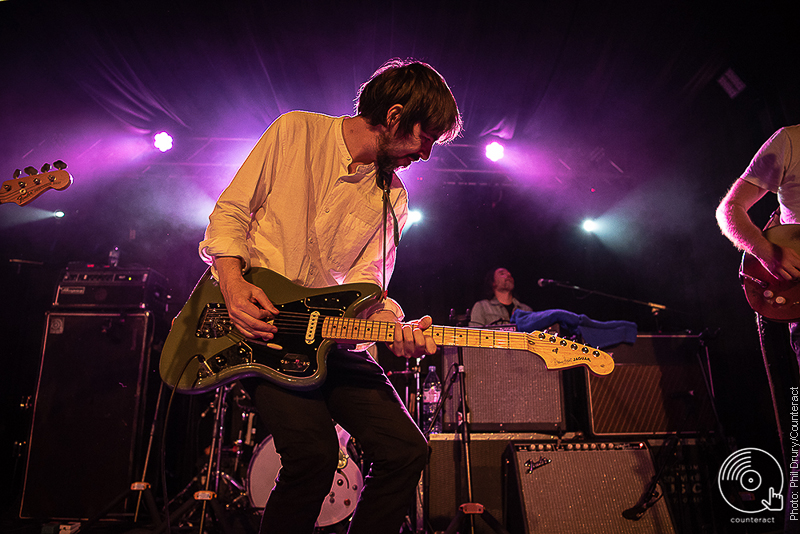 Broken Social Scene
The noise of mumbling filled the room again, as the wait for Broken Social Scene progressively shortened. One, two, three electric guitars and two bass guitars are tuned, and Kevin Drew calmly took to the stage as soon as their tech was done. "Can you hear me?" he exclaimed; the crowd cheered at his appearance. The stage was soon swarmed by five more people, later joined by Ariel Engle on vocals, the newest addition to the supergroup, and David French on sax, preventing Drew from introducing each band member upon their entrance as he intended to do. Before opening with their old classic 'KC Accidental' and sending the whole rapt crowd in a fit of excitement, Drew jokingly remarked, "We're in our forties, ok?" He clarified: "No-bullshit show. This is for you," and the guitar kicked in.
The setlist unashamedly jumped between decades: milestones from their 2003 musical treasure You Forgot It In People, like the guitar-heavy and distortions-rich 'Stars and Sons' and its collaborative rhythmic hand clap, or the unforgettable 'Cause = Time' and its pungent and timely words, were played alongside younger gems from Forgiveness Rock Record. The obscenely entertaining 'Texico Bitches' and its double bassline saturated the room, later followed by the popular and heart-wrenching ballad 'Sweetest Kill' which Drew decided to sing sitting down in the middle of the crowd.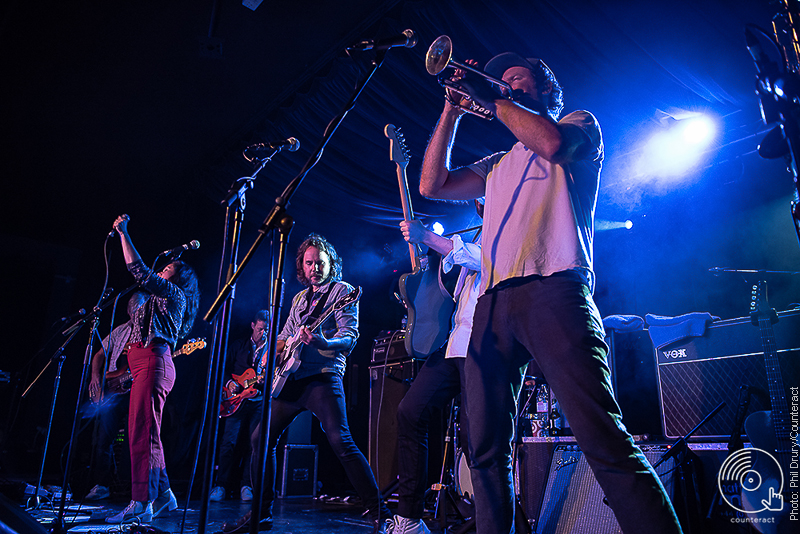 Broken Social Scene
However, it was many of the songs from the newest album, Hug of Thunder, that hit the hardest, and created that intense feeling of familiarity and human solidarity that Broken Social Scene have always striven to convey with their music. 'Stay Happy' reminded us that it's alright, okay, it's alright to be oneself, transporting the audience with its distinct bassline and captivating pulse, entrancing with its experimental and jazz-oriented twists, all embellished by Charles Spearin's guitar wizardry. The glimmer of cynical hope of 'Gonna Get Better' introduced the encore, dominated by Engle's beautiful singing, in a hypnotizing conversation with Drew's, a simultaneously dystopian and optimistic anthem for these historical times of global struggle.
But how can one render the aura of compassion and fellowship Broken Social Scene emanate with their liveliness, warmth and down-to-earth sincerity? Every detail adds a layer of humanity: Kevin Drew's coffees, Brendan Canning's enviable "Adidogs" t-shirt, Andrew Whiteman's confusion at the absence of 'Sweetest Kill' from his setlist, Charles Spearin stoic facial expression, Ariel Engle's air guitar during 'Fire Eye'd Boy' and so much more.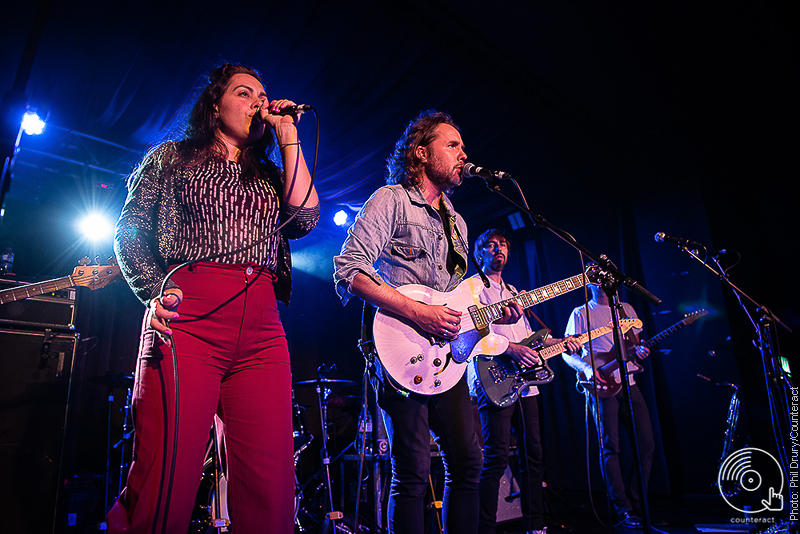 Broken Social Scene
By the end of the night, Broken Social Scene's efforts to "Always be about connection, about friendship," with their plea to look people in the eyes – pronounced after playing 'Major Label Debut' – and recognise others' humanity in a reciprocal gaze, had been amply expressed, in words as much as in music. The sense of community penetrated the skin: it cannot be washed off, it's still in the air.
Photographs by Phil Drury