Venue guide: Cuban Embassy, Birmingham
Cuban Embassy at the Bull's Head is a new restaurant and cocktail bar in Birmingham, boasting live music from South American musicians, soul, funk and much more!
Formerly known as The Bull's Head, Hare & Hounds' sister venue, the venue has recently been renovated with a cuban fever opened in November 2015.
Venue information
This venue is cuban themed and serves food inspired by Latin America along with soft and alcoholic drinks. Their rum cocktails are a must! The venue have arranged to fly South American musicians over as residency bands and will also have acoustic artists midweek, leading up to full, four-piece bands on weekends. Opening hours are 12-11pm in the week, 12pm-2am on Friday and Saturday, and 12-10pm on Sunday.
Getting to Cuban Embassy
By car
Via A38/A438 follow the A38 ramp going south, turn left onto A441 and take the 3rd exit at the roundabout. Follow signs for A435 and take a slight left on St Mary's Row, B4217 and the Cuban Embassy should be on your left.
Parking
Street parking is available in Moseley but is limited. Further parking spaces are available in the neighbouring Balsall Heath and Kings Heath, where the 50 bus will take you to and from your car.
By public transport
Buses including numbers 1 and 50 run to Moseley Village from Birmingham City Centre and Kings Heath respectively – for more information on public transport in the West Midlands, please visit networkwestmidlands.com.
Spot something wrong? Are we missing a venue? Let us know at richard@counteract.co.
Photo courtesy of food and drink guide Dine Birmingham.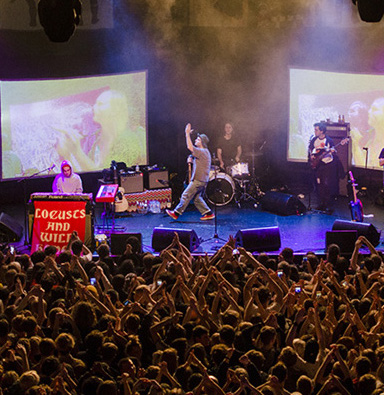 Key information on the best live music venues in and around Birmingham, Coventry, Wolverhampton and the surrounds.