Glastonbury Festival bans plastic bottles
In a bid to reduce plastic consumption, single-use plastic bottles will not be for sale at Glastonbury Festival for the first time.
[amazon bestseller="glastonbury"]
Plastic bottles will no longer be on sale at Glastonbury Festival, say organisers.
In an attempt to reduce the festival's carbon footprint and prevent plastic ending up in oceans, single-use plastic bottles will not be available from any of the bars or food outlets on site, and will no longer be available in any of the festival's production, catering and backstage areas.
Greenpeace – a proud Glastonbury partner – estimate that approximately 12.7million tonnes of plastic end up in our oceans each year. More than one million plastic bottles are sold at Glastonbury each year, so it's evident that cutting down will have a massive impact.
In a statement, Emily Eavis said: "It's paramount for our planet that we all reduce our plastic consumption, and I'm thrilled that, together, we'll be able to prevent over a million single-use plastic bottles from being used at this year's Festival. I really hope that everyone – from ticket-holder to headliner – will leave Worthy Farm this year knowing that even small, everyday changes can make a real difference. It's now or never."
Festival goers will still be able to bring plastic bottles into the festival with them, but attendees are recommended to look for alternative options and/or bring or purchase a reusable steel water bottle or pint cup. Glastonbury Festival says that they will be tripling the number of WaterAid kiosks on site so that people can still refill their bottles for free, while traders who previously sold plastic bottles will now offer cold drinks in cans instead.
Those looking to get ahead of the game can purchase a Counteract branded, eco-friendly reusable stainless steel cup below (pictured). The cups, made in Hockley, Birmingham, are manufactured by the same company that supply Glastonbury with reusable stainless steel cups at their bars on site and there are a very limited number left.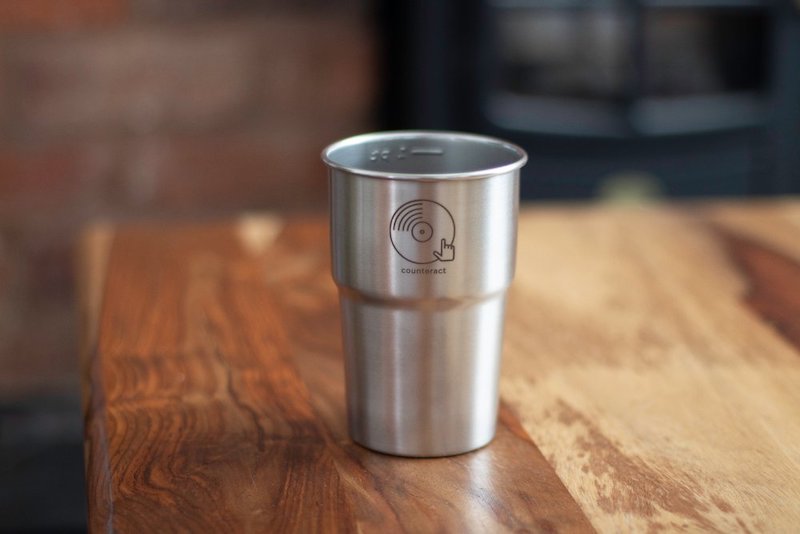 Founding editor of Counteract. Freelance travel and music journalist.