Review: Peach Pit deliver a short, frenetic set at their first Birmingham gig
Peach Pit played their first brief, yet glorious gig in Birmingham at Mama Roux's on May 20th
Local youths Coffee Breath helped the audience warm up with their fresh math rock sound
Distorted guitars dominated the night as Peach Pit's Neil Smith delighted fans with occasional life anecdotes
On a warm and cloudless Sunday night, Coffee Breath and Peach Pit lured the Midlands' younger generations into Mama Roux's with their audaciously sweet, quirky tunes.
Coffee Breath, a self-defined "dreamcore" band that emerged directly from the music scene of the University of Birmingham, set the pace with their eccentric sound, blending math rock, indie rock, a bit of trumpeting and an occasional scream. Echoing the likes of TTNG with their electric guitar tapping and the alternating high and low pitch vocals, and paying homage to the Midwest emo giants American Football in their overall sound, Coffee Breath brought some tracks off their latest EP and more to Mama Roux's colourful stage.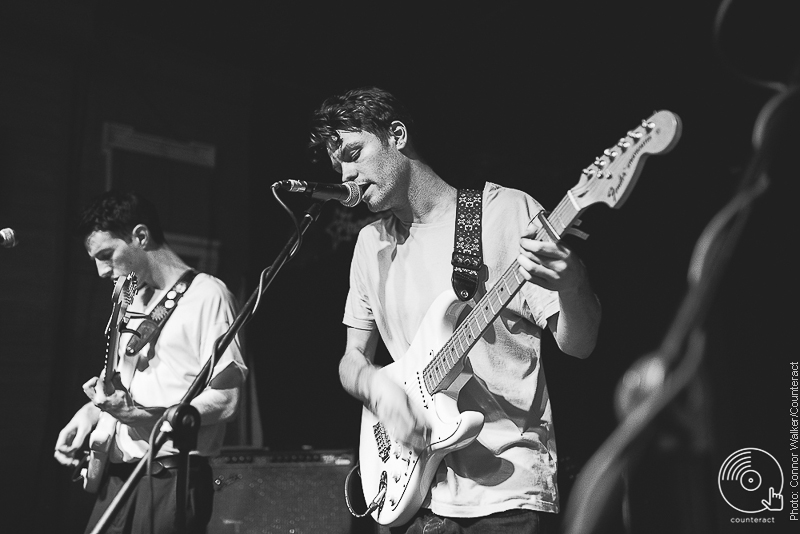 Coffee Breath
Supported by their cheering friends, Coffee Breath filled the room with their energy, as they moved from songs leaning more towards the indie side, like 'Kites' to math rock emo gems like 'Summertime' which attempts to remind us to keep our spirits up. Regardless of a few missed high notes – which, to their defence, were impressively high – Coffee Breath embraced the audience with their refreshing sound, and set up the perfect atmosphere to then welcome Peach Pit to the stage.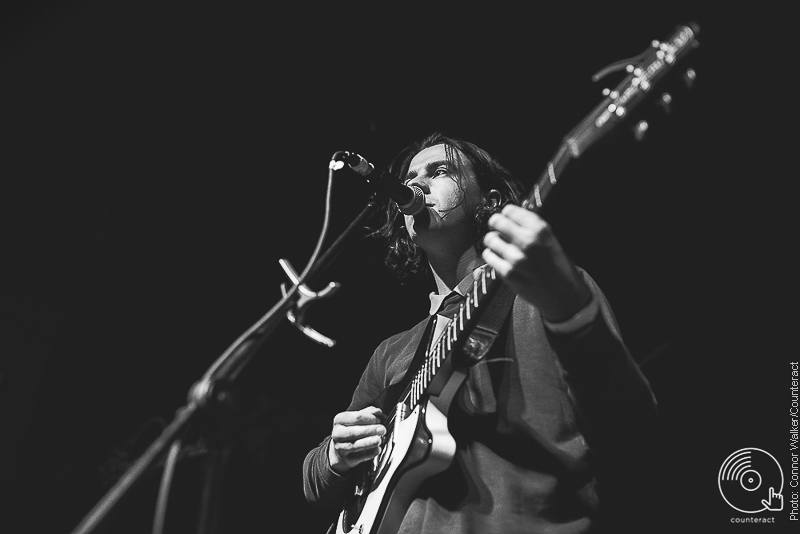 Peach Pit
Before the arrival of the main act, some blasts from the past gave everyone the chance to warm up and dance, in preparation for the groovy tunes and 80s revival attire later to come. Classic jams like 'The Wanderer', 'I Wanna Dance with Somebody' and 'These Boots are Made for Walkin'' played in the background as Peach Pit quietly took to the stage to tune their instruments. Softly singing along to the songs, the band members were wearing their distinctive red turtlenecks, purple jumpers, yellow shirts and faded brick red dungarees (a Scooby Doo inspired colour palette).
As soon as everything was ready, excited screams and outstretched hands filled the room, as Peach Pit's Neil Smith enquired: "How's it going, Birmingham?" Wasting no time with unnecessary chit-chat, Peach Pit immediately captured everyone's undivided attention with their vibrant and exuberant "chewed bubble gum pop" tracks from their debut LP Being So Normal.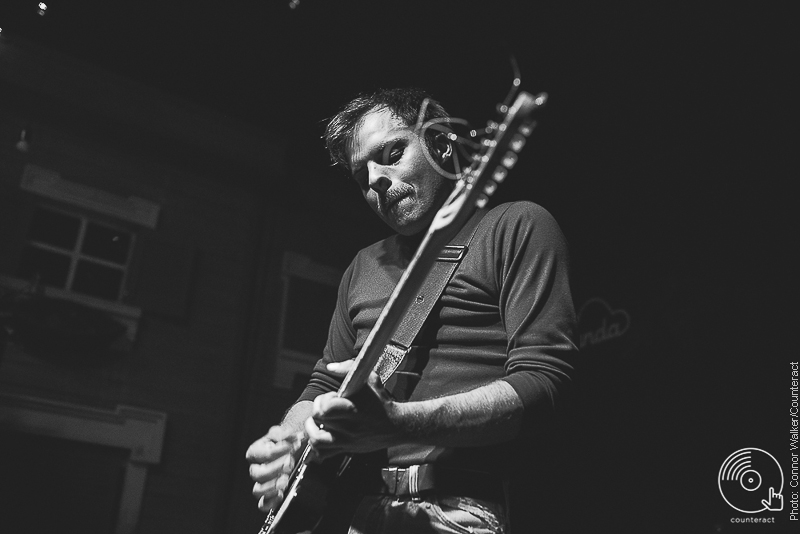 Peach Pit
Right from the first song, their own self-identification as "bubble gum pop" band turns out to be fairly inaccurate: distorted guitars and blues turns crowd their music, deviating from the kind of sounds one would expect from the average pop band. Bittersweet lyrics one would not usually get to taste with a standard pack of bubble gum characterise their every song.
As their tracks adopted more and more psychedelic twists, the lead singer took some time between most songs to narrate the story behind their writing, or recount bizarre tales on the life of a touring musician. Before 'Techno Show' we discover that the song was inspired by Neil Smith's decision to go to a rave in Vancouver, to which he would have normally never accepted to go, if it wasn't for the fact that Britney, who had invited him, was "pretty hot". The crowd cheered and laughed, while the parents of the younger members of the audience, patiently observing the scene from the height of the overlooking balcony, frowned at the singer's remarks.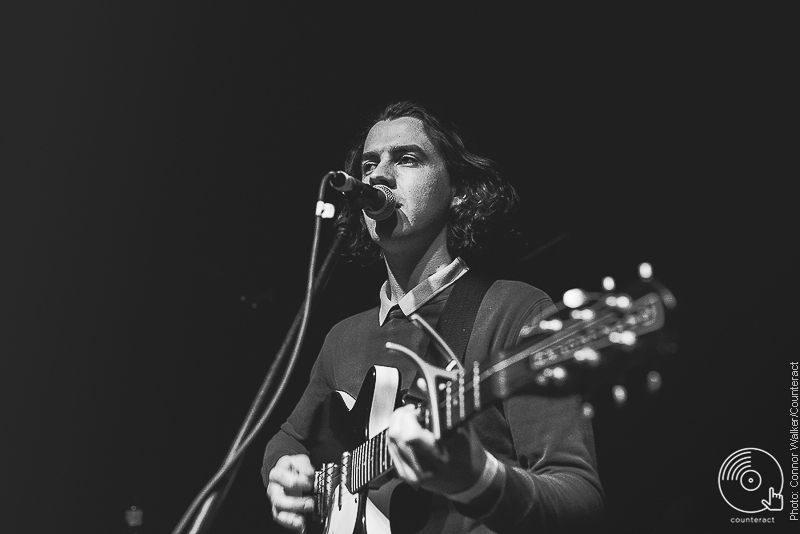 Peach Pit
Fifty-five minutes, a lot of smooth transitions, a few questionable comments about mothers' attractiveness, and a good thirteen songs later, their set reached an end. Short and sweet, to the supervising parents' pleasure, Peach Pit's limited discography restricts their stage-time, but allows them to hang out with all their fans afterwards, culminating in a plethora of awkward group pictures.
Although definitely way too short for any live show, their energetic stage presence helped to make each and every minute count, resulting in a peculiar, ridiculously entertaining journey into the micro-universe of teenage angst and "sad drunk" experiences their lyrics explore.
Photographs by Connor Walker