Review: HMLTD bring sweat and smeared make-up to the Hare & Hounds
HMLTD deliver a set of jaunty, lipstick smeared alt-rock on October 14th

Dream Wife show Kings Heath that the spirit of riot grrrl is thriving
Support comes from local psych-rockers The Lizards and Cave Girl
This Is Tmrw and Sonic Gun Concerts have put their heads together to bring a sold out night of alt-rock and industrial-glam to the Hare & Hounds. The evening begins with Cave Girl, fronted by Ed Quigley and Matt Holford previously of Orange Vision. They serve up a blend of shoegaze and garage rock backed by primal beats that suit their name. The menacing bass of 'Knew One' fills the room while Quigley cuts shapes in his white wide leg trousers. His background is in Northern Soul dancing shows. As their set closes, he announces "We've been Cave Girl, and this last one's called 'Cave Girl'."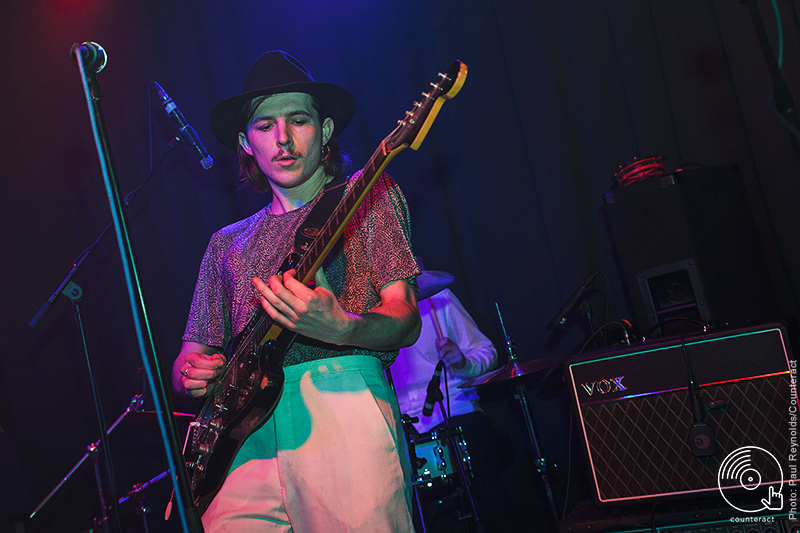 Cave Girl
The Lizards are next up, premiering their new guitarist Radek Kubiszyn. Dan Whitehouse's distortion-laden vocals cut through the swirl of guitar. The centre point of the set is 2016's 'Houndini', a psychedelic jam evoking the spirit of a young Tame Impala. Vocal loops and driving drums chase each other around the room in the final track of the set, 'Showdown'.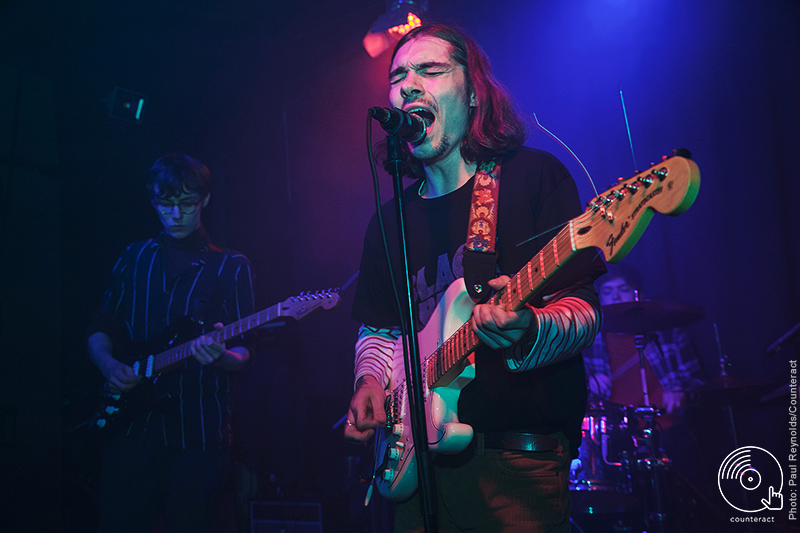 The Lizards
One year on from their impressive support slot with Black Honey at Mama Roux's, Dream Wife have evolved into a powerhouse. They announce their presence with the angular riff of 'Hey Heartbreaker', and there is a concerted rush of girls to the front. Vocalist Rakel Mjöll flounces around the stage. She is a cheerleader for the riot grrrl resurgence. Tracks like 'Lolita' from EP01 and 2017's 'Somebody' are an anthemic war cry. Dream Wife's newest single, 'Fire', juxtaposes airy vocals with razor sharp riffs and menacing bass. This is what they are about.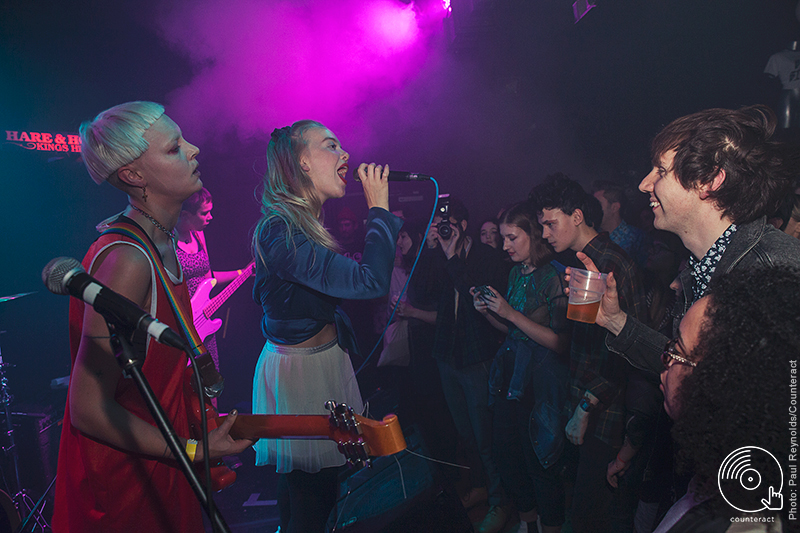 Dream Wife
Mjöll incites an all girl mosh pit towards the end of the set, and launches herself amongst it to bear hug everyone. They round off the set with their breakthrough single, 'F.U.U.' and 'Let's Make Out'. Their tour photographer invites women from the crowd to have their portraits shot backstage, still sweaty from the set. This is part of a project documenting the "bad bitches" who show up to Dream Wife shows. In true Birmingham spirit, tonight activist Saffiyah Khan is one of them.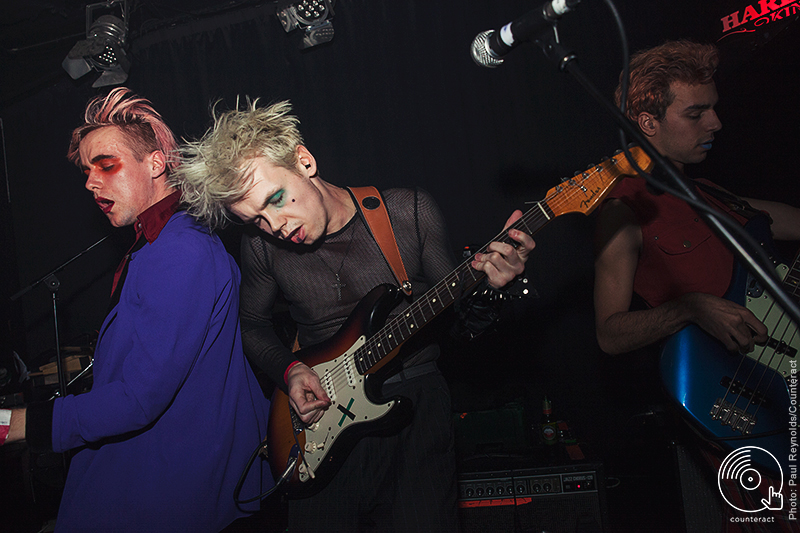 HMLTD
Metal crowd barriers were erected following the carnage of Dream Wife's set. HMLTD warm up to their set with the atmospheric "Is This What You Wanted?", a lo-fi drum loop filling the room. They cut a menacing figure on stage, done up in heavy eighties makeup, fishnets, and pinstripes. If Tim Burton dressed the Village People, this is what you'd get. By the time they launch into 'Kinkaku-ji', the crowd are a frenzy. Racing synths instill an off-beat euphoria. Frontman Henry Spychalski writhes against the barrier, flinging his arms into the crowd. Glitchy bleeps herald the start of 'Music!', the simple refrain of which has the room chanting ''music! music! music music music!'' in what feels like it could be a reductive commentary on the state of the industry. Or just a catchy chorus.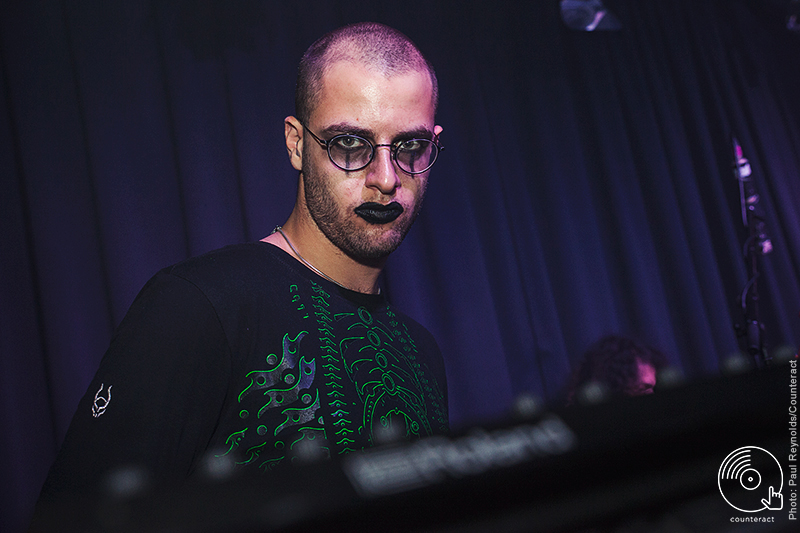 HMLTD
The Adam Ant-esque epic 'To The Door' instigates the sweatiest mosh pit of the night before fans are treated to the unreleased 'Death Drive'. Finally, the chaotic 'Stained' brings the set to a climax. The band and the crowd alike are slick with sweat and smeared makeup.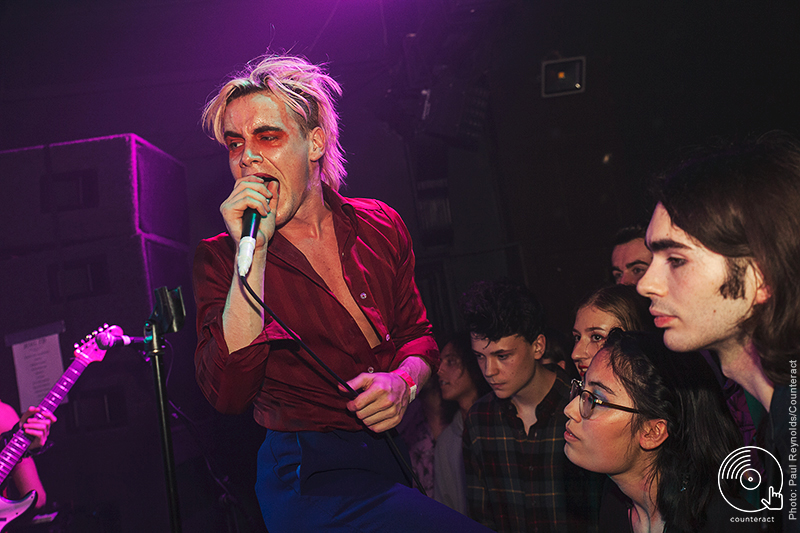 HMLTD
Photographs by Paul Reynolds
Visual artist, multi-instrumentalist, and scrounger. Always wearing headphones, probably listening to Ezra Furman, Sleater-Kinney or Goat.