Review: Flogging Molly head up a hardcore Fireball party in Birmingham
Five bands, headlined by Flogging Molly, unleash havoc and burn up the O2 Academy in Birmingham as part of the Fuelling the Fire tour on Wednesday 12th December.
[amazon bestseller="flogging Molly vinyl"]
The third annual Fireball Fuelling The Fire tour neared its end at the O2 Academy, with only two more dates to go, and it was clear the bands involved had been having a blast throughout. The party atmosphere was ratcheted up tenfold with Fireball personnel circulating the venue; expertly wielding trays overloaded with free shots, carefully negotiating the hoards of sweaty men and a bristling sea of facial hair and, for once, £5 for a pint of lager didn't feel so bad when a free shot was thrown in. It was too much for some punters, more of that later, but for the most part a good natured crowd enjoyed a piledriving night of raucous positive energy.
Unfortunately for us the party started too early; it's not like we were fashionably late turning up at quarter to seven, but by the time we got in the venue local noiseniks Wood and Nails had been and gone and Glaswegian punk poppers Lost in Stereo were half way through their set. Do check out Wood and Nails, they are a local band with a big future who are turning heads, and ears, throughout the second city and beyond, check out our feature here.
The brash young hardcore melodies of Lost in Stereo recall bands such as the Ataris and early Blink 182, there's a gurning adolescent fizz to Lost in Stereo's sound. High energy, relentless tempo and puppy dog enthusiasm, the Academy may only be half full but singer Ellis Hill manages to initiate a crowd singalong through 'Hide and Seek'.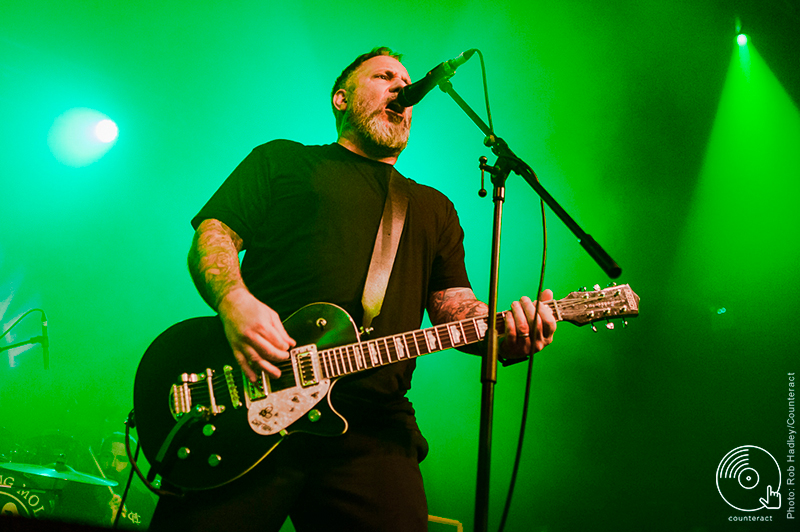 Face to Face
Seasoned hardcore veterans Face to Face have been trading in no frills bludgeoning noise for a quarter of a century, the Californian punks may be getting on, frontman and founding member Trevor Keith wryly comments, "we're old, we need extra fog to cover the fat" as dry ice envelops the stage, but there is no easing of their crisp pummeling California sound. Rising to prominence in the scene that spawned legends NOFX, bassist Scott Shiflett tours with Fat Mike's punk covers supergroup Me First and The Gimme Gimmes, Face to Face are hardcore legends. Twenty five years worth of classics are unleashed in the band's short set including 'A Ok' from 1995's Big Choice and 'Bent But Not Broken', complete with singalong, from most recent studio album Protection. Punk credentials are assured when Keith, having guitar problems, opines "it's in tune enough for punk rock".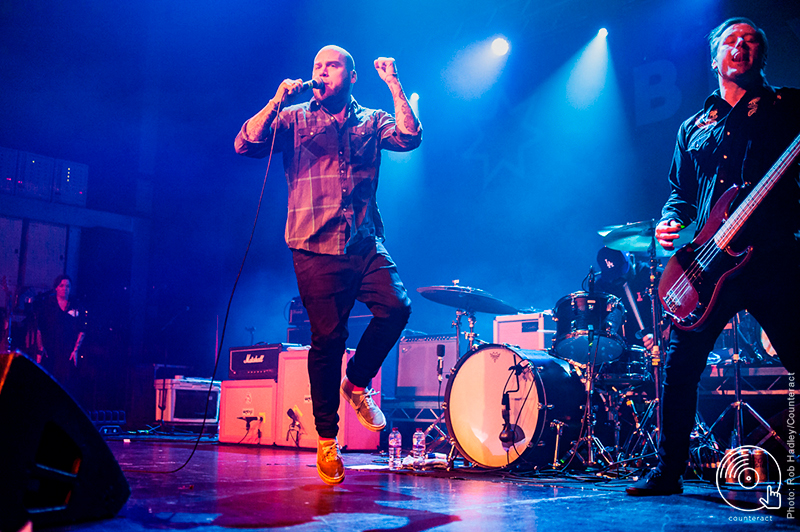 The Bronx
The Bronx mean business, a hardcore punk rock and roll muscle car that throttles at insane speeds and doesn't come with brakes. Their arrival is heralded with intense tribal noise and nausea inducing visuals before singer Matt Caughthran growls "let's go, get the fuck up." It's a mantra happily obeyed by a heaving crowd and is repeated throughout. "All I want for Christmas is some motherfucking movement on the dance floor Birmingham." Caughthran is not so much a loose cannon as a loose cannonball, shaved head, rictus grin and a dedication to rousing an audience that is unparalleled, at one point he joins the pit and travels so far into the sweaty throng he could have ordered a drink at the bar. The Bronx possess a frightening level of intensity, peaking in the violent beat down of classic single 'Shitty Future' and 'Heart Attack American' from the 2006 self titled album. Incidentally, all The Bronx's five albums are called The Bronx.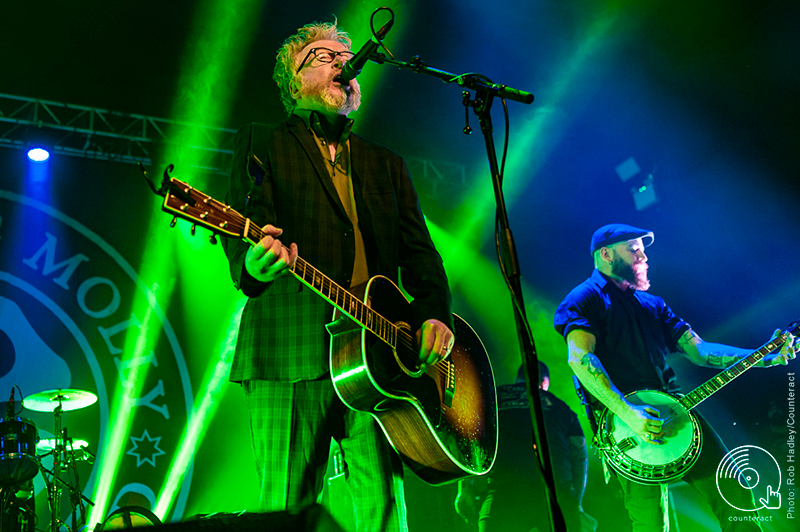 Flogging Molly
Headliners Flogging Molly arrive to huge cheers, the sunshine Californian Celtic punks have cornered the market in hard edged folk rock jiggery pokery, music that riles the soul with its relentless good time infectiousness. It's impossible to resist, arms wave, bodies sway, lips smile and yes, thighs get slapped. These salty sea dogs whip up a relentless storm of shamrock braggadocio and piquant social poignancy wrapped around the effusive charm of front man Dave King. Kicking off with 'The Hand of John L. Sullivan' from last year's Life is Good album, chock full of buccaneer riffs and potent lyricism, Molly set the tone for a barnstorming set. Other highlights include 'The Likes Of You Again' from seminal 2000 release Swagger which is dedicated to sadly departed Buzzcock Pete Shelley and 'Rebels of the Sacred Heart', from 2002's Drunken Lullabies, a song King dedicates to his mother who once lived in Birmingham.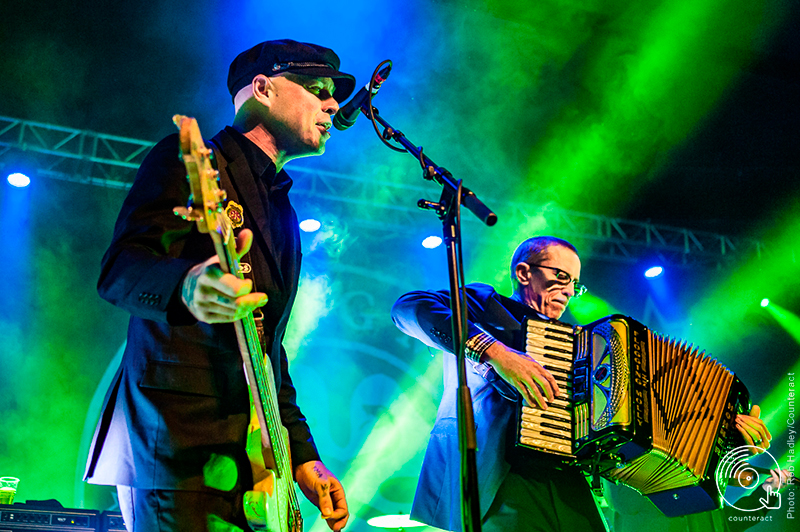 Flogging Molly
The only negative this evening was an idiot lurking near the bar, who was completely wasted, and desperately trying to start fights whilst hollering 'up the IRA'. Security took an age to intervene, despite bar staff trying to help, and when he was finally ejected one poor punter was bleeding heavily from a blow to the face. Which begs the question, at such events is it really such a good idea to be giving away free shots? Discuss.
Photographs by Rob Hadley
"Reviewer, previewer and writer of just about anything. Can usually be found with my eyeballs plugged into sleazy 70's exploitation cinema or riding an antique bike around Harborne. I have no issue with being bought pints or accepting bribes of any sort."