Review: Declan McKenna plays energetic show at the O2 Institute
Declan McKenna played the O2 Institute on October 28th
Support came from Coventry band FEET
McKenna proved why he's such a rising star, appeasing his rabid fans
Declan McKenna is no stranger to Birmingham. A bit ago we crashed the Declan McKenna show at the Hare & Hounds; with his most recent show Declan played to screaming fans who rushed the stage halfway through the set. His most recent show at the O2 Institute may have had better security, keeping the fans at a safe distance, yet the same bouncing energy and excitable crowd was present.
Indie rock band from Coventry, FEET opened the night. Bathed in a green and yellow lights, the five-piece band open the night with incredible energy and passion. The boyish charm of the group is shrouded in intense rock god moments, giving the younger group a really alluring feel. The perfect opener for Declan.
After a short turn over the band appears; dressed in all white the band, which has been a part of the Declan show for a while now, swirled together an ambient intro. Blocked by pink lights that filled the room with a warm hue, Declan McKenna rose from the O2 Institute stage starting the show with 'The Kids Don't Want to Come Home' and 'Make Me Your Queen.' There is a strong stoic power that seems to seep through Declan as he begins the show. This assured presence no doubt has come from his months and months touring, perfecting his stage show and growing comfortable with his new status of rock legend.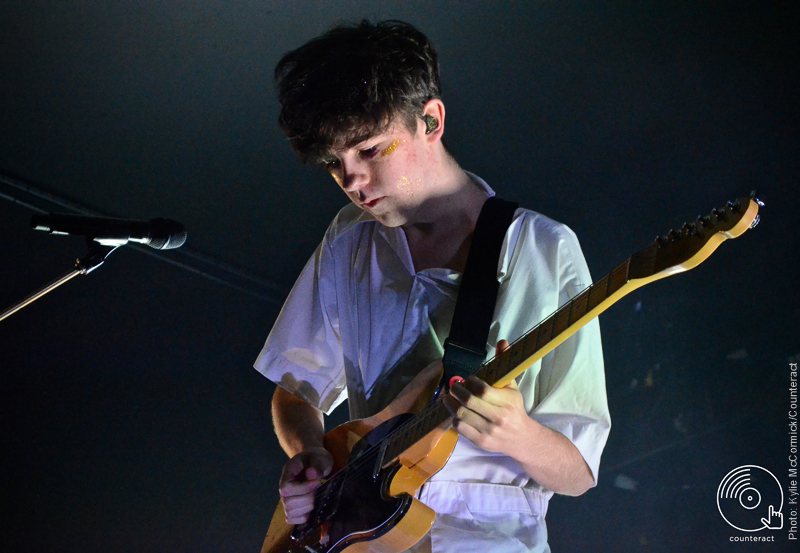 Declan McKenna
'Basic', 'Bethlehem', and 'Mind' are the uptempo ambient rock songs that have come to typify Declan's sound. As the lights move from pinks to purples to blues, the band breaks out in sonic wonder, highlighting the incredible talent on the stage. Each fan consumes every minute and every chord, their eager ears listening intently to songs that reflect their own inner questions and struggles. 'Humongous' and 'Isombard' are followed by hits 'Why Do You Feel So Down?' and 'I Am Everyone Else' with 'Paracetamol' and 'Brazil' rounding out the set.
After the screaming and wailing Declan McKenna and band come back to the stage to encore with 'Listen To Your Friends'. The lights dim, fans hug one another emotional from their experience, and they saunter like zombies back into the dark abyss.
Declan McKenna has continued to grow as an artist and as a presence. His youthful yet poignant songs certainly serve as a voice to the inner turmoil and tumults of youth and the maturation of life. While this show was void of crazed fans and stage crashing, it was an energetic bomb that certainly displays why Declan McKenna is such a popular artist.
Photographs by Kylie McCormick