The albums of 2016: Ranked by Birmingham bands
While 2016 has been something of a tumultuous twelve months in terms of celebrity deaths and political insanity, it has still been a triumphant year for music. From new bands to established outfits, there has been a raft of quality collections that have outweighed the dysfunctional nature of this year. To get a better idea, we asked some of Birmingham's finest bands to tell about their favourite records.
Joshua Rochelle-Bates (Semantics): My album is Telling It Like It Is by Marching Church. An album that is fierce, seductive and glamorous, the soundtrack to a drunken walk home through the red light district. Marching Church's second outing successfully blurs the lines between jazz, rock and soul and leaves in its wake decadence, drama and dissonance.
Erin Curran, Conor and Danny Boyle (The Cosmics): The record we're gonna choose is DIIV's Is The Is Are. It's one which a band we all love – we've been on band outings to see DIIV a few times in 2016. It's album of the year for us because lyrically it's flawless and there's not one bad track on the record.
Ryan Baynham (Handwaxx): My album of choice is A Tribe Called Quest's  We Got It From Here…Thank You 4 Your Service. They may not be one of the most popular or contemporary bands around but the record is a triumph musically and lyrically.
Sam Lambeth (Quinn): There's been so many great new bands coming to the fore this year, and one of them has to be Up To Anything by The Goon Sax. They're an Australian trio right in the mould of The Go-Betweens and The Smiths, with wistful acoustic jangles and coming-of-age contemplations.
Jimmy Temniuk (Yung Jimmy's Big Ideas): Mine is Preoccupations. I was shown this album by a work colleague and the first thing that struck me was the synthesiser tones – they remind me of the soundtrack to Stranger Things. Flegel's vocal delivery blows me away with some of his darkest lyrics yet.
Conor Schofield (Jaws): My album of the year is Blond by Frank Ocean. The songwriting, the production and lyrics are just a step up from almost everything else I've heard this year. It's a really intimate and personal album but you still somehow connect with it. My favourite song is 'White Ferrari'.
Christopher Newey (Paper Buoys): My choice is Kate Tempest's Let Them Eat Chaos. I think she's one of the important poets of our generation. How she has evolved her unique style of spoken word with electronica on this album is refreshing. Its a topical, honest and often dark record.
James Brown (God Damn / Mutes): I'm going with Angel Olsen's My Woman. It's not the most artistically ambitious album released, nor is it the most impressive lyrically- but it's given me the most satisfaction and pure pleasure! Angel pursues a far more assertive direction – she comes straight out the gate with the critic-shaming 'Intern'.
Kez Handley (Gleam): When I first heard Radiohead's A Moon Shaped Pool, I wasn't quite sure what to make of it. However whilst driving my car alone one night, I gave it another shot. When 'Glass Eyes' came on, I actually had to pull over and listen to it again. And again. The way Thom Yorke gently sings these real dark lyrics over a huge, roaring crescendo is just one example of a very clever but also very beautiful album.
The Lizards: Ours is Skiptracing by Mild High Club, One of the most underrated bands around at the moment and probably the album I've listened to the most this year. Its full of crazy sounds and jazz chord changes, and the vibe makes you feel like your in some mad neon 1970s detective film.
Robert Craig Oulton: When You Walk A Long Distance You Are Tired by Mothers. From the slow-building opening track 'Too Small For Eyes' to the slacker-ish vibe of 'It Hurts Until It Doesn't', this LP is a great example of a band that are nailing what's in right now, yet still aren't afraid to be themselves and experiment sonically.
Alex Thompson (Apathy): I've gone for Lost Under Heaven, because it's so dark and romantic and shows the beauty of a dystopian reality.
Bryony Williams (Field Harmonics): I first fell in love with Jenny Hval's album simply because of the title name, Blood Bitch – aggressive and righteous. Then I believe the whole album is about womanhood and Jenny simple doesn't shy from it. She confronts it which is something I admire. Throughout the album she uses different techniques of presentation and includes instrumentals and voice-overs which is something I'm a sucker for.
Grain Death: It's EUSA by Yann Tiersen. It's the ultimate calming album; you can listen to it on the bus or in Aldi and suddenly you are no longer staring at the drubbery but floating away on the beautifully minimalist piano and crying into a bargain bag of peppers.
Jack Wright (Primary Colours): David Bowie's Blackstar is not only album of the year, but also one of the most uniquely beautiful records I've ever heard. No one could better encapsulate the true downward spiral of death than a man experiencing the pain and his final months. No one else has made an album like it, and no one else ever will.
OJ Sault (Skin): I love the new Band of Skulls record. I'm old school in the sense I like a rock band to be pure and simple, a guitar through a fucking loud amp by way of a fuzz pedal. BOS have progressed over the years but at the core, they're just a dirty rock and roll band with good songs.
Paul Beaumont (Wood and Nails): I cannot believe that 13 years have passed since first hearing bands such as Taking Back Sunday and Thrice, and whilst those early years are long gone, their new music has progressed along with my life and personal taste so every time it still feels like the first time. Songs like 'I Felt It Too' by Taking Back Sunday or 'Blood On The Sand' by Thrice hit me hard.
Felix J Henderson (Jaded): If Bad Brains had a baby with The Lemonheads, Rock The Fuck On Forever by Angel Du$t would be the result. 21 minutes of punk rock fury with big hooks, Angel Du$t really stand out amongst the Hardcore scene in 2016.
Callum Kerrigan: Mine is Cardinal by Pinegrove. My personal favourite is 'Old Friends'. Its the opening track which is a lyrical masterpiece and will surely ease you into the rest off the album.
What is your favourite album of 2016? Let us know.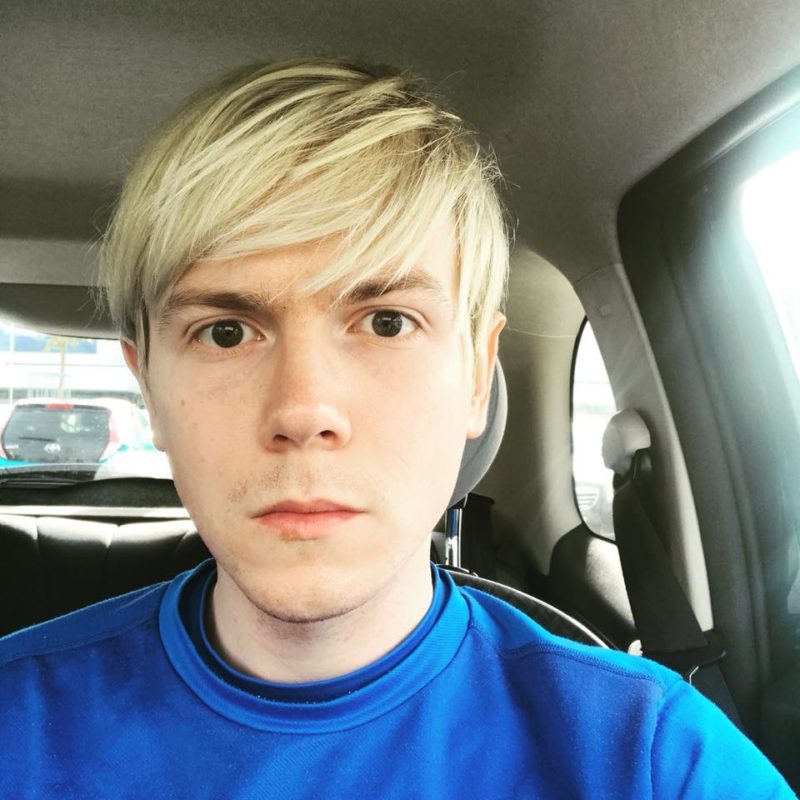 Tied to the '90s. I love anything with a good melody. Favourite acts include DIIV, Best Coast, Wavves, MBV, The Lemonheads, Bully, Pavement, Weezer, Wolf Alice, Mac DeMarco and Dinosaur Jr.