Review: Pleasure House celebrate Christmas at Muthers Studio
Sonic Gun Concerts brought a night of Christmas celebrations to Muthers Studio in Digbeth on Friday 23rd December 2016
Pleasure House were joined by fellow local bands The Mothers Earth Experiment, The Lizards and The Americas
The night concluded with stage invasions, an ode to Bowie and a cover of Live Aid's 'Feed The World'
It truly was a merry Christmas Eve-Eve last Friday at Muthers Studio in Digbeth, with four Birmingham based bands ushering in new fans to the city's music scene. The likes of The Americas, The Lizards, The Mothers Earth Experiment and Pleasure House made up a night of stage invasions, bongo playing and a David Bowie Tribute; followed by DJ sets by Harley Cassidy and Swim Deep's Cavan McCarthy.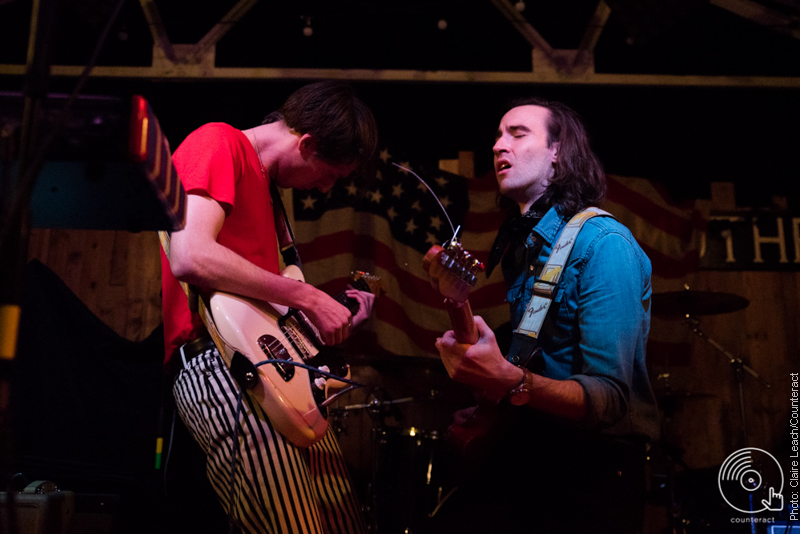 The Americas
First on the bill was The Americas, offering a fiery opening to the evening with their tight, old-school rock approach. Songs such as 'Tenth Day Of May' entailed strong opening guitar sequences and the kind of attitude and confidence within their vocals that could be compared to those of Talking Heads'. The skillful harmonies in their choruses is what gave the band that extra assurance to their audience that they meant business.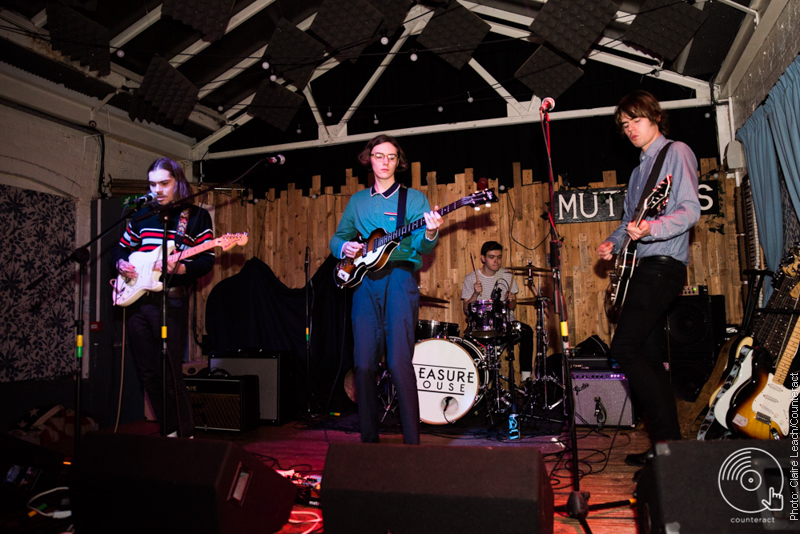 The Lizards
The Lizards took to the stage after recent support slots with Palm Honey and Birmingham's own – Jaws. Unveiling their set with 'The Stoned Age Part 2', the tracks enticing and lengthy introduction made it difficult to let your attention slip away from them as it built up to their prominent psychedelic sound. Alongside fuzzy vocals and distortion pedals in full swing on their guitars, the effective element of front man Dan Whitehouse and their lead guitarist's harmonising vocals added even more depth into their intriguing set. Each song seemed to contain a climatic buildup with the tone intensifying as they progressed into even more of a blur of dark reverb and a hazy 1960's tone.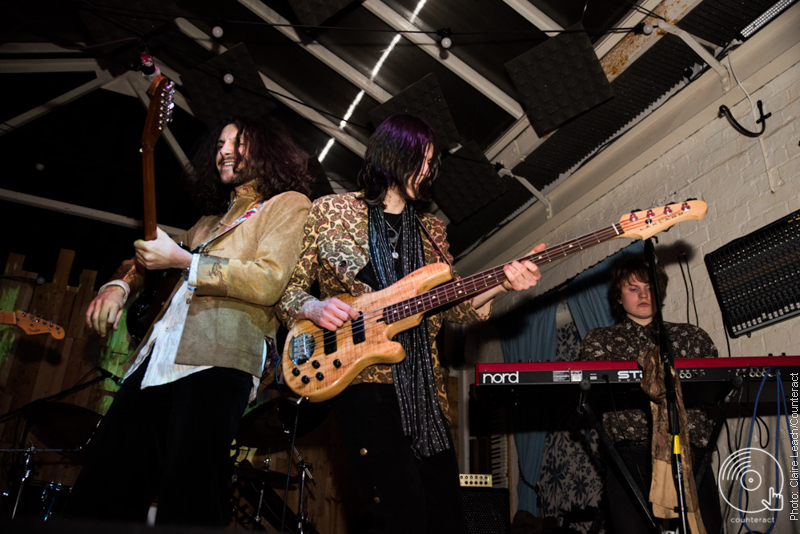 The Mothers Earth Experiment
The Mothers Earth Experiment placed an unpredictable spin on the night oozing with vibes of familiar Australian psychedelic rock bands King Gizzard and The Lizard Wizard and Tame Impala. Their short yet effective four song long set provoked a need to see them play again. The six piece's intriguing performance threw in some unique bongo playing which added to the pleasing array of sounds within this trippy set.'Freakanomics' is the kind of tune that you could easily sit and listen to for hours and melt away into your own little world. Prominent sounds resembling a sitar added an Indian vibe whilst also merging funk and 1960's psychedelia and even jazz with their synth heavy and forceful rhythm.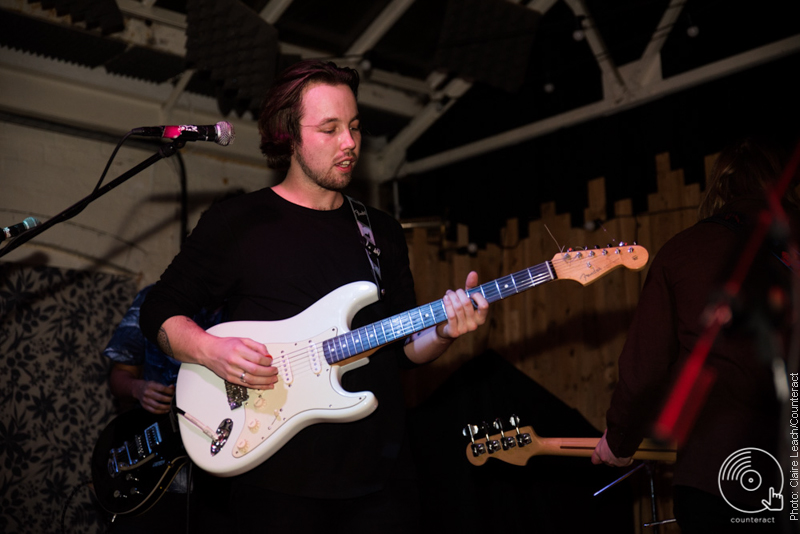 Pleasure House
Headlining the show were locals, Pleasure House. The four-piece consisted of vocals from front man Alex familiarising with those of Luke Pritchard from The Kooks and contagious songs in every sense of the word. Each track was undeniably catchy yet projected an underlying feel of drama with lyrics such as "I'm messed up but I think I'm getting better" on 'Dreaming Slowly', in a kind of seesaw-like feel by singing optimistically about slightly more serious feelings. Whereas songs such as 'Cyan' unveiled a diverse and intense aura to the band, showcasing their more dynamic abilities in contrast to their other floaty indie tunes.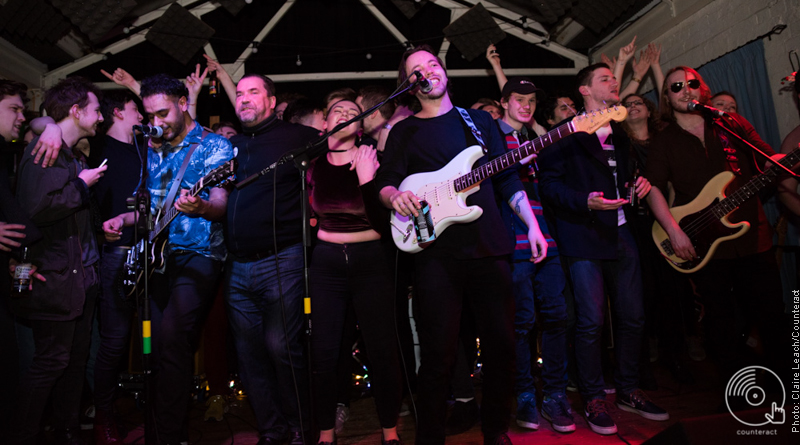 Pleasure House
I'd say this was a show to remember as their last gig of the year, wrapping up a great twelve months and I am almost certain 2017 will be a year full of potential for these lot. Their tribute to Bowie's 'Lets Dance' and Band Aid's 'Feed The World' encouraged a stage invasion with spirits high, shaping the night into a satisfying yet unsettling finish with wanting to see this whopper of a line up once more.
Photographs by Claire Leach