How to show visitors a good time in Birmingham
As the second-largest city in England after London, Birmingham is naturally a top destination for travelers from near and far. Given Birmingham's world-class food, drinks, entertainment, nightlife, and culture, it's no surprise that this city draws millions of visitors each year.
For Brummies hosting friends from out of town, it can be overwhelming knowing where to start. Below is our guide to some of the can't-miss attractions visitors should see during their time in Birmingham.
Food and Drink
The first thing your guests will likely want is a good meal. There's no shortage of options in the city, from Michelin-starred restaurants to some of the best pubs and bars in the country. For an authentic taste of Birmingham visitors won't be able to get elsewhere, take them to the Balti Triangle, where this famous curry was invented.
To wash it all down, bring your guests to a brewery, microbrewery, or speakeasy for a taste of some of Birmingham's finest drinks. If your friends are visiting from abroad, be sure to introduce them to the British traditions of afternoon tea to tide them over before supper.
Casinos
In the mood for poker or baccarat? There are numerous casinos in the city and nearby. Some of the best ones to check out include Broadway Casino, one of the Grosvenor Casino Birmingham locations, and Rainbow Casino. While most of the casinos don't have a strict dress code, be sure to check casinos' websites or call ahead to make sure — the last thing you want is to have a fun night ruined because someone from your group was turned away!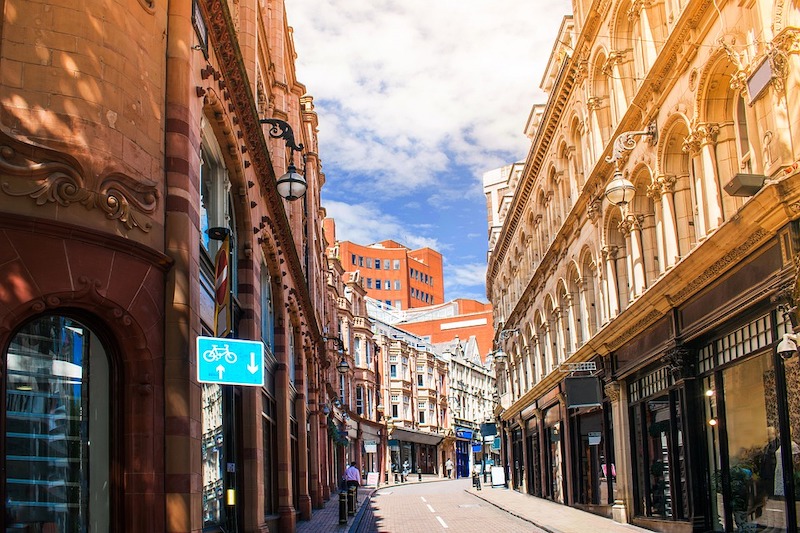 Stay Active
Birmingham is an excellent city to see on foot or by bike, both of which are great options for working off all of that delicious food. Your visitors will want to see Birmingham's lovely canals, including the Gas Street Basin in the city centre. Nature lovers can take a walk through the Birmingham Botanical Gardens or a local nature reserve like Moseley Bog, which inspired J. R. R. Tolkien.
Entertainment
Whether your guests are interested in music, theater, or going out, Birmingham provides more than enough for a full itinerary. For an elegant night out, visit the Birmingham Symphony Hall and catch an internationally renowned orchestra performance. Theatre lovers should be sure to see a show at the Hippodrome, the UK's most popular single-auditorium theatre, where you can also see opera, comedy, or its most well-known type of performance, pantomime.
If you only have an hour before dashing off to the next event, consider booking interactive entertainment like an escape room or take a spin at Grand Prix Karting.
Depending on the time of year your visitors are in town, they can check out one of Birmingham's many festivals. In the summertime, guests can dance to live music at the Mostly Jazz, Funk, & Soul Festival. Wintertime visitors don't need to miss out on the fun, either, and can check out the Birmingham Swing Festival or the Chinese New Year celebrations.
Art and Museums
Birmingham has a rich cultural history and present that will delight your visitors. For a modern marvel, check out the newly-opened Library of Birmingham, which pays tribute to important British literary figures and history with features like its extensive Shakespeare collection.
Art lovers have no shortage of options, such as the Birmingham Museum and Art Gallery. If your visitors are interested in architecture, they can't miss St. Philip's Cathedral, one of the few Baroque style churches in the country, and Aston Hall, a historic Jacobean house. For something more off the beaten track, check out the National Motorcycle Museum, which features more than 1,000 motorcycles from around the world that have been restored.
Whatever your visitors' tastes, Birmingham is sure to keep them busy from dusk until dawn. Let your guests know the many fantastic options at their disposal, and let your city do the rest.