Swampmeat Family Band to debut new charity single at Christmas party
Birmingham's favourite swamp dwellers Swampmeat Family Band are giving an extra special gift this Christmas. Not only have they released a brand new single, but are donating the proceeds to their chosen charity Crisis and celebrating the release with a big Christmas Party at The Castle and Falcon on Friday, December 20th.
Signed to PNKSLM Records, the country punk and Americana revellers Swampmeat Family Band have released 'A Present For Me', a 1950s and 60s inspired acoustic ballad that boasts their country twang, whilst still keeping in the spirit of Christmas. The punchy two minute track is the latest release from the swamp dwellers, who released their debut album 'Too Many Things To Hide' in 2018. 'A Present For Me' will debut at the Swampmeat Family Band's Xmas Party on Friday, December 20th at The Castle and Falcon, Birmingham.
As an extra special gift under the tree, Swampmeat Family Band have designed a limited edition Christmas card to tie in with the single. Designed by guitarist of the band Thomas Hughes (Terror Watts) , the card includes a digital download of 'A Present For Me', with all proceeds going to Swampmeat Family Band's chosen charity Crisis. Last year, Crisis helped 11,300 people leave the streets behind, and this Christmas they are serving dinners up and down the country at their 12 centres, so no one is alone this Christmas.
---
Swampmeat Family Band's Xmas Party on Friday, December 20th will feature a live performance from the Americana quartet, along with support from summer-soaked indie hit maker Robert Craig Oulton and off the wall duo The Temple Street Resistance, plus DJ sets from the band.
---
The Castle and Falcon is an intimate and independent live music venue and late night bar in Birmingham. Situated on the Moseley Road, the venue has boasted acts such as Sam Fender, Mahalia, Beabadoobee, The Murder Captial and Tom Walker, hosting their gigs in an intimate setting before they had their respectful successes. The venue has also been home to local music festival The Sonic Gun Weekender two years in a row, along with hosting events as part of the Trip to Birmingham Trad Fest and legacy-filled punk gigs.
The limited edition 'A Present For Me' Christmas cards are available at the Christmas party, as well as Dead Wax Digbeth, The Mockingbird Cinema and Kitchen, Swordfish Records, The Finery Barbers and Bad Apple Hair. Tickets for Swampmeat Family Band's Xmas Party are available now for £5 via Skiddle.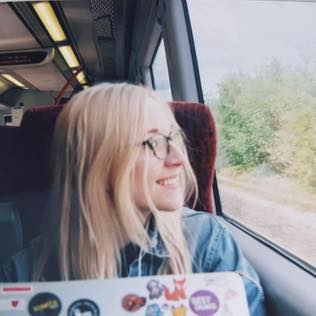 PR, events and social media by day, lover of all things geeky and retro. Can often be found scribbling notes at the back of the gig.