Review: Three of the loudest, riff-heavy rock bands quake the O2 Institute's rafters
Black Country boys, God Damn, set the standard for the night with another impressive performance
Florida, 4 piece, Torche, play a grand slam of a set
Portland rockers, Red Fang, play louder than an atom bomb
On Sunday 2nd October, promoters Surprise You're Dead Music, delivered a line up of three of the loudest riff heavy rock acts around to the O2 Institute, Digbeth. With doors opening at 7pm and the queue of attendees stretching round the block, it was obviously going to be a night well worth the inevitable post-gig temporary loss of hearing for anybody in attendance at the almost full to capacity venue.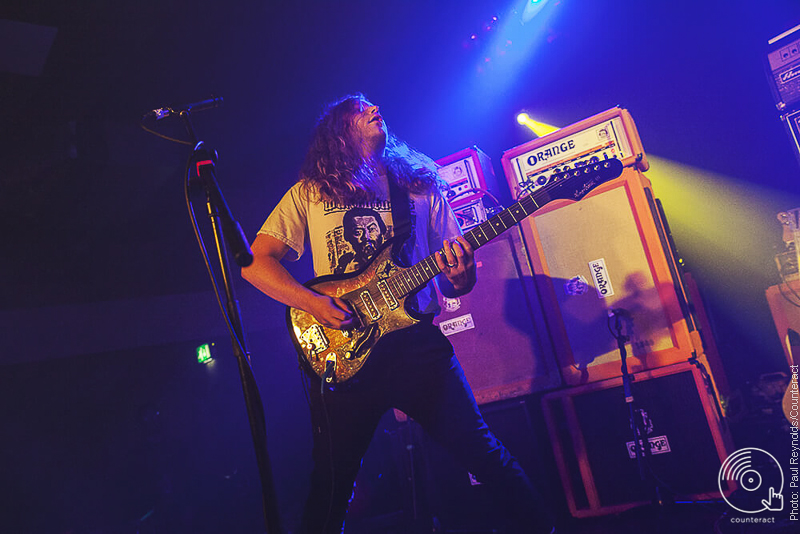 First to take to the stage were local heavy grunge rockers, God Damn. Ceaselessly growing in popularity and well deserving of the current exposure they are receiving from their new album, Everything Ever, it was great to see the Black Country boys reveling in the opportunity to support the bands that they are also fans of, not only at this venue, but for the entire UK tour. From the start of their set, vocalist/guitarist Thom, drummer Ash, and touring bass/keyboard player James, set an incredibly powerful standard for the headlining bands, with their loyal and local followers, fully immersed in every second of the West Midlands hardest hitting band's set. Leaving all inhibitions at the door, the 3 piece kicked into their set opener with the gusto and determination of a band destined to continue taking the heavy rock world by storm. With every explosive, distorted riff, every cataclysmic vocal uproar and colossal, animalistic attack of drumbeats, the energy level was notched up higher and higher to a point where the audience would have been ecstatic if they had continued their set till the venue's curfew.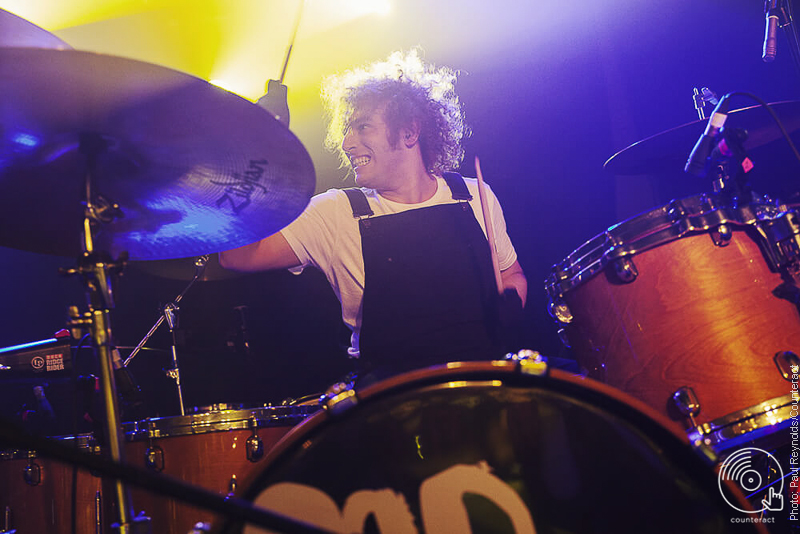 Blasting through their recent singles, the crunchy and commanding, 'Fake Prisons', the catchy fuzzed punk roots of, 'Sing This' and the 3 minute heavy hooked brutality of 'Ghost', God Damn prove that their musical form has broadened with direction but they have not lost any ounce of their lyrical intensity and no-nonsense rawness. Not only are God Damn a band that can produce a momentous discharge of abrasive and massively gratifying noise, but they are also an amazingly unpredictable and engaging band to watch live. This is not a band that remain static for their set, with Thom seemingly on an unstoppable rampage, utilizing every inch of the stage and Ash pounding his drums with such wild fury that he seems to be attempting to break them, they do not just grasp your attention, but succeed in maintaining it and keeping the audience not wanting to blink and miss a split second throughout the entire performance. Having a set that totaled 7 songs, including the thrashed out mayhem of 'When the Wind Blows' and ending on 'Vultures', from their predecessor album of the same name was a perfect choice. With its intermittent light/heavy drums, twisting, distorted guitars and raspy screeching vocal, the long pummeling ending made for a victorious finale for God Damn, not only for being part of this tour in the first place, but also for playing to a home-turf audience that greatly admire them.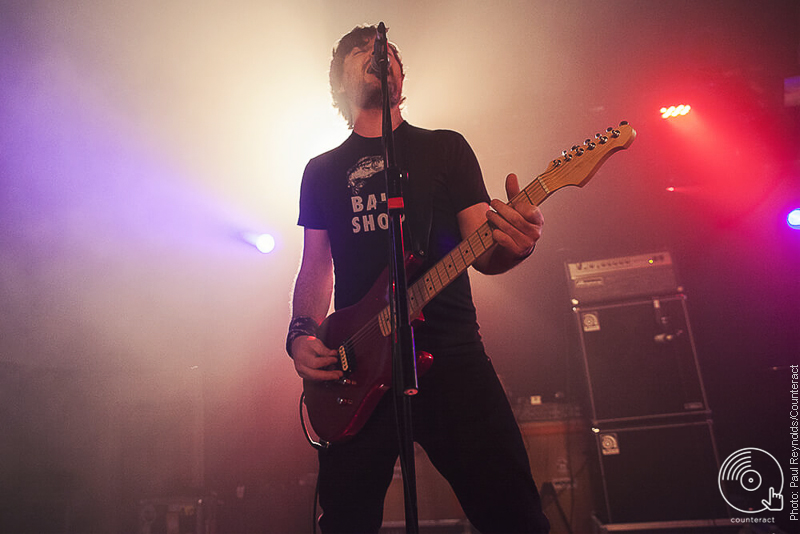 Next up were Florida 4 piece, Torche. Having formed in 2004 and being known for their mixed style of melodic alternative rock, down-tuned stoner drone and harmonic vocals, it is interesting to note that their musical technique has previously been described as 'doom pop'. By beginning their set with the weighty drudging rhythm of 'Sandstorm' from their 2008 album, Meanderthal, then delving straight into the fresh, upbeat buzz of, 'Kicker' from 2012's, Harmonicraft, followed by the toe-tapping anthem 'Grenades', the band showcased their ability to meander their way through a varied set taking it all the way down to full pounding drone then instantly raising it back up again to optimistic punk/pop rock. With vocals shared between guitarists, Steve Brooks and Andrew Elstner, the sound reached peaks of harmony along with diving into a deep thunder of stoner rock rumble for the heavier, drawn out numbers.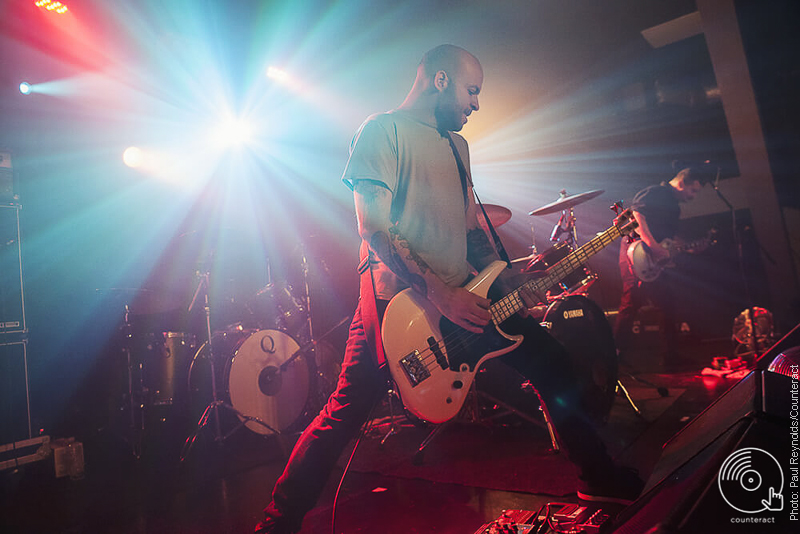 It is obvious that Torche are an accomplished group of musical experts around the rock tour circuit and this performance reaffirmed their reputation as a solid and well-grounded band that also looked like they were having a great time throughout their set. Being the band that take to the stage after a blistering performance, such as the one that God Damn accomplished, can be no easy task and despite Torche not quite reaching the same level of ferocity, the erupting mosh-pit and amass of nodding heads confirmed that this was still one grand slam of a set, albeit, with a slightly cleaner edge. Playing in excess of 11 songs these guys gave it their all and crammed in as much material from their back catalogue as time would allow. Including, the shot to the gut album opener 'Annihilation Affair', and the agile and aggressive, 'Loose Men', from their 2015 album, Restarter, Torche vigorously charged through each song substantially revving up the crowd in preparation for the Red Fang onslaught that awaited them.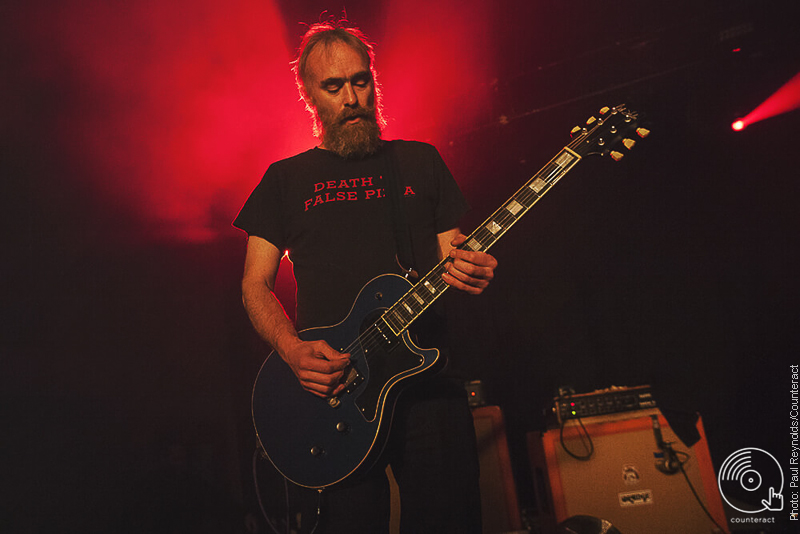 Originating from Portland, Oregon in 2005, the 'louder than an atom bomb' 4 piece, Red Fang, have proven that their music is a force to be reckoned with, not just through their live performances but also through their 3 studio albums and various EP's. With their bellowing, hook-laden, stoner metal riffs, earth shaking bass-lines and drum beats, all stitched together with savage and growling vocals, it is no surprise that these guys were opening for genre contemporaries such as, (The) Melvins, within one year of their first live show. With a new album on the way entitled, Only Ghosts, Red Fang wasted no opportunity to play a maximum impact, high magnitude set with the cranked up sound quaking through the walls and blasting up to the rafters. Opening their set with the catchy, head-banger, 'Wires', a song that evolves into, possibly the most ass-kicking riff on the album, Murder the Mountains, the alternately pitched vocals from guitarist, Bryan Giles and bassist Aaron Beam, swarmed the room with a mixture of harmony and gruff menace, equating to an impressive and precise start to the set which the lively crowd showed their instant appreciation for.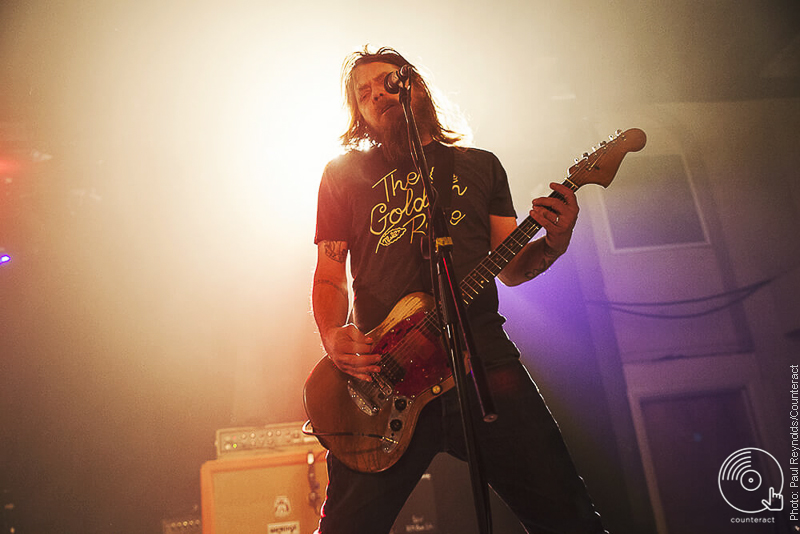 Barraging through new track, 'No Air', whilst the crowd continued with the beer throwing, mosh-pit antics, the band then seamlessly pounded out the grinding sludgery of 'Into the Eye'. With its deep and grimy tempo, alternating vocal outbursts and the band members looking like they had just driven to the venue in a monster truck from hell, Red Fang made for an imposing and highly compelling live act. At no point did the energy level drop or waiver, their sound was consistently powerful, catchy and primal, resulting in a fully loaded set made up of 12 songs that were heavier than a Weight Watchers fail in a fudge shop. Despite playing a lot of new and currently unreleased material, it made no difference that the audience were not familiar with the songs, although their choice to throw in some favourites from their previous 3 albums was a good move. By the time the band worked down their set list to the end of the performance it was clear by the shouts, whistles and roars from the crowd that an encore was inevitable. Returning back to the stage and kicking into 'Hank is Dead' followed by '1516', seemed to be the perfect choice given the level of grateful shout outs and the continuation of the mid audience mosh-pit that had more than doubled in size. As a band, Red Fang came across as being completely happy-go-lucky and relaxed on stage and despite there being little conversational interaction between the band members, the support that the Birmingham audience showed them was definitely appreciated, particularly when they announced 'We love you Birmingham!'. After taking pictures of the crowd as a tour memento, all with hands in the air basking in the afterglow of an awesome Sunday night, it was evident that everyone's 2 days of deafness would be completely worth it.
Photographs by Paul Reynolds
English and Media Studies graduate, frequent traveler, vinyl and vintage enthusiast….fan of delta blues, folk, 60s/70s rock, psychedelia and the many gaps in between. Favourite artists include Wooden Shjips, Radio Moscow, All Them Witches and too many others to mention.