Review: The Libertines return to Birmingham with aplomb
The Libertines finally returned to Birmingham on Wednesday January 27th after an 11 year absence
An under capacity crowd witnessed the band on top form, following the release of their latest record Anthems For Doomed Youth
Technical difficulties saw acoustic ballads 'Albion' by Babyshambles and rare Libertines b-side 'France' make an appearance
The Libertines are back, not just for a one off reunion gig or a special event, they're back playing together, recording and writing together, they are a band once again. After pretty much ten years of separation everyone wondered what to expect. their lives are so different now, no longer starved with hunger for fame and fortune, no longer a cheeky young rag-tag bunch. They released their first album in over ten years Anthems for Doomed Youth  last September, which garnered a decent reception in the press.
There's already been a fair bit of hype for this gig, especially since the last minute warm up gig at the intimate Coventry Empire – the venue is run by Tom from The Enemy who no doubt made the whole thing possible. This time the gig is at The Barclaycard Arena, for those of you confused, this used to be called the NIA. It's a huge arena, with a large pit and surrounding seating, it's a fantastic venue for some acts but no one's first choice of venue to see some dirty indie rock n roll.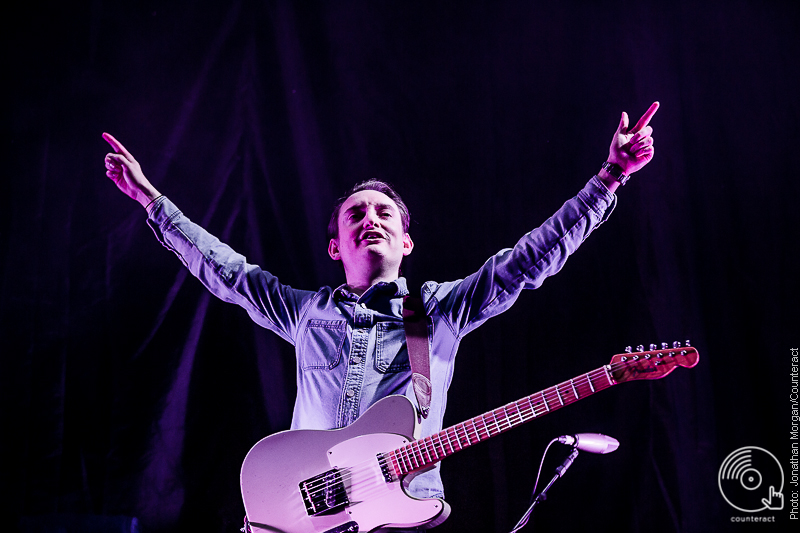 The Enemy
Support tonight comes from The Enemy, a good match and on almost home turf the band already have an attentive crowd when they kick off with a bang with 'Away From Here', the pit is already bobbing up and down from the get-go. Tom Clarke may not be the tallest fella in town but he's certainly got the presence, like a younger angrier Paul Weller, he frantically leads the band through a slew of hits and onlookers happily sing and chant along. 'We'll Live and Die in These Towns' gains the greatest response, although 'You're Not Alone' goes down very well too. Perfect warm up for The Libertines the audience are left bubbling nicely and ready for the main event.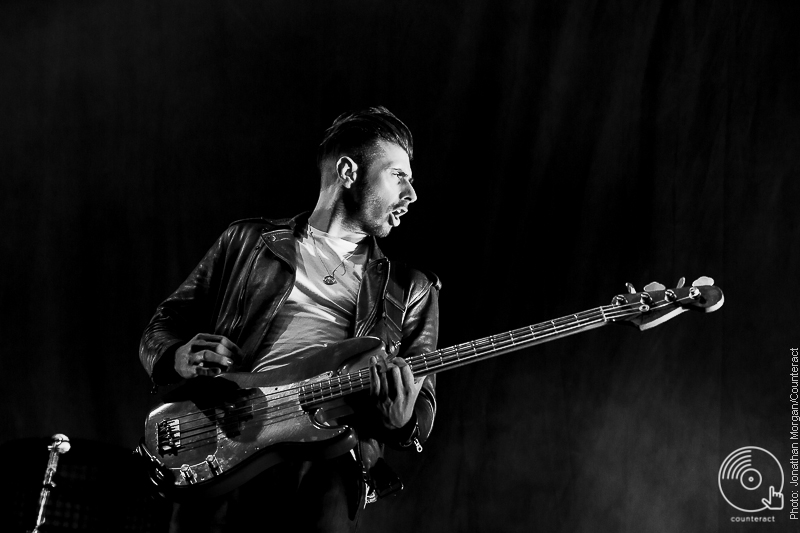 The Enemy
The energy of The Enemy is somewhat lost though, as a strange hooded figure takes the stage and informs us that he is going to do a couple of poems – the strange hooded figure being Jack Jones from a band called Trampolene.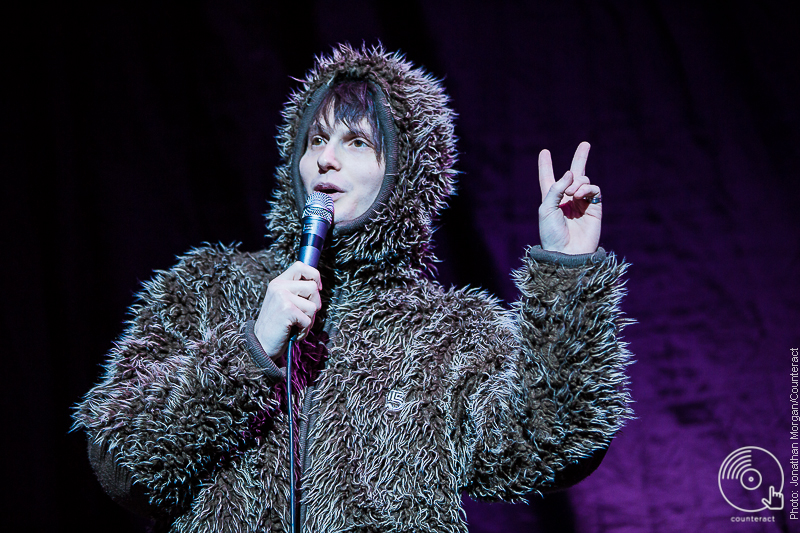 Jack Jones
His voice and rhythm is very similar to that of John Cooper Clark – the subject matter by the way is ketamine, not a drug that anyone would associate with the now clean Libertines, or the crowd watching, who are made up of original fans and young teenagers (some with their parents who look on disapprovingly as he yells in a Mancunian drawl 'You scream, I scream, we all scream for Ketamine'). No one seems impressed and to make matters worse, Jack Jones introduces The Libertines, leaves the stage, and nothing happens. It's all very bizarre!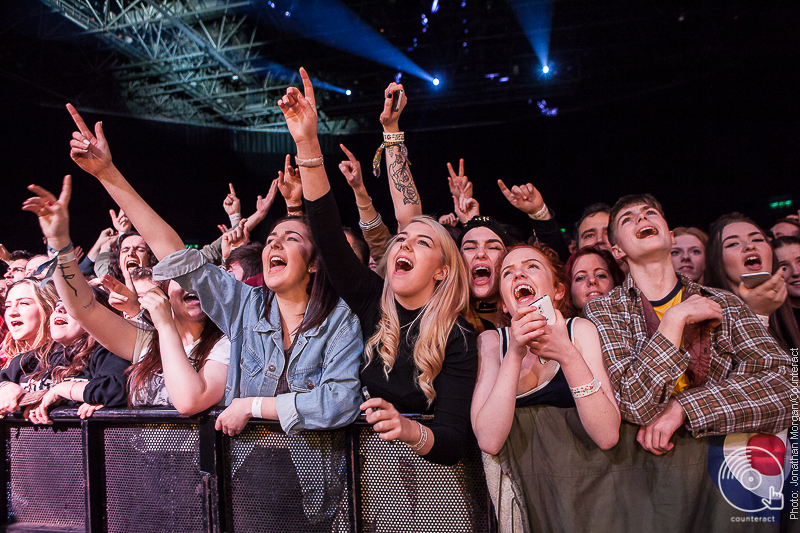 Libertines fans
Finally, the late great David Bowie's 'Diamond Dogs' comes on overhead and The Libertines take the stage to rapturous applause. They don't waste any time and soon start playing their Ennio Morricone homage, 'Barbarians'. Even in this cold arena, Gary has whipped his top off in the blink of an eye, harking back to the days when the whole band used to play topless and in leathers. Pete looks cool in a long Teddy Boy style Crombie, Carl looks like he just got out of a time machine stepping straight from 2003 into 2016, if he was here looking for his mojo, he soon found it. John, yes JOHN that's his name, why does everyone always forget John? He looks equally as well-preserved and at times even cracks a smile although it seems like he's fighting it, keen to play the part of the stoic bass player a la The Who's John Entwistle. They take a couple of songs to get into the swing of things, but sound great from the off. By the time they get to the excellent 'Fame and Fortune' they have everyone's full attention.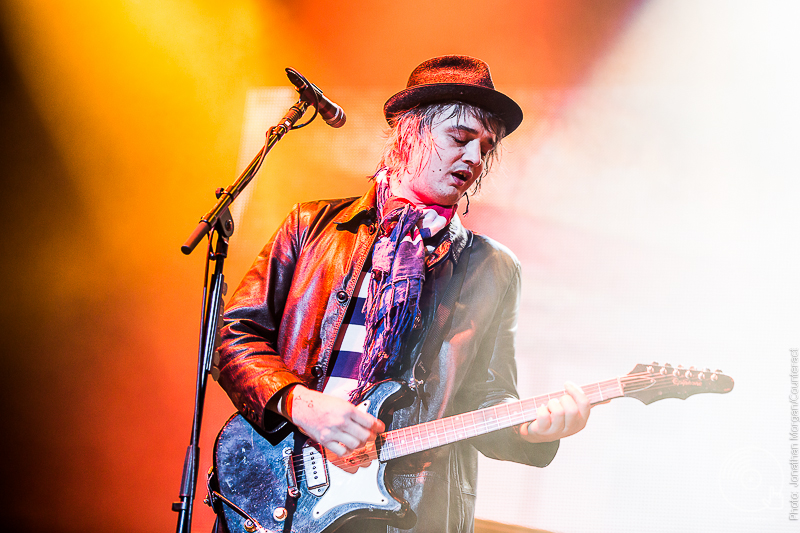 The Libertines
Everyone in the standing area, the pit, look like they're grinning, flailing their arms and cheering for the headliners. Those in the seating around do not look as happy, it's freezing and not all the seats have been filled. That might seem odd for a band as big as The Libertines, but let's face facts, who would want to watch them sitting down? This band suit the sweaty Barfly and Academy venues or a big festival field.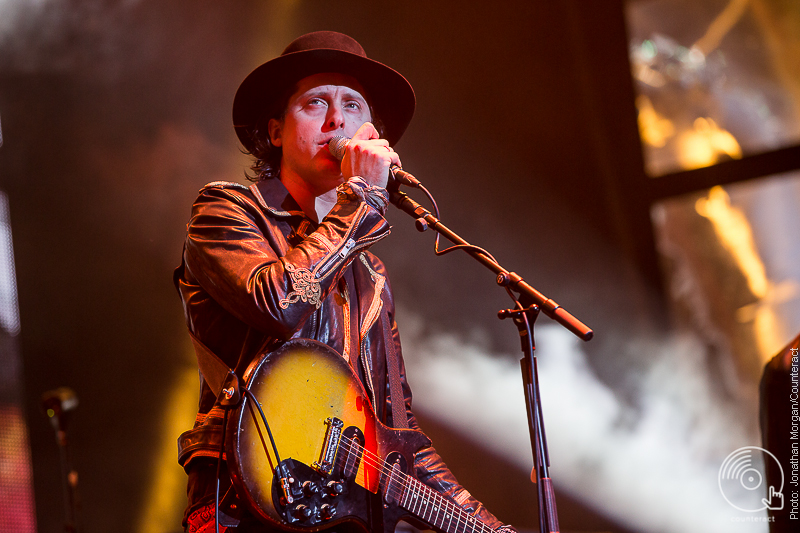 The Libertines
Their original fans are still pretty young, in their late 20s – early 30s, still some life left in them yet for crowd surfing and pint-throwing. It doesn't throw the seated crowd off completely though, as they look equally as drunk as the pit crowd and by the time 'Boys in the Band' comes on they are soon standing and bellowing along. It's such a great song, every girl singing it probably DOES like the roll of The Libertine wheel, OK probably a fair few boys too. But you can tell they feel a little uneasy singing it, with the sex, drugs and rock n roll lifestyle having been rebooted for cleaner lifestyles. Still an absolute corker though.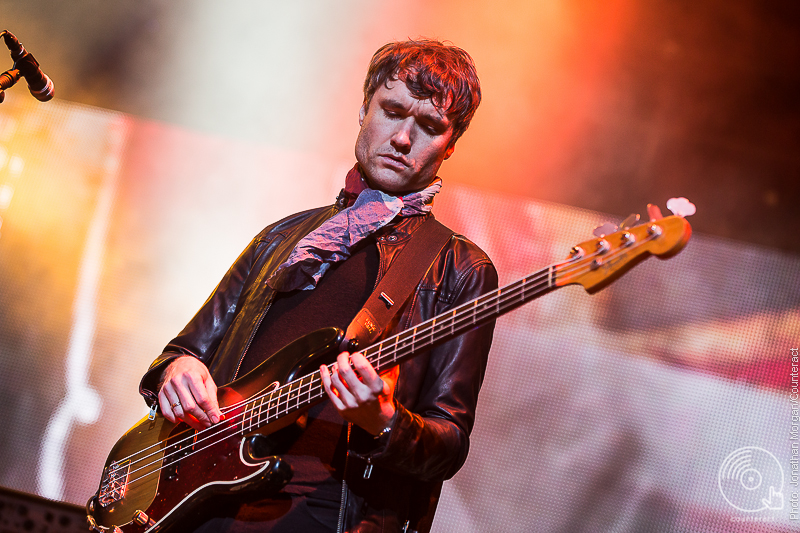 The Libertines
Whilst the new material is well received, the old classics like 'The Man Who Would Be King', 'Can't Stand Me Now', 'Time for Heroes' and 'Death On the Stairs' really kick up a ruckus, and so they should. The pit is truly wild now, swirling and dipping, bodies jumping and lurching and beer swilling in the air.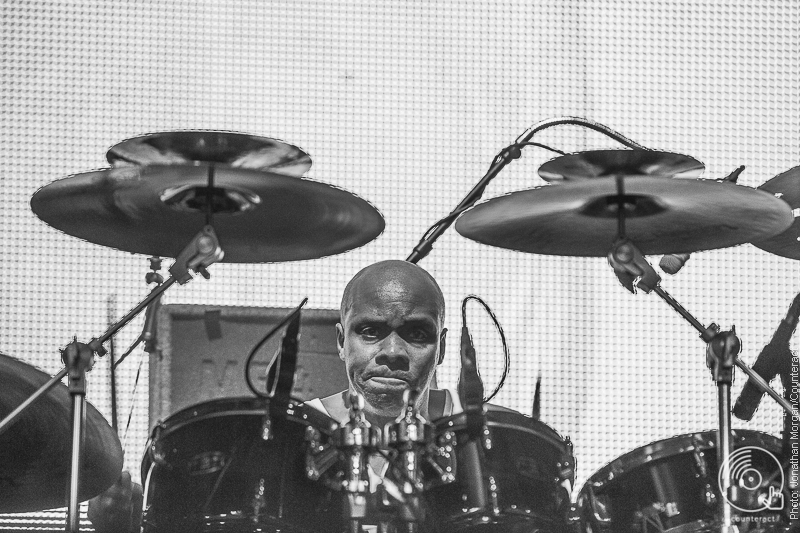 The Libertines
After a killer set the band are lured back on stage for an encore, starting with Babyshambles cover 'Albion', ending on 'Up the Bracket' and 'Don't Look Back into The Sun'. Everyone is super charged and raring for more, which is always a good sign. The Libertines returned, conquered and left no doubt that they still have 'it', whatever it is, and their fans couldn't be happier to see those four likely lads onstage together again.
Photographs by Jonathan Morgan
Music/Arts/Leisure/Brum
www.mazzysnape.com