Review: Shame let loose with a blistering set in Birmingham
Rising stars Shame headline a high class bill with Fontaines D. C. and Sorry at Birmingham's O2 Institute on Wednesday 28th November.
[amazon bestseller="shame songs praise"]
As is the way with most support bands, especially those opening a show, venues remain sparse, dotted with a few curious onlookers and disinterested gazes from the queue at the bar. Such was the scene at the O2 Institute moments before Fontaines D. C. appeared on stage, but it didn't last long. Within minutes, empty space became a heaving bulge as the Irish band launched into a punk art rock steamroller of savage noise and rampant energy. Front man Grian Chatten is an hypnotic presence, possessed of an Ian Curtis twitch and a disorientatingly aggressive vocal delivery, a knowing  poetry of disillusionment mixed with guttural roars.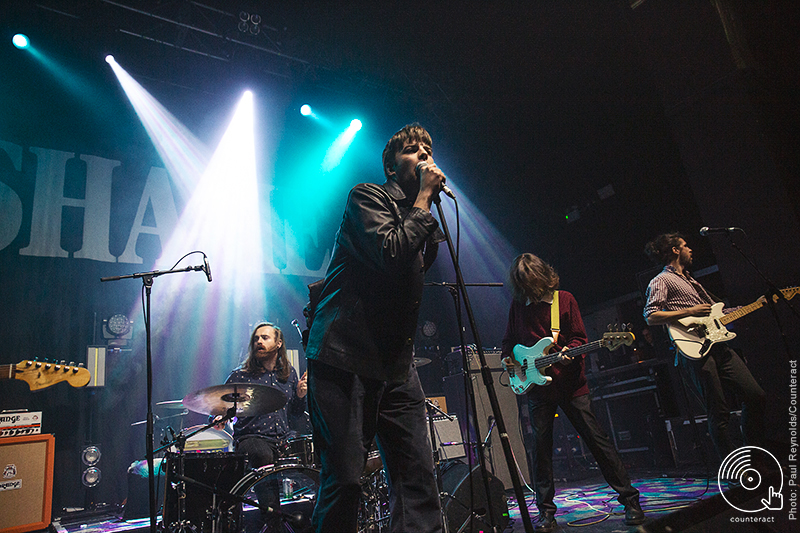 Fontaines D.C.
There's a distinct gloomy air of fellow Irish dysfunctional post-punk merchants Girl Band about them. New single, 'Too Real', out on 21st December, is a pummeling mix of jarring energy and Mark E. Smith snottiness, Chatten repeatedly challenging "is this too real for ya?". 'Boys in the Better Land' is a stand out track before the band end with the righteous din of "Hurricane Laughter".
After the onslaught of Fontaines D. C. the London based Sorry offer some respite with their deliriously subversive dream like noise stamped with a Pixies style swagger. Sonically recalling sophisticated nineties indie that would easily fit into the best of 4AD's formidable canon. Disarming and uneasily slight, Sorry's sound is experimental and dangerous, shifting from delicate pop melody to Sonic Youth thrash out in a heartbeat, perfectly realised in set highlight 'Showgirl'.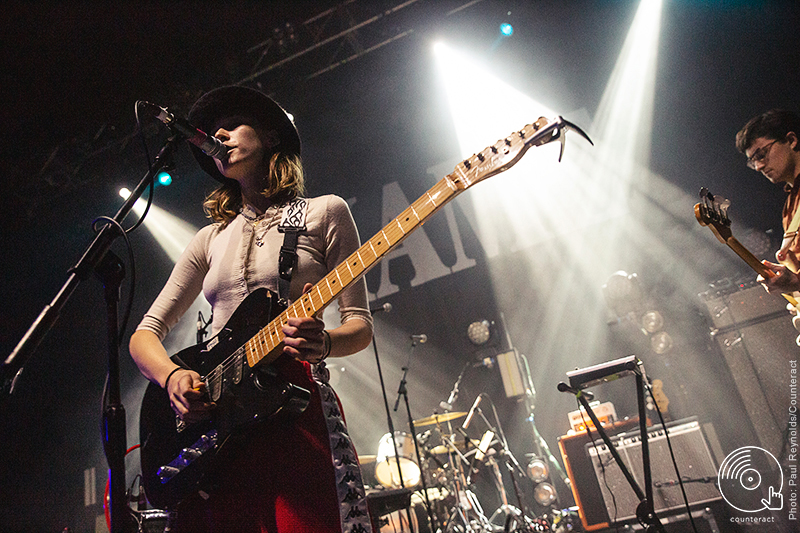 Sorry
Britain's most exciting new band, according to the Guardian, pitch up on stage with an earnest rock maturity that explodes their tender years. Barely out of their teens but raging with a whip crack sharp tenacity and lyrical smarts that most bands would barely get a sniff at. That Shame want your attention is unavoidable, how they achieve it is stark and unsettling. Kicking off with 'Dust on Trial'; from acclaimed debut album Songs of Praise, as most of tonight's songs are, in a blinding cacophony of musical bedlam and downright barbarous strobing. Like Shame, the strobe effects are relentless, the signs around the venue should have given fair warning but they wouldn't last the whole set surely? They did, and when it was all over we were left with the most beautiful headache.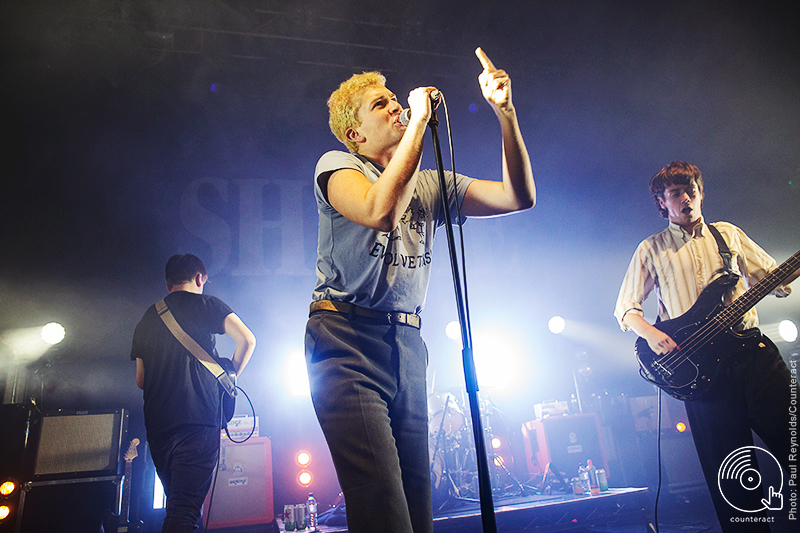 Shame
Before we got there though, Shame gave a masterclass in pile driving rock experimentation, a post punk hardcore rallying cry that, to our ears, rammed home influences as diverse as Fugazi, The Fall and even, on 'Friction', the knowing disco of Madchester. Ferocious and uncompromising there's a psychopathic energy to Shame, singer Charlie Steen inevitably ends up shirtless, making several forays into the crowd and in bass player Josh Finerty the band have one of music's supreme livewires. Like a demented Tigger, Finerty bounds around the stage without pause, even enduring a minor Novoselic moment as bass and he became temporarily disengaged.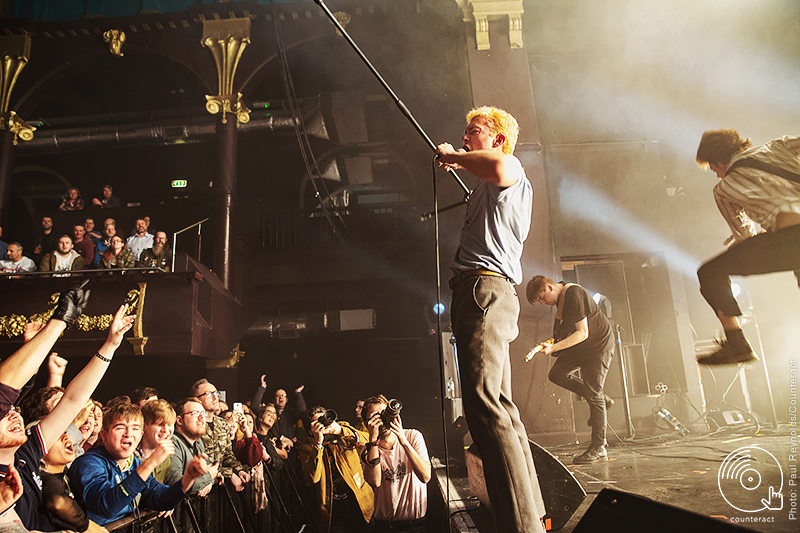 Shame
New song 'Human for a Minute' shows there's more in the tank for Shame than being labelled one album wonders, but absolute highlights are the anthemic 'One Rizla' that Steen introduces with "this is a pop song, enjoy yourself" and the encore singalong of 'Gold Hole'.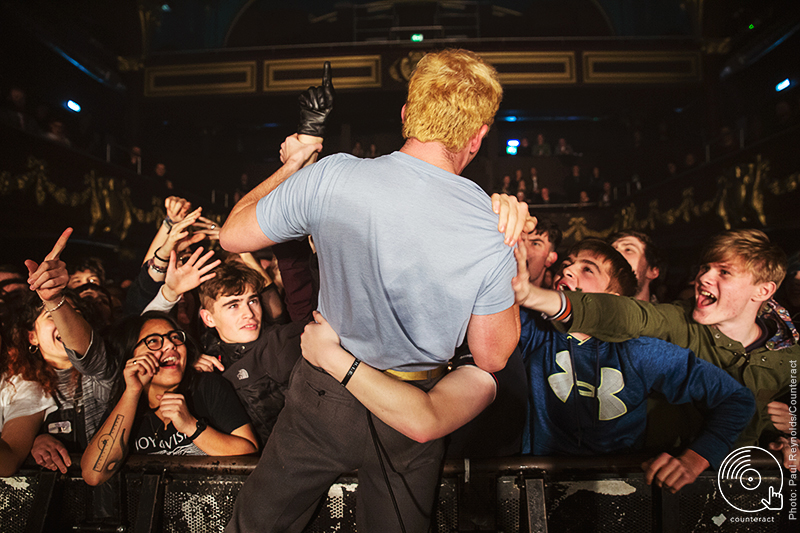 Shame
Shame are an astonishing live experience, a violent outburst of sonic thrills and unstoppable raw energy, we're just hoping that after an hour of nuclear grade strobe exposure we eventually get our sight back.
Photographs by Paul Reynolds
"Reviewer, previewer and writer of just about anything. Can usually be found with my eyeballs plugged into sleazy 70's exploitation cinema or riding an antique bike around Harborne. I have no issue with being bought pints or accepting bribes of any sort."