Review: The Cosmics tear up the Sunflower Lounge
The Cosmics headlined The Sunflower Lounge courtesy of promoters This Feeling on October 19th
Support came from Quinn, As Mamas and LCKD
A frantic crowd danced itself to the point of injury
"Fuck it, let's just be loud," is overhead on the mic just before LCKD get into a set which is, indeed, loud. Drawing on influences like Pearl Jam and Soundgarden, LCKD are all about that 90's psych-grunge sound; fuzz, 'tude, and ripping guitar solos.
Standout tracks include 'Avalanche' and 'Another Trip Round The Sun', and any track where their drummer has the opportunity to excel, his arms a-flurry with pure rock 'n' roll power. They leave the stage having definitely proven themselves in front of an already full room, something generally unheard of for a first support band.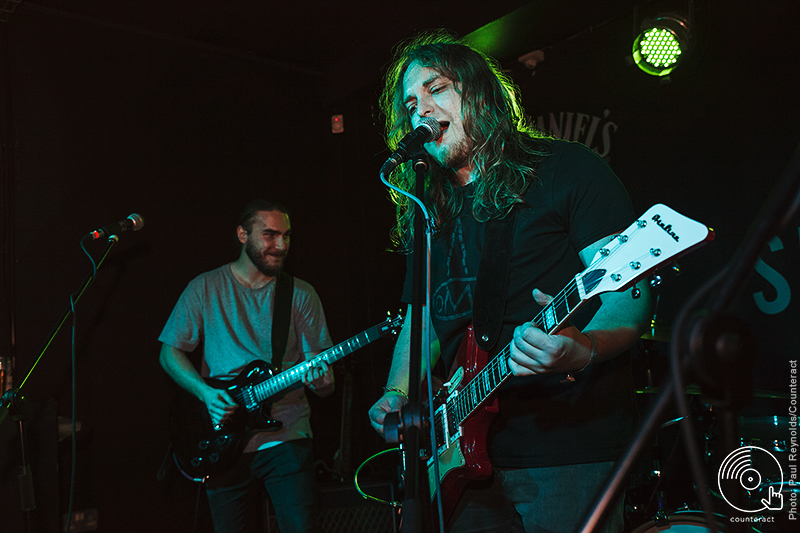 LCKD
Some bands are pedantic perfectionists, agonising over every beat and letting robotic metronomes rule their lives. As Mamas are not one of those bands. They're sloppy in the best possible sense, smashing out a set of rock 'n' roll which is carried by crazed energy of singer/guitarist Harrison Baird-Whitman and psychedelic shenanigans of drummer Joe Devine.
Playing tracks from last year's self-titled EP and recent single '19th Floor', As Mamas whip the crowd up into a hippy-dancing fever, with limbs being thrown about in all directions. It feels as if Woodstock '69 had happened in a dark basement on the Smallbrook Queensway.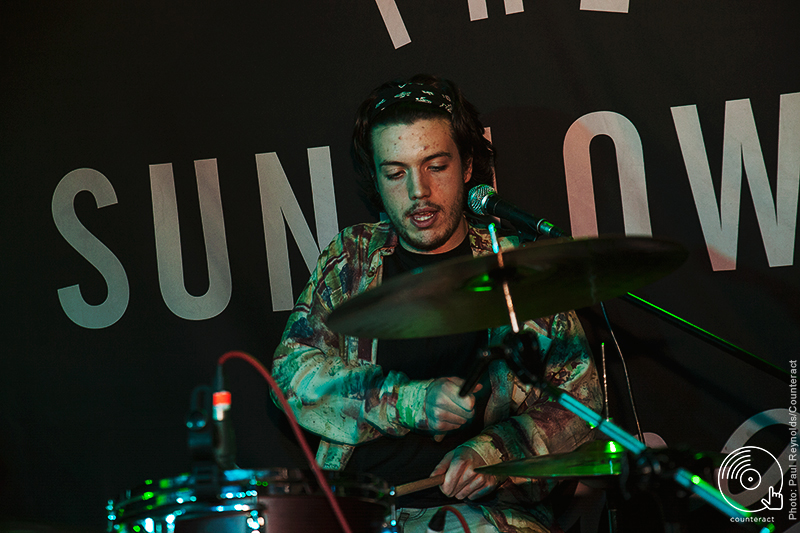 As Mamas
Returning to Birmingham a few months after the launch of their second EP, Crush, indie-pop outfit Quinn take to the stage bursting with enthusiasm and gratitude. Singer/songwriter Sam Lambeth also makes reference to his sparkly clothes and facial make-up, joking that he looks like a "Dutch prostitute".
They dive into their set, playing quintessential tracks from their two EPs such as 'Sixteen Vandals', 'I Wasted It', and 'Amanda Knocks' ("This was played on 6 Music!" Sam proclaims, "…er, at twenty past one in the morning"). Guitars sweetly jingle and jangle, and Sam takes every opportunity to sway his hips from side to side, occasionally rotating to present his backside to the audience. If nothing else, Quinn can at least hope to have been responsible for a few sexual awakenings tonight.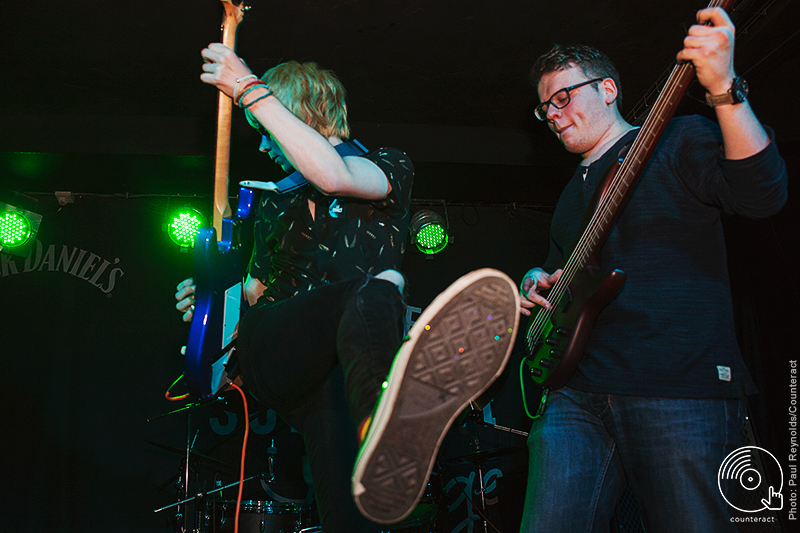 Quinn
And what can we say about The Cosmics? This local band have been going from strength to strength in recent months off the back of singles like 'Johnny' and 'Waste of Time', and have played BBC Introducing's Glastonbury stage and Reading festival over the summer. They take to The Sunflower Lounge like a fish takes to water – a big fish in a comparatively smaller pond – easily whipping up the crowd into a frenzy which is, at times, genuinely frightening.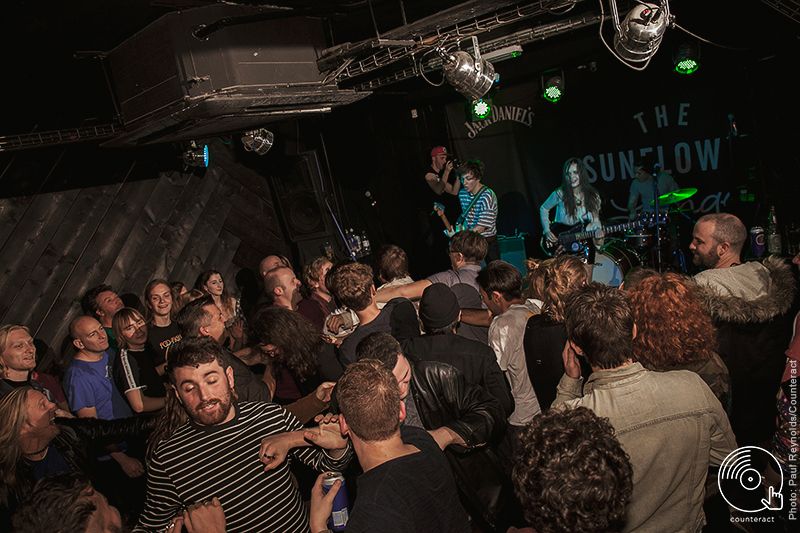 The Cosmics
Throughout the set, all singer/bassist Erin Grace has to do is sing the phrase "eyyy-oooh", and the entire room repeats it back with vigour. It's quite possible they might have started a Cosmics cult. Songs such as 'Moonstruck' and 'Inishfree' have the audience in an absolutely apoplectic mosh pit. At one point this reviewer sees a woman knocked onto the floor with enough force to be felt through the ground, but she gets up smiling and happily returns to thrashing about. Having seen many local bands play to sober crowds in front of "the Birmingham mile" (a tangible gap between band and audience), this certainly leaves an impression.
The band play an encore which pushes past curfew, and have to refuse a second encore. The Cosmics are a no-frills, all-thrills punk band to watch in Birmingham while you still can.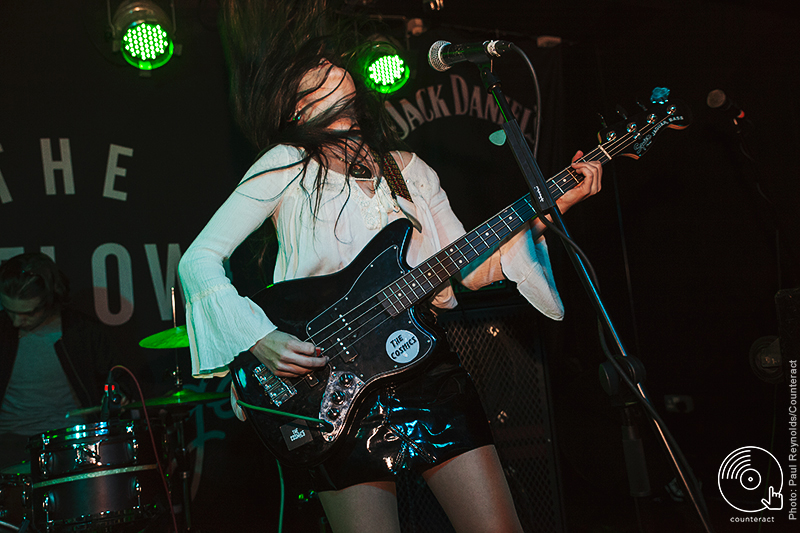 The Cosmics
Photographs by Paul Reynolds