Review: Shiiine On brings 90s nostalgia to Birmingham
Shiiine On, a one-day celebration of 90s alternative and dance culture, came to Birmingham's O2 Academy on Saturday 8th September armed with three rooms of legendary music.
From the fashion trends to the music, the 90s is enjoying a bit of a renaissance at the moment. Shiiine On is the perfect example of this, enjoying success with sellouts in its its usual, annual home of Butlin's in Minehead – a much larger capacity than the modest 3,900 or so across the three O2 Academy rooms in Birmingham.
Despite this, Shiiine On was forced to move from the Genting Arena complex to the O2 Academy at relatively short notice. Anyone who has attended a sold-out event at the O2 Academy will know that it's notorious for being a bit of a tight squeeze, and that you tend to spend just as much time facing the bar as the stage. Sadly this was very much the case tonight as, for some reason, only one bar was open in the main room for the first few hours.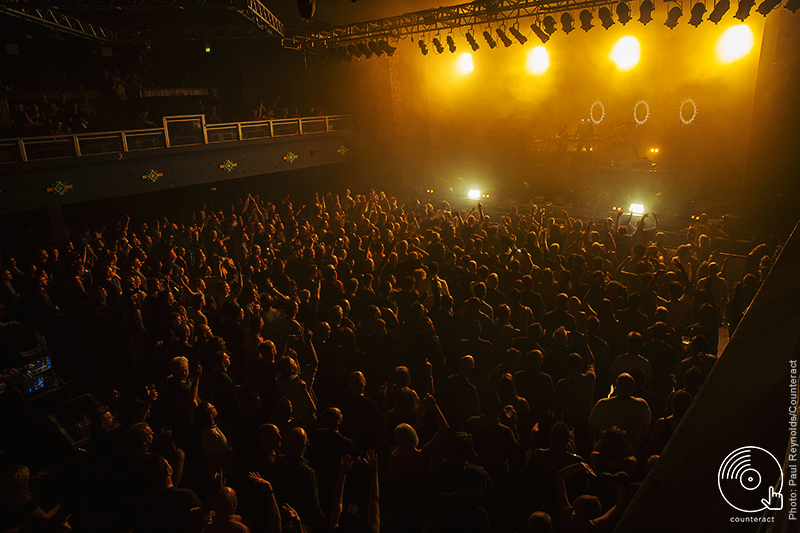 Orbital crowd
That's not necessarily a criticism of Shiiine On as a) it's a venue trait and b) they could've just as easily cancelled the entire thing, leaving many out of pocket. Having battled through the early issues, the quality of music on offer was testament as to why they didn't.
Early doors and a heavyweight main room lineup sees Glasvegas take to the stage at 2:45pm with a set consisting of their debut album in full. Celebrating ten years of the LP, the Scots plough through fan favourites including 'Geraldine' and 'Go Square Go' – the latter enticing a surprisingly lively room into their first singalong of the day.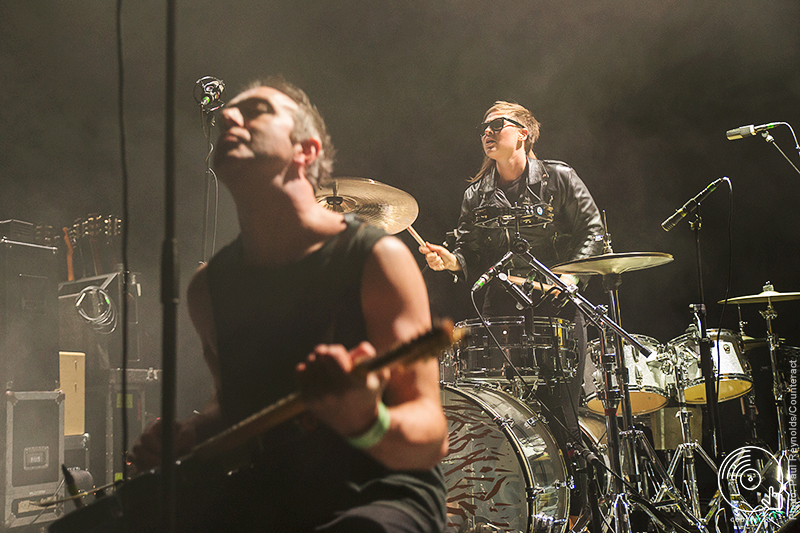 Glasvegas
As Ivory Wave swagger and shine through their set over in O2 Academy3, frontman George Johnson proudly boasts that the band are from Birmingham, "the greatest town on earth," on multiple occasions. Ivory Wave are clearly influenced by 90s indie; their baggy guitar licks and Madchester attitude has been done by so many but just there's something that stands out with these boys.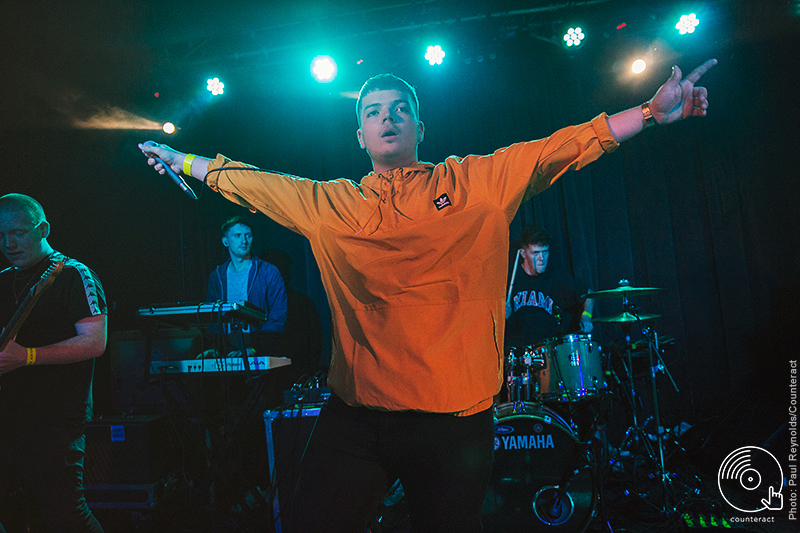 Ivory Wave
If they keep producing tracks like 'Cool Kids' they're only going to get bigger.
A quick dart back to the main room sees a busy room in full voice enjoying Cast's set of cult classics, including 'Alright' and 'Walkaway'. Enigmatic frontman John Power is on top form and has the whole room under his spell as they bask in their reaffirmed popularity. Unfortunately, such are the complications with the venue change, it means that the two smaller rooms get full quite quickly. We try to catch a glimpse of Jim Bob but, as the room is bursting at the seams, all we see are the backs of people's heads.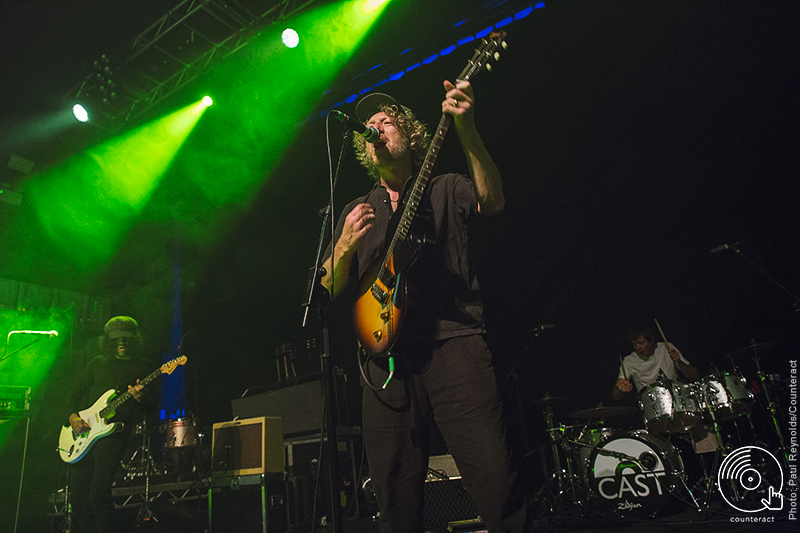 Cast
Happy Mondays, as ever, are orchestrated by the legend that is Bez and tonight's performance sees them at their best. Bez and Shaun Ryder are on top form as they throw jokes back and forth at each other throughout their set, which sees a near-capacity main room lose it to '24 Hour Party People', 'Kinky Afro' and penultimate track 'Step On'. All of this while Bez shakes his maracas, throws shapes and stares at sections of the crowd with a wry smile. They've very much still got it.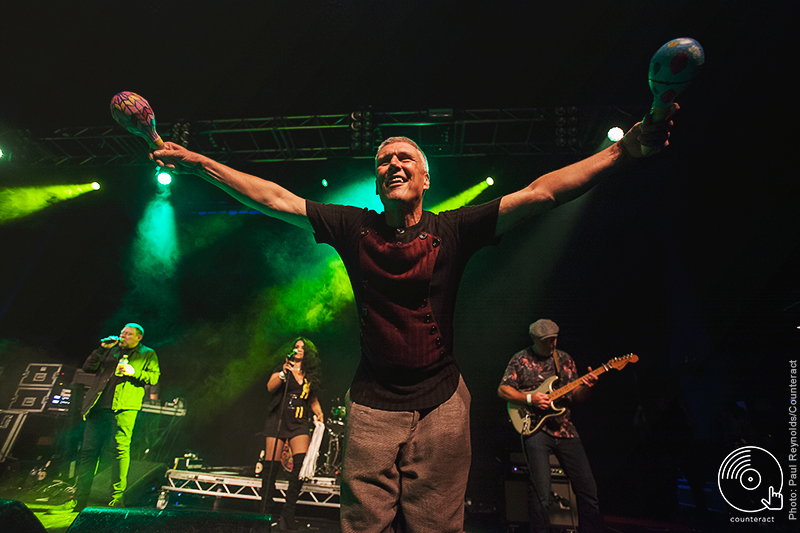 Happy Mondays
As Happy Mondays' late arrival pushed things back a little, we popped back to O2 Academy3 for the deliciously eclectic and always entertaining Bentley Rhythm Ace. One thing to learn from a BRA set – don't plan to leave early, because you won't want to. Featuring original Pop Will Eat Itself bassist Richard March, BRA's self-proclaimed "car boot disco techno" had everybody inside the room moving as they fought off technical difficulties to leave everybody in the room smiling.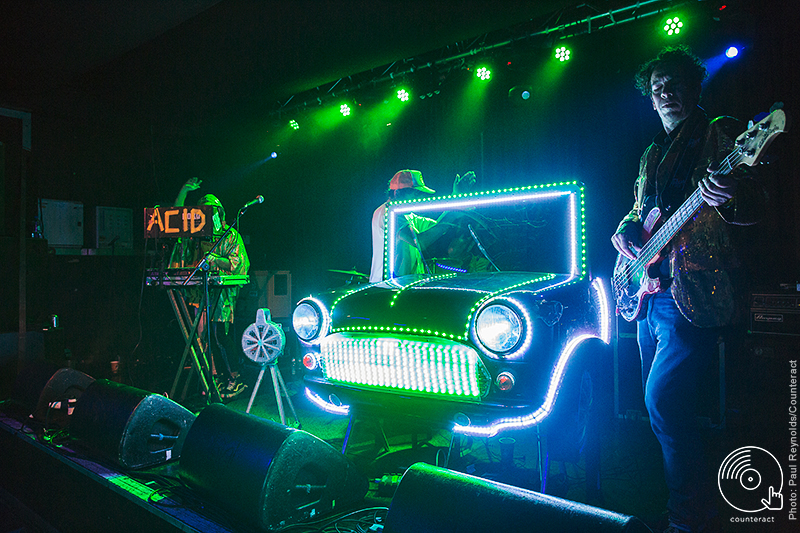 Bentley Rhythm Ace
Shed Seven enjoyed considerable success in the mid 90s, but it feels like they're even more popular now. How often can you say that? Main room O2 Academy headliners in their own right, Rick Witter and co. bounce through hit after hit after hit – 'She Left Me On Friday' and 'Chasing Rainbows' the two standout tracks in a set which truly rolls back the years. Fancy some more? Shed Seven will headline Shiiine On at Butlin's in November.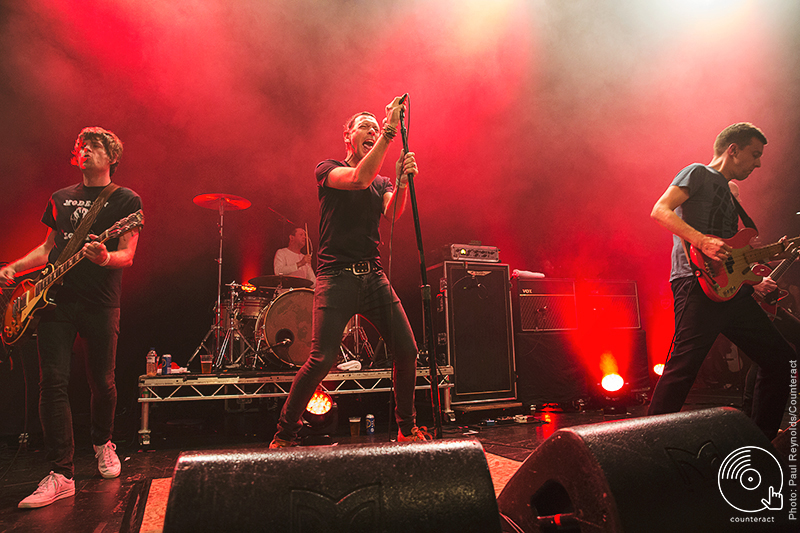 Shed Seven
It was the task of Orbital to close Shiiine on Birmingham. Heavyweight dance pioneers in their own right, Orbital brought a spectacular light show to Shiiine On as jubilation spread across the O2 Academy stalls and balcony – iconic dance anthems aplenty. Headtorch-wearing brother duo Phil and Paul Hartnoll, backed by a spectacle of hypnotic lasers, striking strobes and enticing visuals, orchestrate an appreciative audience towards euphoria on 'Chime' and the hypnotising 'Belfast', while newer track 'The End is Nigh' proves that they've still got it. Orbital's live set is an arms in the air moment and one you never want to end.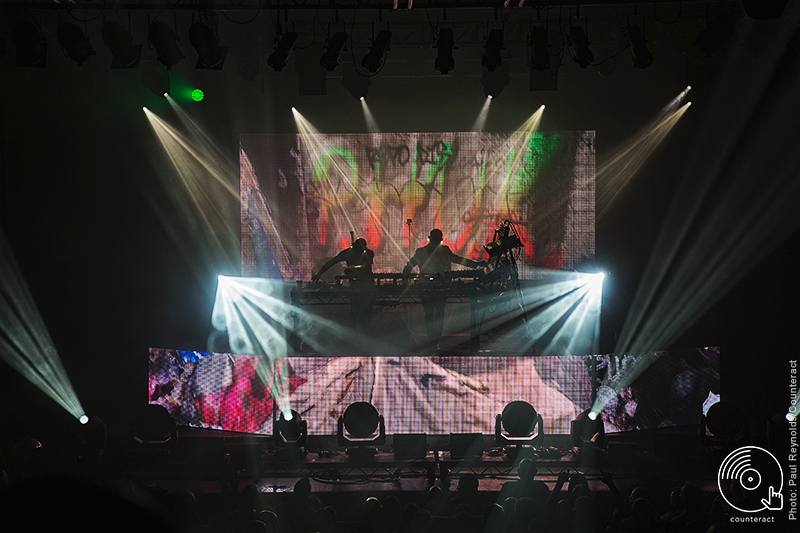 Orbital
Unfortunately it does end, but the night is still young as Steve Lamacq proves over in O2 Academy3. Spinning his favourite tunes, new and old, Lamacq showcases anything from Idles to The La's, while the official FAC51 Haçienda aftershow with Todd Terry, Marshall Jefferson and Jon Dasilva is on offer upstairs.
Having seemingly had their hand forced with a venue change, Shiiine On battled adversity to bring a lineup worthy of filling any arena in the country. From genre trailblazers Orbital and A Certain Ratio through to relative newcomers Ivory Wave and Psyence, those in attendance enjoyed a day which was not only reminiscent but refreshing too – though probably not too refreshing for those who had to wait 45 minutes for a beer.
I for one would welcome Shiiine On Birmingham #2, just maybe not at the O2 Academy.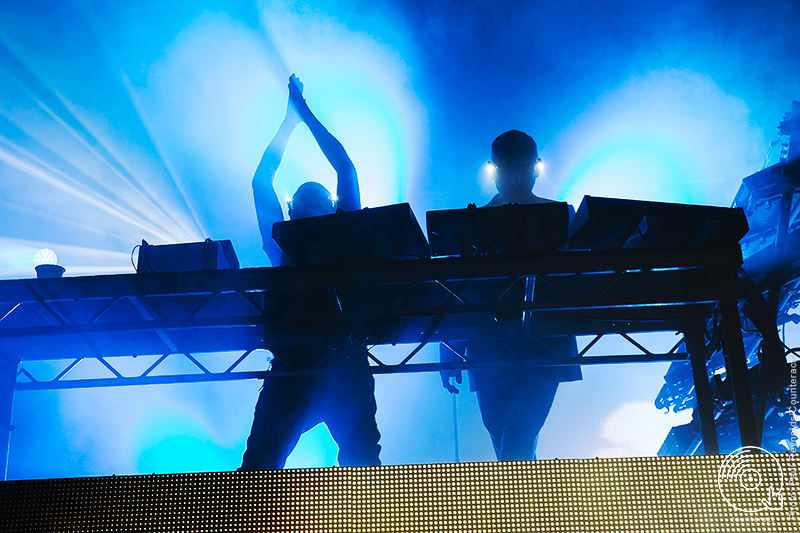 Orbital
Photographs by Paul Reynolds
Founding editor of Counteract. Freelance travel and music journalist.