Review: Rag'n'Bone Man plays a sold-out show in Birmingham
Brit Award winner Rag'n'Bone Man performed in Birmingham on April 24th as part of a sold-out UK Tour
Hip-Hop duo Ceezlin and Gizmo warm the Birmingham crowd with a unique presence and creative set
Acclaimed artist and multi-instrumentalist Dan Caplen performed a soulful set for the sold-out O2 Academy
The dynamic night of live music began with an interactive set from hip-hop duo Gizmo and Ceelin who shared their poetic lyrical outpourings with the growing crowds. Ranging from loose and lairy to deep and hard-hitting,  their set ignited the evening. Touching on comedy with a surprise rendition of the infamous Only Fools and Horses theme, whilst modelling their merchandise, encouraging audience participation with their synchronized sips from their beer bottles and offering a unique hip-hop set enjoyed by the broad demographic present, the duo had their appearance as a warm-up act nailed!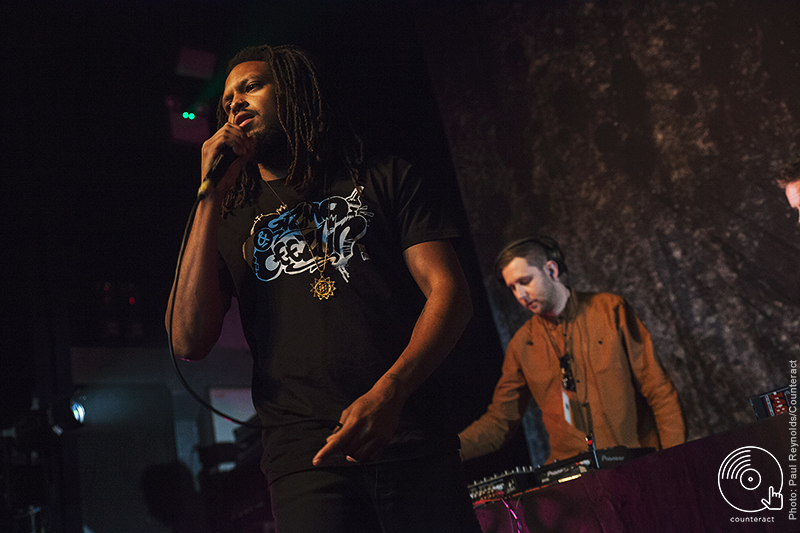 Gizmo and Ceelin
Rapidly increasing in acclaim, Dan Caplen continued the evenings vibe. The multi-instrumentalist offered sounds of soul and R&B, laced with gospel-like details. Orchestral openings preceded sections of rap, velvety vocals lay over infectious beats, Dan Caplen quickly won the tightly-packed masses over. Revealing his versatility his set unfolded through songs which highlighted the reason for his rapidly growing fan base, Caplen's contagious energy left the audience keen to continue to follow his path. Caplen's rendition of 'Blinded by the Lights', originally by The Streets, had a stunning fragility to its opening and was performed with a respectable self-assurance. Stylized with excellence it was not initially clear that this was a cover, a huge compliment to his talents. One to look out for, Dan Caplen will no doubt soar to new heights bringing a unique freshness to current popular music. Given the Dan Caplen treatment, this new version contains some subtle gospel influences, with that stunning vocal left front and centre.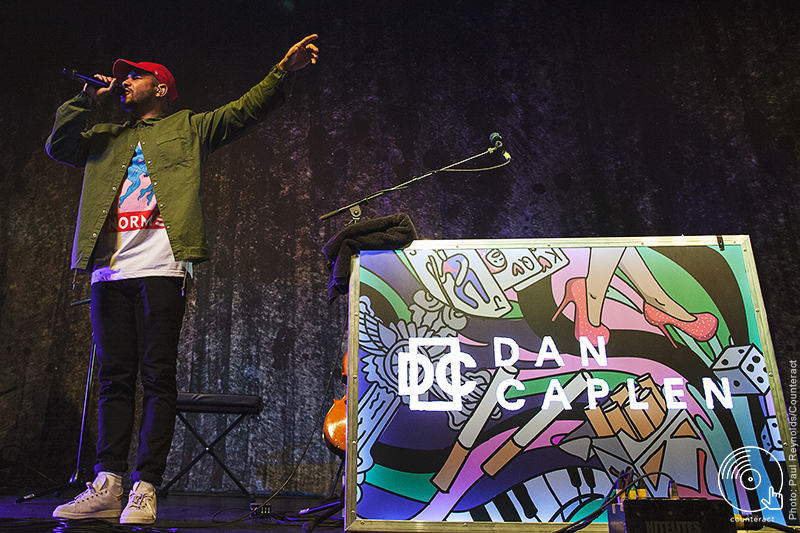 Dan Caplen
Rag'n'Bone Man made a humble return to Birmingham's O2 Academy despite his Brit Awards success; bagging Critic's Choice and Best British Breakthrough Award this year. Previous appearances at the venue have been as support act for artists such as Tom Odell, now a hot topic himself, it really is proof that you never do know what's round the corner. Since releasing his album, Human, things have really picked up speed, already awestruck by his stunningly eclectic vocal ability, sales of the album soared with fans hungry to hear more of his offerings.
Kicking off, alone in view, Rag'n'Bone Man set the atmosphere breaking into title track 'Wolves' from his 2014 release which featured rapper Stig of the Dump and Kate Tempest. Drawing the crowd in with the climbs and crashes of the bluesy yet roaring track, the curtain behind Graham dropped to reveal the five-piece band previously illuminated to create silhouette shapes. Tattoeed on his knuckles with the words "SOUL" and "FUNK" Rag'n'Bone Man's art is exactly that, versatile in his craft touching on multiple genres, yet with a seamless soul flavour. Well-received by the awestruck audience Rag'n'Bone Man offered a well-perfected performance of collaboration 'Your Way or the Rope'.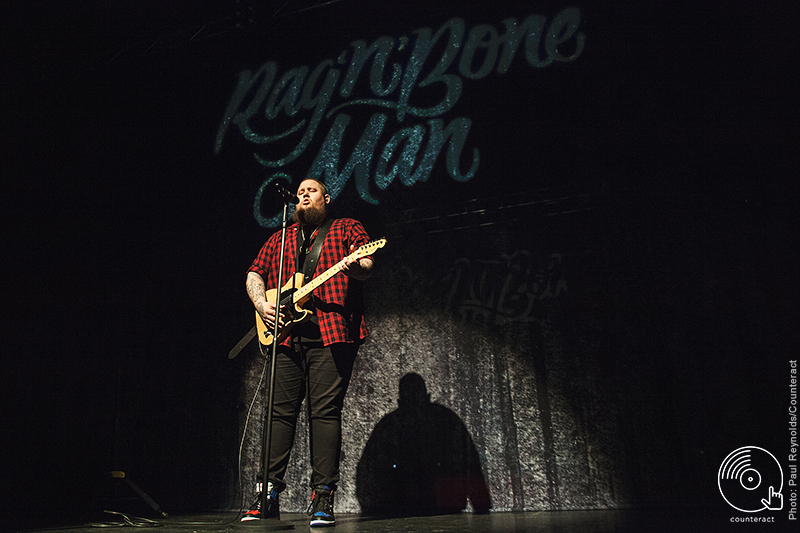 Rag'n'Bone Man
Lost in his vocals and touching lyrics the crowds embraced the ebbs and flows of the soul-man's set. Effortless vocal prowess enveloped true-to-life tales narrated through song and described by Rag'n'Bone Man throughout the evening; adding a real intimacy to the performance and opening the door to the life of the somewhat intimidating in appearance man with a huge heart. Revealing his inspirations for penning the self-described "miserable tracks", Graham melted the gathering with stories of his nan which lead to the creation of 'Life in Her Yet', heart-warming yet powerful. 'Odetta' pulled at the heart strings of the audience, written about his best friends daughter to mark her birth and commemorate the soul-saving achieved by the precious new arrival. A remarkably well structured repertoire to capture a crowd.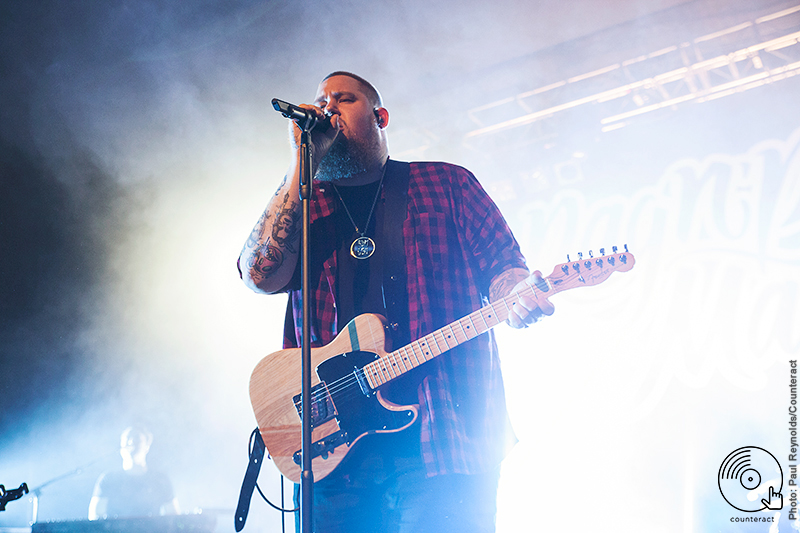 Rag'n'Bone Man
Following receipt of a knitted doll handmade by a member of the audience, Rag'n'Bone Man displayed likeness on the ground before aptly breaking into the moving 'Lay My Body Down'. Despite the crowd reverberating the poignant lyrics, the delicate edge to the track remained present, losing none of the effect of the track and whisking the crowds away into deep thought whilst absorbing every last note. Further inspirations for Graham's music were shared along with the recommendation of a novel by Patrick Suskind, which encouraged the writing of 'Perfume'. A classy performance of the track washed over the audience, backed by a quintet of pure talent intricately filling each song through melody, beat and supporting vocal.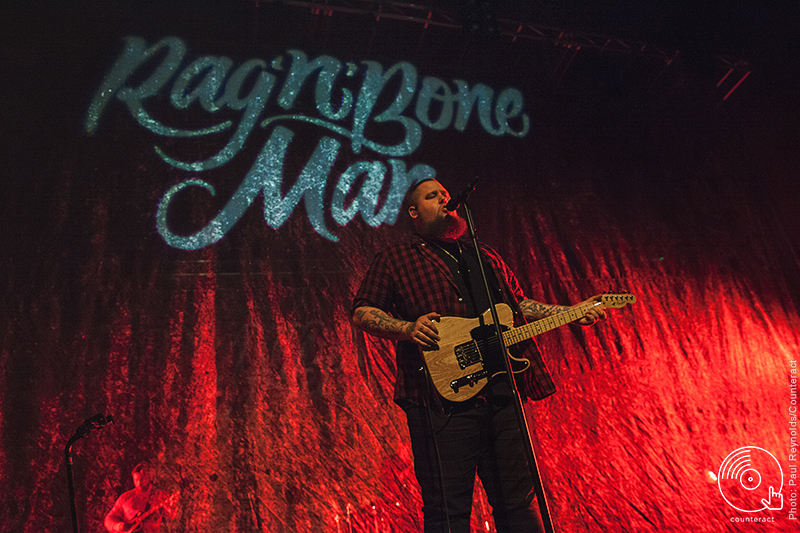 Rag'n'Bone Man
Guiding the Birmingham crowd through his musical gems including most recent single and video release 'Skin', emotion and empathy poured from Graham, visibly relishing in the atmosphere he had built. Anticipation grew for the coveted 2016 Christmas number one 'Human'. It was only a matter of time before Rag'n'Bone Man was echoed by everyone in attendance, reminding them of how they were initially drawn into the East Sussex hailer's musical makings. The night was then topped off by what felt to be an exclusive opportunity; a full acapella performance from the choral powerhouse, note perfect and executed with precision. The sea of phones grabbed their final snapshots and clung on to the final notes of the rising stars recital, sure to be wondering just where his journey will take him over the coming months. After an exceptionally rapid take-off, the only way really is up and deservedly so!
Photographs by Paul Reynolds