Review: Black Mekon and Table Scraps join forces at the Hare and Hounds
Black Mekon and Table Scraps played the Hare and Hounds on 27th April
The night was the official launch of their split 7″ single
The small upstairs room was busting at the seams with support for both bands
It is always inevitable that a venue will be busting at the seams when Table Scraps and Black Mekon are in town and this night was no exception as the two local legends joined forces at the Hare and Hounds to mark the release of their split 7″ single. The evening was a celebration of the 5th installment of the 45 Consortium; a project which releases 6 singles over a 12 month period with an original Black Mekon song on one side and a track from special guests on the other. In this case it was kindred spirits, Table Scraps, who not only share a studio with the mystery masked men, but also reside on the same street and had no problem declaring their appreciation for their fellow musicians and friends throughout the evening.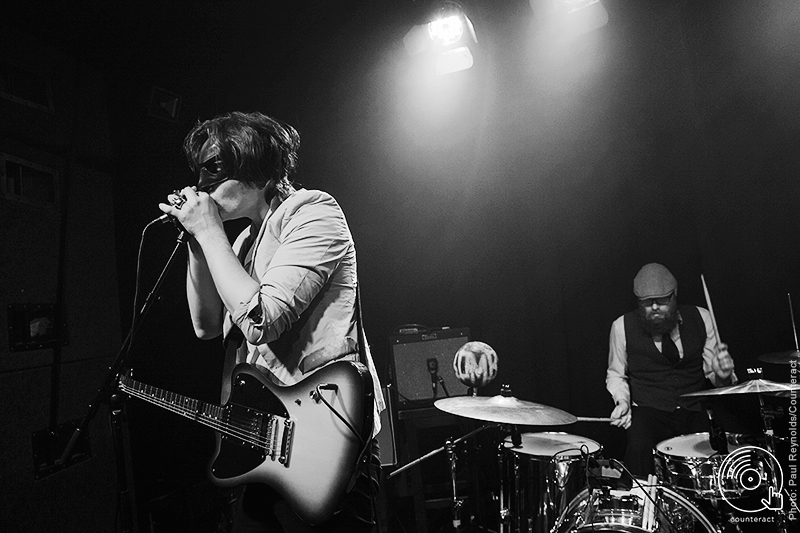 Black Mekon
First to take to the stage were the mysterious Black Mekon who began their frenzied musical assault at 9pm. Tearing through tracks from their PNKSLM Recordings, Stolen Bible 2, the 3 piece filled the room with their scuzzy guitar hooks, dirty drum beats, billowing blues harmonica and abrasive shake appeal from behind their trademark black masks.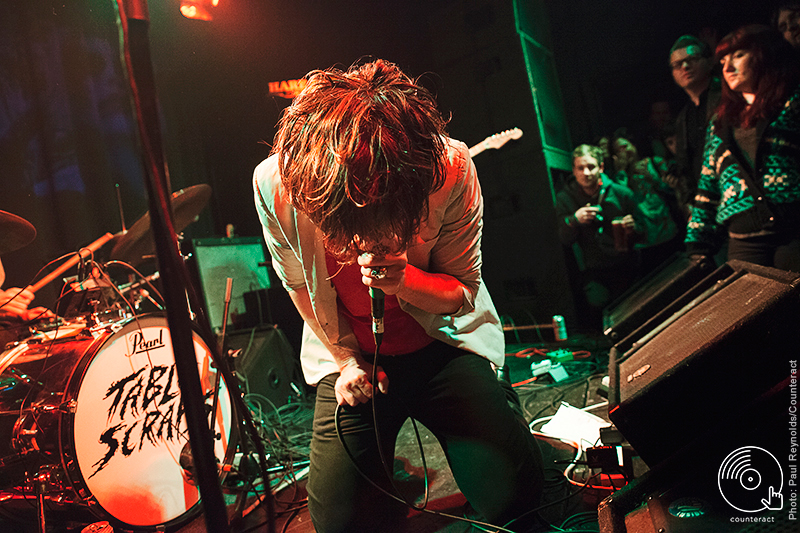 Black Mekon
The tracks are short, sharp, grimy and loud, with stark contrasted vocals ranging from the echoed gritty rantings of 'Bourbonese Girl' to the tender doo-wop croon's of 'Darling Christina', reminiscent of The Marcel's 1960s ballad, 'Blue Moon'. Despite there being a minor technical issue, Black Mekon's 14 song set, filled with caustic distortion and muddy blues undertones, contained all the punk attitude and formidable riotousness that they are renowned for. We hope they return soon to inflict us with another shot of their cryptic menacing charm.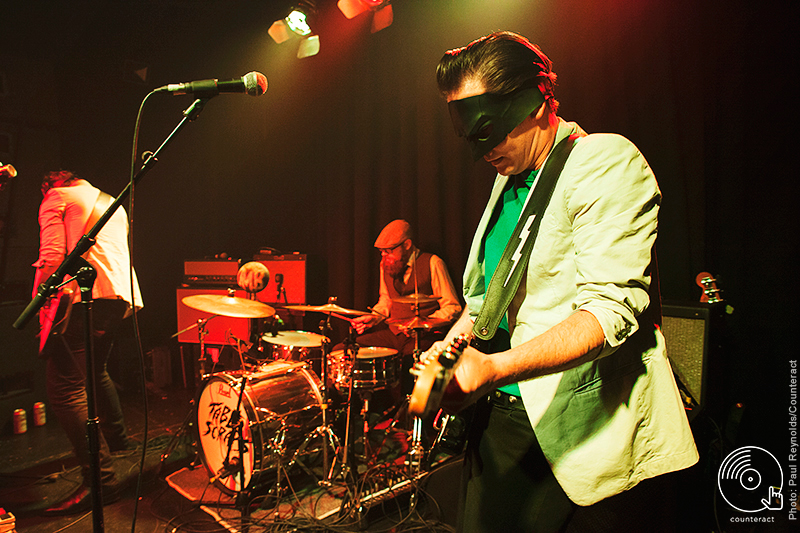 Black Mekon
Next up was the esteemed 3 piece, Table Scraps, who took to the stage with beaming smiles; a clear sign of their appreciation for the overwhelming support they were being shown from the tightly packed room. Currently leaving a trailing blaze of success in their path wherever they play, the garage rock noise outfit jumped straight into their set with the raw and brutal opening track, 'Electricity', from their debut album, More Time For Strangers. This is a band that give 110% to their live performance, their tracks are intense sharp bursts of punk infused fury with heavy rhythms giving way to explosive guitar riffs, the welcome screech of sporadic Theremin distortion and dark gritty lyrics.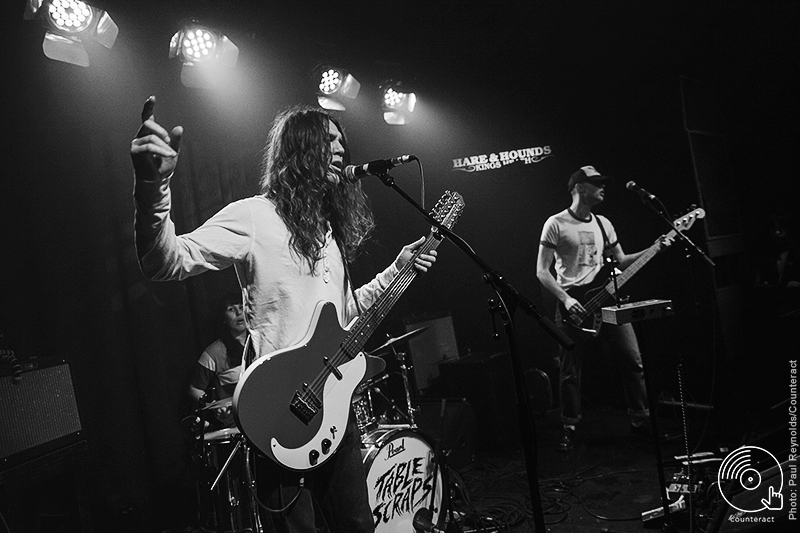 Table Scraps
Playing a set of 9 songs, the highlight of the evening was hearing the single of the moment, 'My Obsession', played live for the first time. The drums beat out a steady marching drone whilst the guitars wail over the snarled and scratchy lyrical content of infatuation and bitter disappointment in front of a backdrop of old school projection trickery.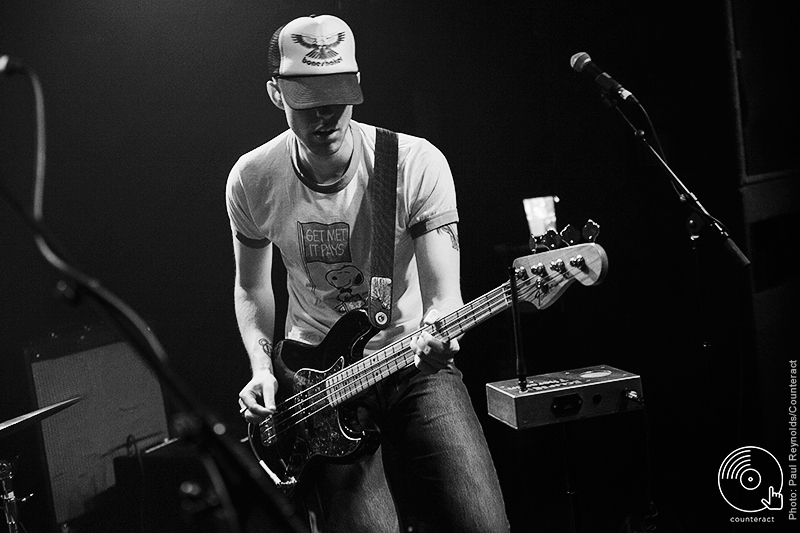 Table Scraps
With a 3D video currently streaming online, Table Scraps have once again proven that they are at the forefront of the local DIY garage rock scene for a reason. They begin their performance with a blast of fierce energy and finish it the same way, they do not falter, they reel the audience into their dark world and tease our appetites with the right amount of Black Sabbath style drone and The Stooges punk rock swagger.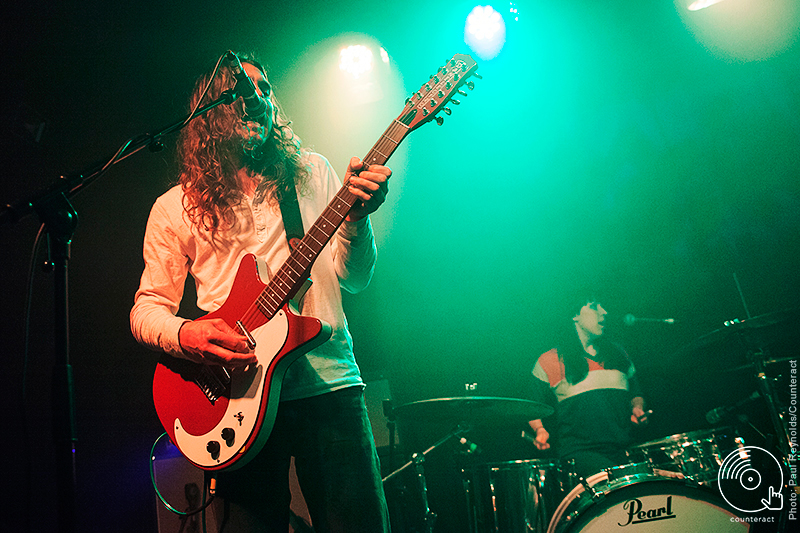 Table Scraps
Rarely is a band more aptly named than Table Scraps; they arrive, they play, and ultimately, they succeed in leaving us gluttonously craving more.
Photographs by Paul Reynolds
English and Media Studies graduate, frequent traveler, vinyl and vintage enthusiast….fan of delta blues, folk, 60s/70s rock, psychedelia and the many gaps in between. Favourite artists include Wooden Shjips, Radio Moscow, All Them Witches and too many others to mention.