Review: Jake Bugg's acoustic tour stops off at the Warwick Arts Centre
Jake Bugg played a stripped back set at the Warwick Arts Centre on March 8th
Support came from Mansfield singer-songwriter Georgie
The theatrical setting helped to amplify an odd atmosphere 
Jake Bugg is a strange one. By some he's dismissed as an inauthentic blues/folk revivalist wannabe, relying on an unusual voice and a team of co-songwriters to find success. To others, he is a genuine star, with bags of talent and the songs to match. His popularity is high amongst older listeners, his voice, songs and style an obvious nod to bygone years. This is reflected by the audience at the gig at the Warwick Arts Centre, which is, confusingly, in Coventry, around eight miles from the actual town of Warwick.
[amazon_link asins='B074HZ86JG,B009F89EW8,B01C81DTTW,B00FB029E4′ template='ProductCarousel' store='counteract03b-21′ marketplace='UK' link_id='0cefdb9c-2776-11e8-b276-25fb8a71fb6e']
The crowd is a varied mixture, ranging from aged 5 to 75.  Bugg's popularity with the older generation is evident, with the majority of the audience being closer to the upper age range than his own. The event is a sit down occasion, in the centre's Butterworth Hall theatre, adding a hushed stiffness to an audience that may already be prone to solemnity due to the average age.
Despite this, there is still a rowdy younger element who're making a night of it despite the setting and the fact it's a school night. Between some songs there is deathly silence, to the point that both support act Georgie and Bugg himself comment on how quiet the crowd is. Between other songs there is rowdy heckling and random requests for certain songs. At one point someone shouts:  "Play 'Messed Up Kids'!" to which Bugg's response is: "Ermmm….Nah", much to the amusement of the crowd.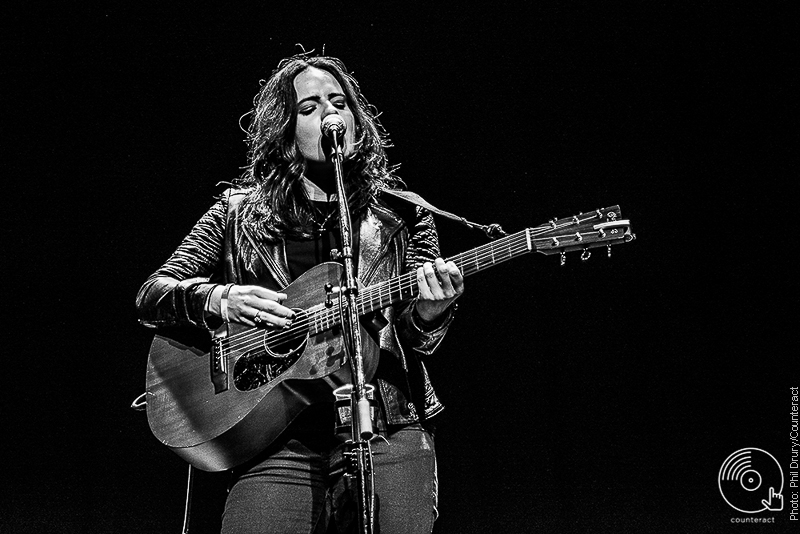 Georgie
Fellow Nottinghamshire singer-songwriter Georgie receives a warm response, with one particularly rowdy heckler shouting out that her voice is sexy. I'm 99 percent certain he missed the memo that it was International Women's Day. Georgie's songs are catchy and personal. She introduces one song about an ex-boyfriend whom she could always drink under the table, whilst sipping from her glass of bourbon. The songs have a hint of country to them, given a smoky feel by her rich vocals.
The main act, Jake Bugg, saunters on to the stage to an initially quiet response. Dressed in black jeans and a plane black tee, Bugg carries himself in such a way that he just looks like part of the road crew. As such, he has to wave and greet the audience before there is a response. He opens with a mixture of tracks from latest album, Hearts That Strain, a non-album track and an EP track. These songs allow the the audience to get into the swing of things, whilst showing off Bugg's incredible finger-picking guitar playing. His guitar style is hugely impressive. Despite being on the stage alone, sat down in a low wicker chair, the noise he creates with one acoustic guitar is complex, as though the songs are layered with numerous guitars.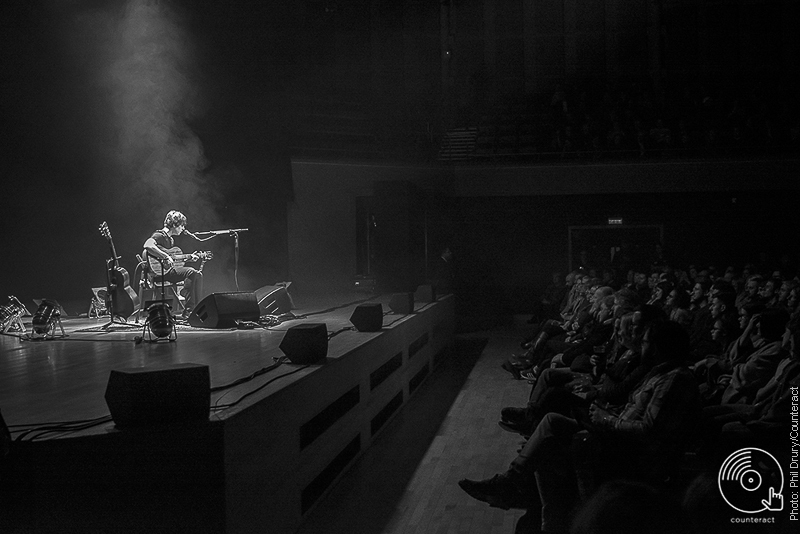 Jake Bugg
Inevitably, the older songs get the biggest response from the crowd. It almost feels like Bugg himself feels the same, with earlier songs being sung with more passion, his voice taking on a raucous edge that is missing from more recent tracks. 'There's a Beast and We All Feed It' from second album Shangri La deserves a special mention. A biting social commentary with the lyrics tripping out of Bugg's mouth at super-speed, the rapid guitar adds a frantic feel to the song. It's easy to see why early comparisons to Alex Turner were made after seeing such a performance.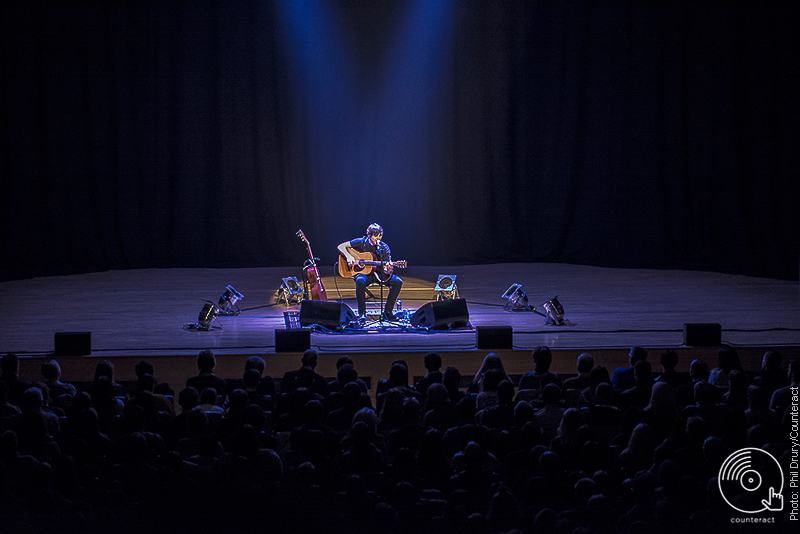 Jake Bugg
The show comes to an end with 'Two Fingers', 'Waiting' and 'Lightning Bolt', the latter receiving a standing ovation from some parts of the crowd. Despite a bit of a strange, jumbled-up audience, the acts on stage did an impressive job. Jake Bugg may not be everyone's cup of tea, but there are some things you can't take away from him; he has some great songs, there aren't many artists doing what he does, and his ability on the guitar is often breathtaking.
Photographs by Phil Drury
Music, gigs, beer, football. Like to discover new music, and support local acts. Favourite bands include Beatles, Elbow, Frightened Rabbit, The Walkmen amongst many others. Journalist for local news providers, including Trinity Mirror and BBC.