Review: Citylightz revel in their biggest headline show to date
Wolverhampton's Citylightz played their biggest Birmingham show to date on Saturday 5th January – and it went down a storm
[amazon bestseller="dr dre beats"]
Wolverhampton band Citylightz first came to my attention – or more accurately grabbed me by the lapels and screamed down my ear – via their song Tim, a story of upsetting the wrong guy and regretting it when your mates tell you he's a right nutter and he's on your case. Been there, done that, had the stitches. I found it profoundly evocative as I had an old workmate of the same name – employed at our place specifically on the strength of his violent temper.
The gaffer was hoping there'd be a clash of personalities with a particularly troublesome shop steward but they ended up being mates, so management's cunning plan failed miserably, as do most of their cunning plans. Tim's reputation preceded him. He was a colleague's father-in-law and I'd already heard many tales of madness straight from the son-in-law's mouth, including one gruesome encounter involving a police raid, an Alsatian and a kitchen knife, which ended in the dog's death and a successful self-defence plea. Probably the hardest thing to reconcile was the rep and the name. I mean, it's short for Timothy for God's sake. It's hardly Ronnie or Reggie.
---
Anyway, you really have to hear the song to know how it resonated with me, and it led to the band and I exchanging a few tweets, and me blagging myself onto the guest list for my first gig of the year. Son number one met me in Subside to borrow a few quid, but told me he couldn't afford to come to the show, while ordering two double JD and cokes. "No wonder you can't afford it," I said, as I puffed on wafer-thin roll-up made out of smuggled tobacco, and occasionally sipped my half of mild. Strangely, I can ALWAYS afford it. Son number two landed and it was time to head for the Academy, via a back-street short-cut that brought us out directly opposite the venue, but the wrong side of eight lanes of traffic, a couple of impenetrable steel fences and a cavernous road tunnel. Should have gone the long way.
Two of the band were outside and a couple of nicer, more grounded blokes you'd struggle to meet, and after telling them about my mate Tim, we went in to catch the support. I only caught the last bit of Kidderminster's Shiraz – born in Israel where her name means 'secret song', as her mom explained to me. Thanks Sarah, and sorry for assuming you were just a wino. Shiraz finished her set with an ambitious and impressive version of The Chain by Fleetwood Mac, a band I've been a fan of for at least six months, ever since discovering that bona-fide songwriting genius Christine McVie is from Smethwick.
Next on the bill were Methods, who warmed things up nicely with their moody, Editors-like vibe. I was impressed enough to grab a CD of their Fires EP and I'm pretty sure I will enjoy investigating further.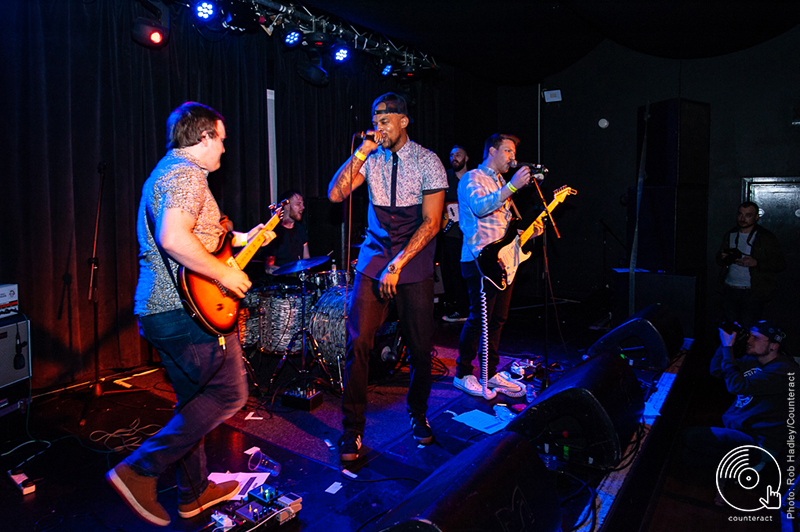 Citylightz
Citylightz opened their set with soon-to-be-released single Proof, a first listen for me but blessed with all the usual energy and uncompromising lyrics. Singer/guitarist Luke and lead vocalist/rapper B give off a Dave Wakeling/Ranking Roger vibe, and The Beat aren't the only band I'm reminded of as the Wolverhampton five-piece tear through the next two numbers, Victims and the Victors and James' Tune. I'm thinking Black Country Beastie Boys one minute, Yam-Yams With Attitude the next. B is a real character on the mic, and he leads the crowd through a jokey singalong on Had Enough, but don't let that blind you to his serious MC skills. His grimy bars are interspersed with killer hooks passionately sung by Luke; close your eyes and it could be Slash on lead guitar, rather than unassuming, down-to-earth Adam, all this as bassist James and drummer Tom provide a driving beat while simultaneously looking like like they're trying to murder their instruments.
A rhythmic guitar riff, overlaid by another one reminiscent of Nolan Porter's If I Could Only Be Sure, builds to a crescendo on the band's debut single Don't Know Me, before the verses start and remind you of the Arctic Monkeys, but with better accents. This is followed by Where I'm From, in which the band refuse to be judged by their working class roots. I'm from Chelmsley Wood lads – I don't look down on anybody. Elevator is next, its powerful chorus delivered at breakneck speed.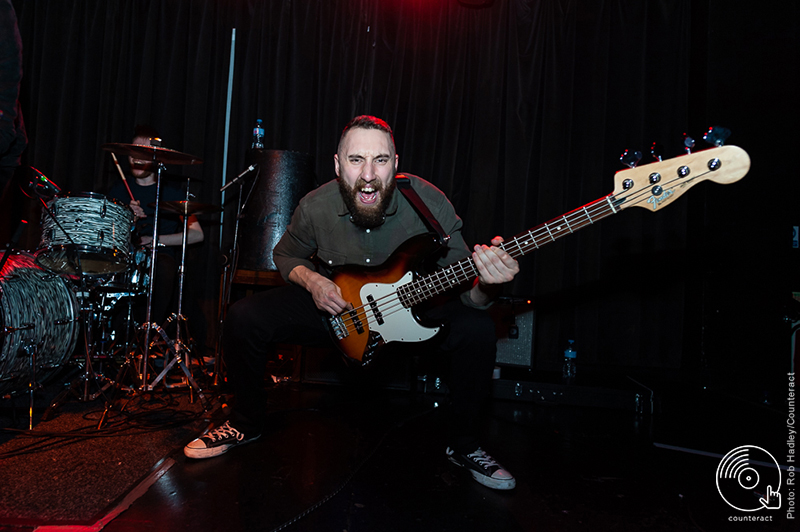 Citylightz
The band then aim their sights at the police and their informers on Piggy, before closing the show with the aforementioned story of the bad boy from a broken home, Tim. I left with a smile on my face and one of Tom's discarded drumsticks in my pocket.
Citylightz are going places. They've only been together a matter of months and have already been shortlisted for BBC WM's Sound of 2019, and I think they're nailed on for a prize at the Birmingham Music Awards in May. They're an incredibly exiting and accomplished live band, musically dynamic and powerful, their lyrics funny and thought-provoking. All five of them look like they're having as much fun as their audience, and each member makes a massive, vital contribution . They combine Road-man bars with a complete mastery of classic rock and in doing so have given birth to what I believe is a new genre. I know, it's only Rock 'n' Road but I like it.
Photographs by Rob Hadley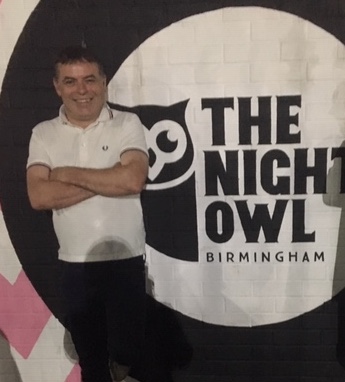 Militant anti-racist and Brummie. Lucky to be born in the most innovative musical city on Earth. If I hadn't been, I'd have moved here by now.