Review: British Sea Power make waves at Birmingham's O2 Academy
Brighton's eccentric indie rock pioneers sell out the O2 Academy on April 13th
Support came from July Skies
The night included dancing bears, ironic banter, ample foliage, plastic birds and a Vegas encore
Long established local band July Skies provided support for the evening, their music dripping with great dreamy sonic swirls of melody. Swathes of lush evergreen guitar and studiously earnest vocals that recall Vini Reilly, Cocteau Twins and at times Postal Service. Only a short set this evening but they are worth checking out again.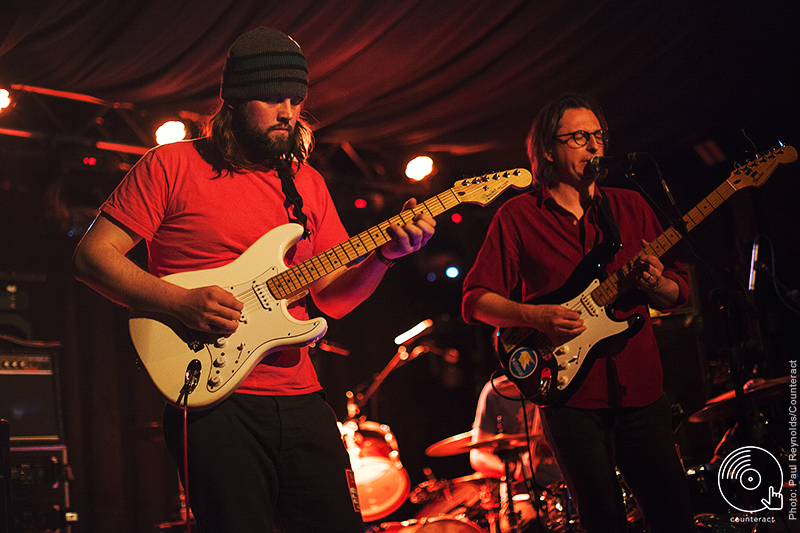 July Skies
It's not every gig the audience gets to watch green fingered roadies draping mikes, amps and just about everything else on stage in beautiful green foliage, but then British Sea Power are not your everyday band. Continuing the long tradition of English eccentricity BSP have a reputation for trashing expectations; listen to 2015's Sea of Brass, and performing in unusual venues, who was at the Great Wall of China gig? The more humble O2 Academy 2 was tonight's host but with a live band this good, whatever the setting, socks will be leaving feet.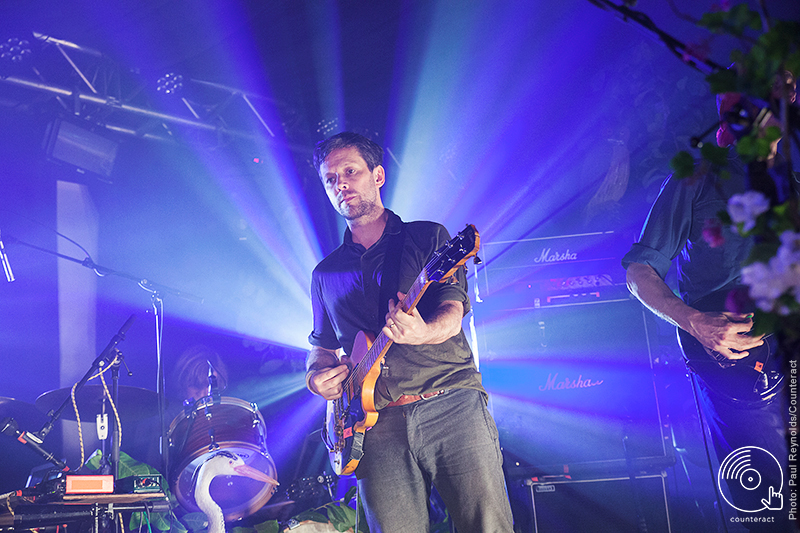 British Sea Power
As a wise plastic owl and heron looked sagely on, BSP drifted onto stage accompanied by a blinding strobe meltdown and with a mammoth lingering power chord, launched into the pounding anthem 'Who's In Control?' It's an instant connection with a loyal and appreciative audience; bodies dance, heads nod, faces smile and voices are raised. There's a self assured swagger about the band, bristling with an easy affable confidence that permeates their whole set and transmits itself to an eager audience. One big happy sweaty family.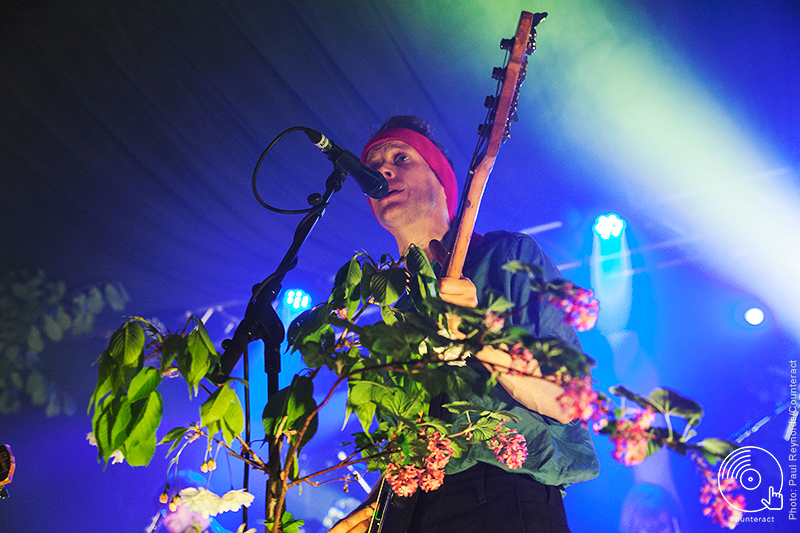 British Sea Power
Our punk prayers are answered as the set continues with 'International Space Station', a gloriously huge song from new crowd funded album Let The Dancers Inherit The Party, a beautiful existential babble of celestial proportions. A rocket ship of a beat takes the song skywards with Abi Fry's wistful backing vocals clinging on like angel's wings, 'Mr Psychedelic you're a lovable relic'. Another song from the new album 'Bad Bohemian' is a crisply tragic fall into a lyrical universe of painful otherness, a song dripping with earnest regret and highlighting the unique multi-tasking of Phil Sumner as he manages to play keyboard and cornet simultaneously.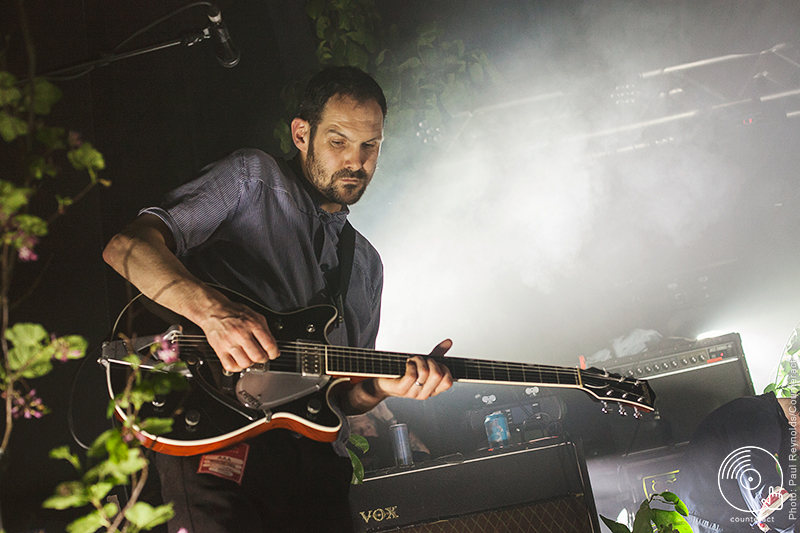 British Sea Power
There is a majestic elegance about 'Cleaning Out The Rooms' from 2011's Valhalla Dancehall. A hauntingly sweeping tune to which bass player Neil Hamilton Wilkinson provides gently tripped out vocals as his eyes fix steadily and un-moving on a distant object. Like falling into a pleasant dream and being carried blissfully along as if on a cloud to a sweeter place, 'I'll wake up in a new life, down by the seaside'. Things get positively riotous with 'No Lucifer'. A crowd favourite that enjoined universal chants of 'easy, easy, easy'. Possibly one of the most uplifting indie anthems ever written and a beautiful example of BSP's out there lyricism, 'Hey you, give me the dummy tits'.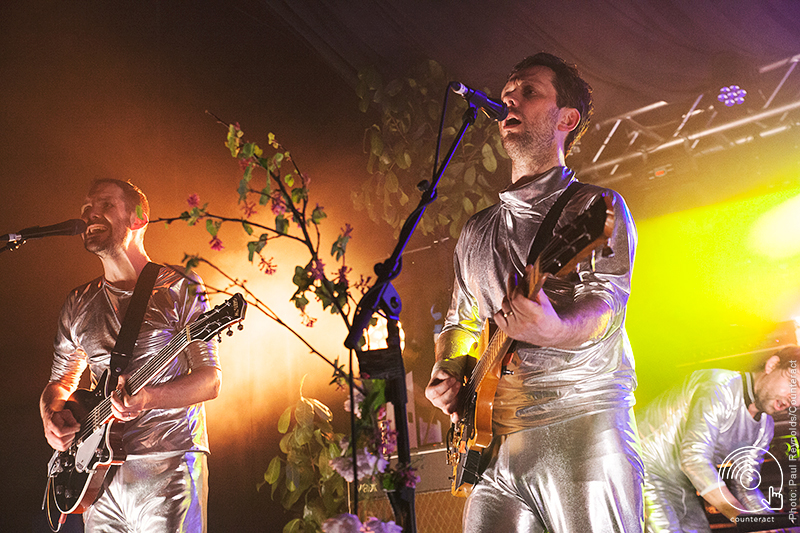 British Sea Power
Other highlights were the guitar pop groove of 'Keep On Trying (Sechs Freunde)' played in a glaze of red stage lighting, some quality tongue in cheek banter 'it's great to be in Birmingham', the subversive indie Vegas cabaret resplendent in shiny gold suits and a giant bear casually mingling with the audience. This is a British Sea Power gig, anything can happen. Fiercely unique and one of the best live bands around. Oh, and how many merchandise stalls have you visited where band chocolate and tea towels are available, there's even been a first aid kit in the past. If you missed them this time don't let it happen again.
Photographs by Paul Reynolds
"Reviewer, previewer and writer of just about anything. Can usually be found with my eyeballs plugged into sleazy 70's exploitation cinema or riding an antique bike around Harborne. I have no issue with being bought pints or accepting bribes of any sort."