Review: Beautifully Unconventional, Wolf Alice tear apart the O2 Academy
Wolf Alice tore apart Birmingham's O2 Academy on Thursday November 16th with an intensively passionate set
Fans were treated to a diverse yet cohesive performance
Support was provided by popular locals Superfood and New York rockers Sunflower Bean
[amazon_link asins='B073R6S448,B073R6XY4Q,B00WHBZTB0,B00W8PMX4G,B00H8EXLFC,B00JK9BV5K' template='ProductCarousel' store='counteract03b-21′ marketplace='UK' link_id='3ed20b2e-cc42-11e7-b5cc-095498cea369′]
With a growing fanbase, two critically acclaimed albums and popularity on the festival circuit, Wolf Alice have become a household favourite British indie band. In support of their album Visions of a Life, the band descended upon the O2 Academy Birmingham and tore the room to pieces.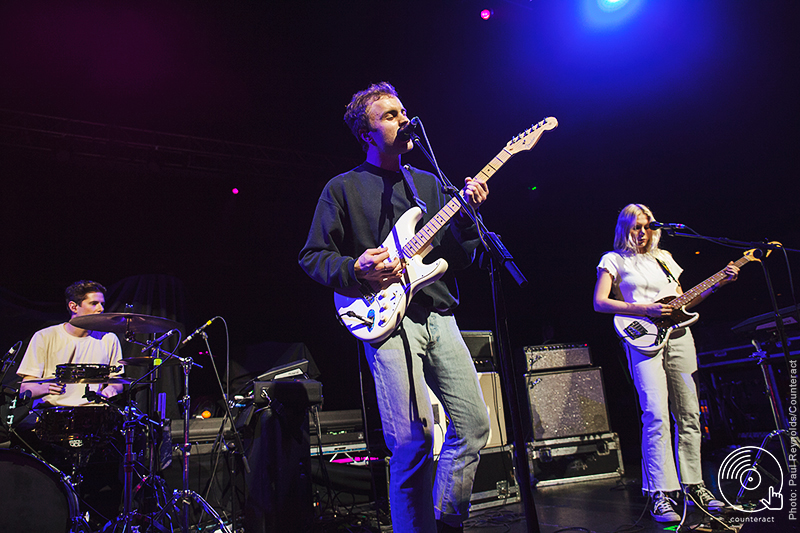 Superfood
Birmingham's own Superfood were quite the treat for early arrivers – but we knew they would be anyway. With jazzy riffs, 70s esc bass lines and infectious harmonies, their performance had a felt particularly youthful. Superfood are definitely worth seeing live if you're in the mood for a night of some fun indie-pop.
Read more: Review: Superfood shine on their return to Birmingham
Read more: Superfood discuss Birmingham, new music and a different approach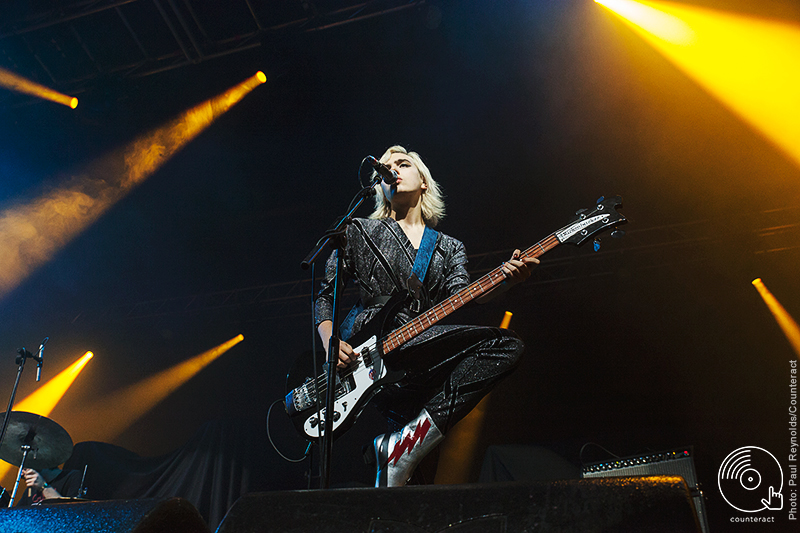 Sunflower Bean
Next up from just a little further afield, the New York-hailing Sunflower Bean. From the moment they walked on stage they stood out as memorable from their gleaming silvery outfits. The crowd responded well to Julia's bold vocals over the clunking bass and thudding drums, as many twirled in glee swinging around in mosh pits. Many of Sunflower Bean's tracks felt somewhat reflective and iconic from the soaring verses and summery riffs. Overall they felt to be a sonically refreshing band that fit in nicely as an opener for Wolf Alice.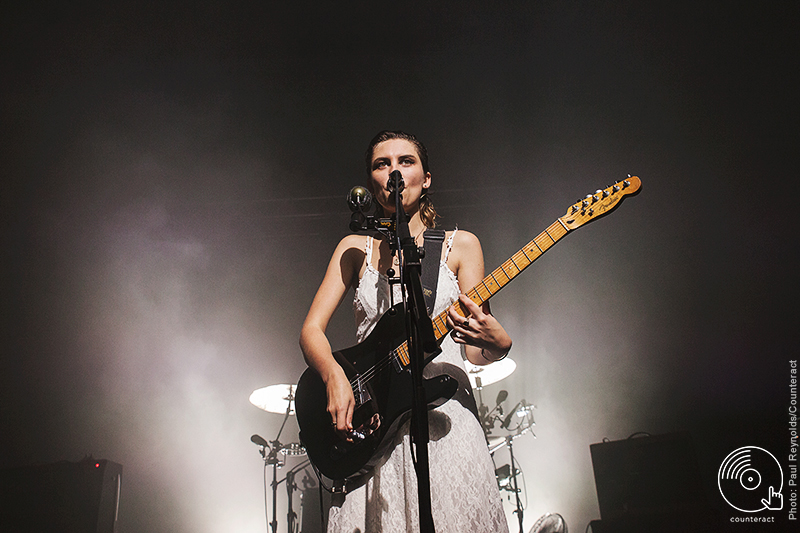 Wolf Alice
Wasting no time on fancy intros or buildups, Wolf Alice strolled onto the stage kicking off with the angelic and captivating 'Heavenward'. The soaring guitar and chiming melody created a vast and encapsulating soundscape that reverberated throughout the room, forming one of those moments that truly blows you away; entrancing the room in a dreamlike state.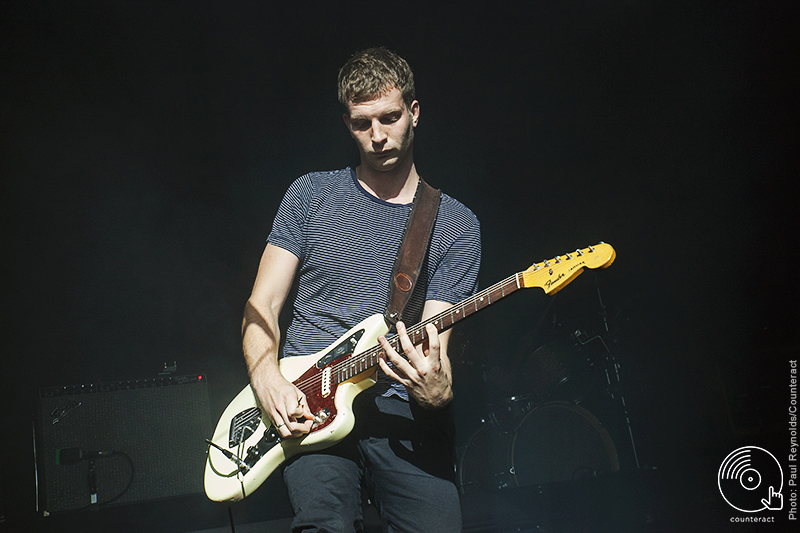 Wolf Alice
That was just the calm before the storm as they moved straight onto the relentless and grungy 'Yuk Foo' leading to an explosive reaction. The floor became one massive pit with everyone moshing to the grungy edged guitar and Ellie's screeched vocals. "I don't give a shit" the room screamed along, perfectly encapsulating the energy.
Tonight, everyone came together in appreciation of the intensive music of Wolf Alice – 'Bros' was particularly momentous midway through the set. It's a song of such fervent joy with its sentimental verses celebrating friendship, that works so well in a live setting. Many embraced their comrades and clambered on top of one another's shoulders, all revelling in the ecstasy of the moment.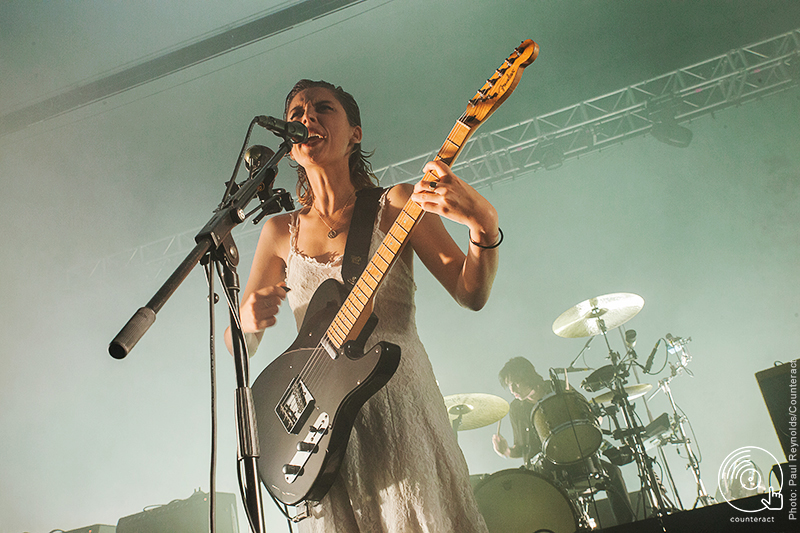 Wolf Alice
What is most impressive about their band is the diversity in their sound. From the sharp ferocity of 'Moaning Lisa Smile' and the retro-tinged 'Beautifully Unconditional', to the otherworldly dreamy 'Planet Hunter', the entire set managed to attain cohesion and a consistently high-performance level.
The night ended explosively with the breakneck-paced 'Giant Peach' leaving the crowd maybe with a few bruises or slightly fractured limbs, but a sky-high level of euphoria.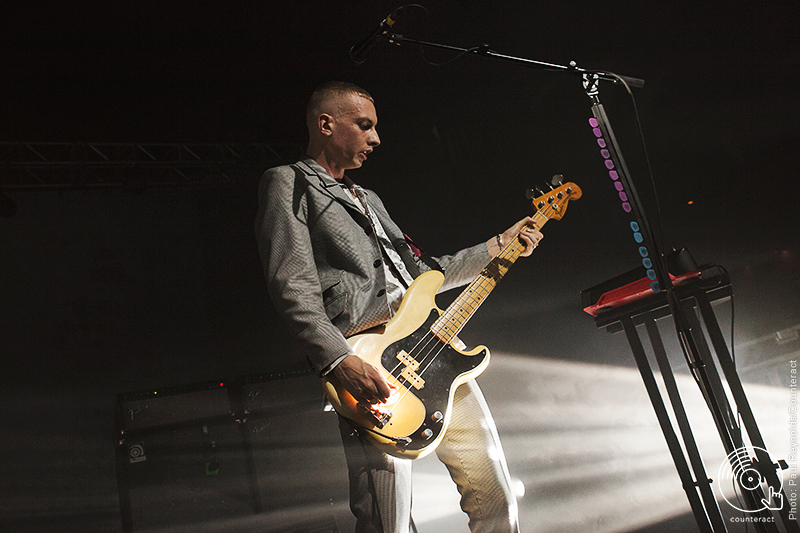 Wolf Alice
Tonight's show had the perfect balance of both an intensively passionate crowd and performance. For the odd hour and a half-length, everyone in the room threw themselves into, literally as well as figuratively, the power and emotion of Wolf Alice's music. The band proved to attain their reputation as a phenomenal live act and are sure to only grow from here on out.
Photographs by Paul Reynolds
Media and Communications student with a passion for music and discovering new artists. 90% of the time you'll find me at a gig. I listen to a really wide range of artists such as The 1975, Two Door Cinema Club, Bombay Bicycle Club, Ed Sheeran, Disclosure, Lorde, Florence and The Machine, Ben Howard, as well as a tonne of pop music like Taylor Swift and Ellie Goulding.