Review: Ms Banks commands the stage at the #HotSauceTour
Ever wanted to party in a chicken shop? Digbeth's Mama Roux's came close on Valentine's Day as The Chicken Shop Date took their Hot Sauce Tour to Birmingham.
[amazon bestseller="ms banks"]
Powered by VOXI and hosted by Chicken Shop Date's creator Amelia Dimoldenberg, Birmingham revellers partied with chicken and chips in hand to some of Britain's best talent in hip hop and rap: Jay1 and Ms Banks.
Much like her cult YouTube show where she interviews artists in their local chicken shop, Amelia introduced the night and hosted with dry humour and so-bad-it's-good dancing. DJ Dam Shaq warmed the room before Coventry based Jay1 well and truly spiced things up, jumping straight on the beat with viral tracks 'That's My Bae' and 'Becky'. Whatever Jay1 threw out to the crowd, they bounced it right back, the energy buzzed in the room whilst Jay1 kept full control. Straight cut and no nonsense, Jay1 commanded the Chicken Shop crowd with charisma and quick fire bars hotter than the complimentary hot sauce.
Ms Banks sauntered on to the stage to a roar from the crowd, fired up from Amelia's teasing introduction and shout out to local chicken shops (all hail King Kebab). With Ms Banks straight talking bars about coming from the toughest parts of Britain and rising to the top, there was a magnetism in the air and a pure connection from crowd to stage that set the room alight. Ms Banks' lyrics have caught the world by storm, so much so that the Queen of Rap Nicki Minaj is backing Banks, tweeting lyrics to 'Yu Zimme' and teasing at a collaboration.
2017's smash hit 'Day Ones' showed Ms Banks' multifaceted talent, as this track flexed her commitment to loyalty to an addictive R&B beat. 'Gun Lean' and new single 'Hood Bitch' showed what Ms Banks can do best: empower not just a room full of people, but a generation with compelling bars that tell the story of the underdog who made it. Ms Banks spoke honestly to the crowd, shouting out those who came to party single and happy on Valentine's before her fans stormed the stage to party one last time. Amelia returned with roses for her headlining Valentine before a flurry of confetti hearts flooded the room.
The Chicken Shop Date's Hot Sauce Tour promised a Valentine's Day with a difference, and they delivered both hot chicken and even hotter acts. Jay1 is a promising Midlands act with potential to break through like his fellow British inspiration Ed Sheeran, whilst Ms Banks is an artist that resonates with her immediate and quick fire draws, and she's only getting started.
The Hot Sauce Tour continues in London on Wednesday, 6th March. Find out more at www.hotsaucetour.co.uk.
Images provided by Hot Sauce Tour powered by VOXI.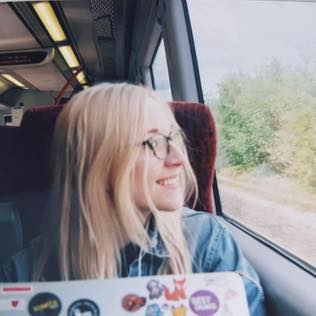 PR, events and social media by day, lover of all things geeky and retro. Can often be found scribbling notes at the back of the gig.