Review: KT Tunstall rocks glitzy Town Hall show
Edinburgh native KT Tunstall touted new album WAX and past hits at Birmingham's Town Hall on Wednesday March 20th. Support came from UK singer-songwriter Laurel.
[amazon bestseller = 'kt tunstall vinyl']
Southampton native Laurel opened proceedings with a half hour set that carefully glided between tender acoustic tracks, and full-gusto'd rock-pop ballads. Playing long-written tracks and newer compositions from debut album DOGVIOLET, the crowd is attentive, police and hushed whilst in her comfortably unfamiliar presence. 'Life Worth Living' is a standout from the set.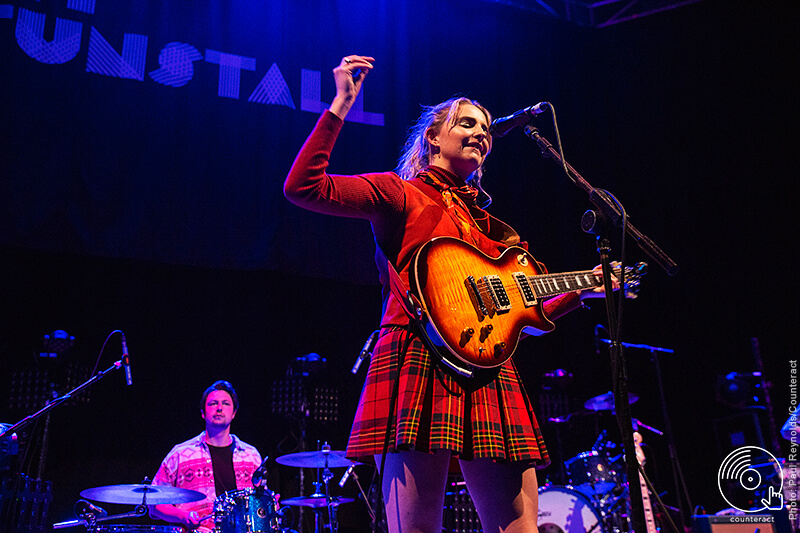 Laurel
Entering to Toni Basil's 'Hey Mickey' and exiting to Cyndi Lauper's 'Girls Just Wanna Have Fun', KT Tunstall is a ball of energy and pint-down-the-pub laddishness that suits her so well. Aside from her vocal ability, guitar and loop pedal vitas skills and lyrical prowess (all of which are excellent), her on-stage warmth, banter and jokes are top-notch, hilarious and downright dirty in all the best ways. A KT Tunstall show could easily double as a stand-up gig.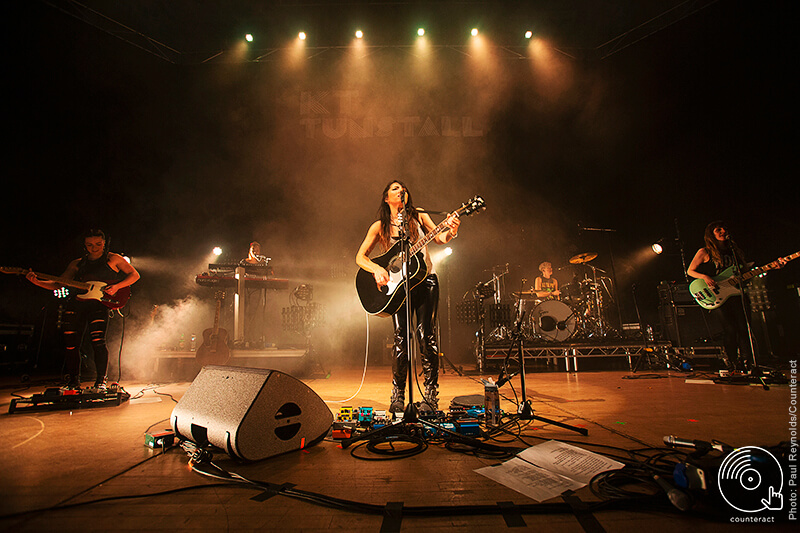 KT Tunstall
Naturally, new album WAX takes the forefront of the setlist, with entire portions of the show devoted to delivering her latest record, a more electric guitar-heavy and rocky outing than the first of her trio of albums (2016's KIN, which makes an appearance with 'Hard Girls').
KT Tunstall is on a mission to entertain. Within the first three tracks, the Town Hall is blinded with strobes, illuminated by fans' mobile torches, and doused in a spectrum of ever-changing colour.The headliner took an unflinchingly polite venue, dyed its hair neon, donned biker boots and gave it a nose piercing.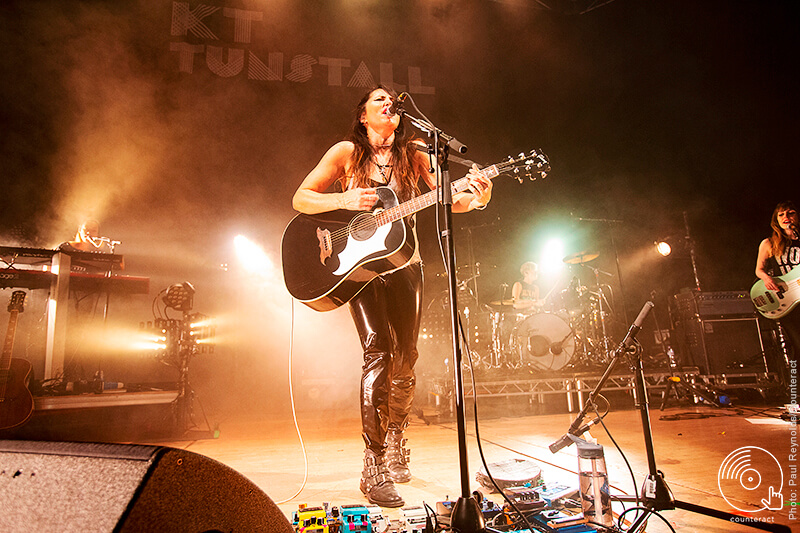 Kt Tunstall
A visual spectacle accompanies a harder new record, fan favourites ('Suddenly I See' being just one of her back catalogue to see the glimmer of night) and an idiosyncratically wonderful cover of Belinda Carlisle's 'Heaven Is A Place on Earth'. Even ardent hit + fan favourite 'Black Horse And A Cherry Tree' (gradually kick-started on her famous loop pedal, affectionally nicknamed 'Wee Bastard') segues into a mash-up of Ram-Jam's 'Black Betty'.

KT Tunstall
It has to be said, KT's penchant for on-stage chat in uniquely Scottish. Informing us that her PVC leggings are making everything "down there" very sweaty (to the extent that she creates a song on the spot about it, which isn't actually bad), picks up on the Black Country "yow alright bab" lingo, and informs us about "jobbies" on the bus. Tender moments came in an acoustic 'Feel It All', eschewing her rampant backing band for a moment.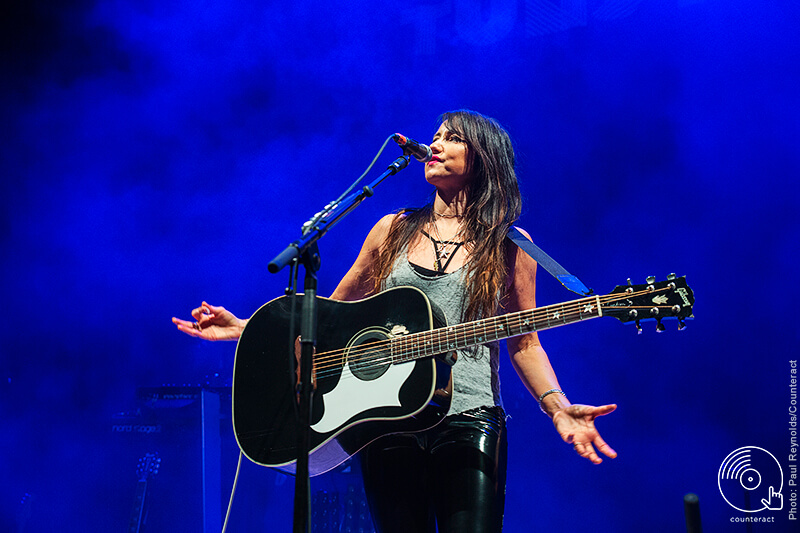 KT Tunstall
Truely a born and natural entertainer, bolstered with an excellent live show, musical chops and bundles of charisma, KT Tunstall has stormed the show, metaphorically graffitiing the Town Hall's perfect facade.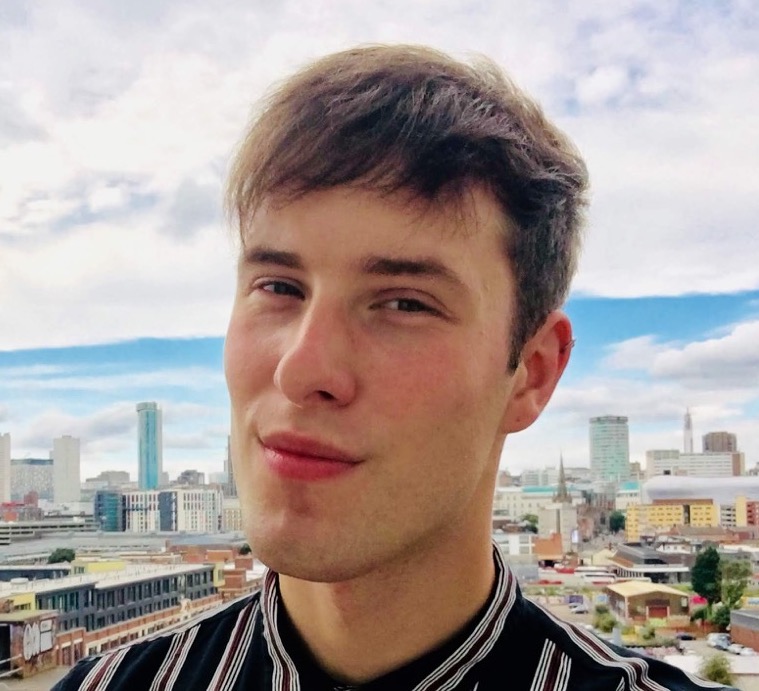 Gig and album reviewer + culture writer, celebrating the best of music and events happening throughout our city.