Review: Cast create nostalgia at Birmingham's O2 Academy2
Local emerging band Modern Minds prepared the crowds with a moving sing-a-long opportunity
Cast brought a flavour of the nineties to Birmingham on Saturday April 16th whilst offering a taste of tracks from their sixth album
Birmingham band Modern Minds have been gaining momentum of late, rightfully bagging some sought after slots they landed on Birmingham's O2 Academy2 stage to heat the gathering. Having recently supported The View and announced some top class festival appearances their name is circulating and reputation has it that they put on one hell of a show – this being no exception.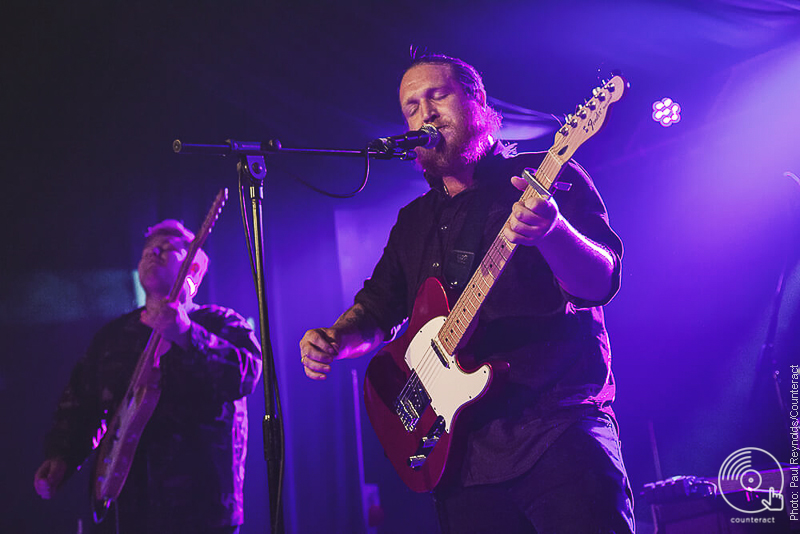 Modern Minds
Their sound being inimitable, smooth vocals woven between layers of varying density Modern Minds offer variety with a signature gritty edge. Offering an unwavering energy and unquestionable commitment to their music the band left no one unaware of their purpose.
Taking a brave leap within their set to invite the audience to repeat lyrics to their newest creation, front man Luke orchestrated a harmony from the crowd whilst layering the song with heartfelt, intelligent lyrics. The response was exceptional and it is without doubt that the band gained new fans by the plenty.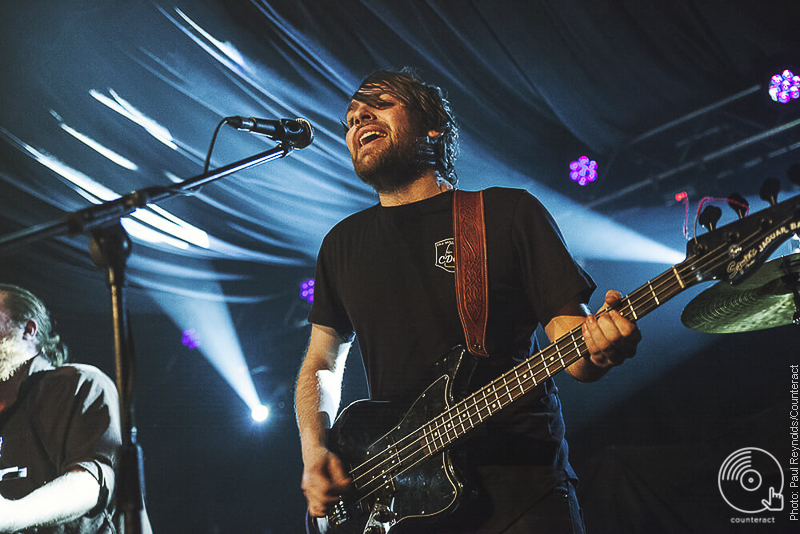 Modern Minds
Modern Minds have a strong, distinctive identity. Fronted with execution and powerful demeanour the band lay down a multi-faceted set, regularly differing in tempo and topic their music is relatable and hook-filled. It is advisable to catch these local lads whilst intimate stages are at their feet, take off is imminent.
Cast's live performance was reported as "a religious experience" by Noel Gallagher, they were once dubbed "The Who of the nineties" and first album All Change became the biggest selling debut album, of all time for Polydor Records. Therefore, it needs no explanation as to why over two decades on they are still generating crowds.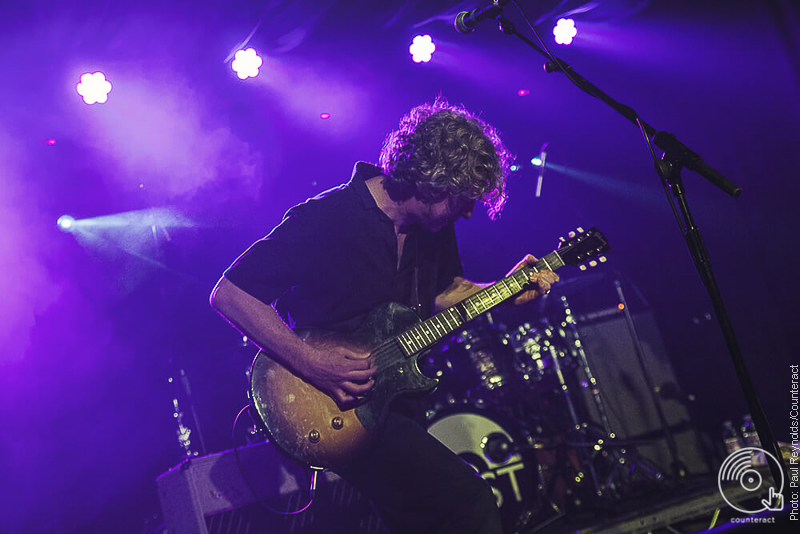 Cast
Blue lights illuminate the pioneering Britpop quartet as an orchestral opening rings out as the band burst into 'Promised Land' from aforementioned debut release followed by 'Tell it Like it is'. Nostalgia took hold of the tightly packed crowds, who were warmed through by the familiar 1995 classics. 'Sandstorm' and 'Fine Time' whisked crowds back to their prime, noticeably bringing back memories of previously attended live shows and at-home listening on repeat.
Front man John Power introduced more recently crafted tracks, ever admirable for his unquestionable ability to pen a tune. 'Bird Cage' introduced the crowds to what's to be expected from their forthcoming album, which will be their sixth since forming in 1992 and second since their 2010 comeback; following hiatus from  2001 through to 2009.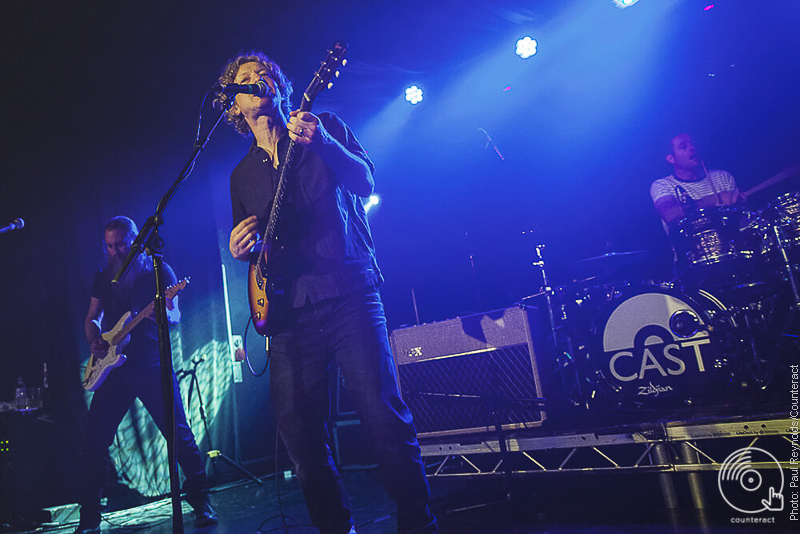 Cast
'Kicking Up the Dust' was next in line from Cast, energy exuberating from Power. The audience digest the fresher sounds and absorb the atmosphere built by Cast as they demonstrate a true passion for their art.
The playful newbie 'Roar' captures attention, playful and quirky this track builds movement within the shoulder to shoulder crowd followed by the punchy 'Do That' which precedes more of the reminiscent 90's flavours.
Notorious 'I'm So Lonely' wraps itself around the venues clientele who are noticeably lost in reverie as the sounds of their youth wash over. Non-album single 'Flying' is well received, with the Britpop ambience bubbling. Mother Nature Calls tracks maintain the vibe, the near-sell out audience spanned generations however seemingly shared in the true love of Cast.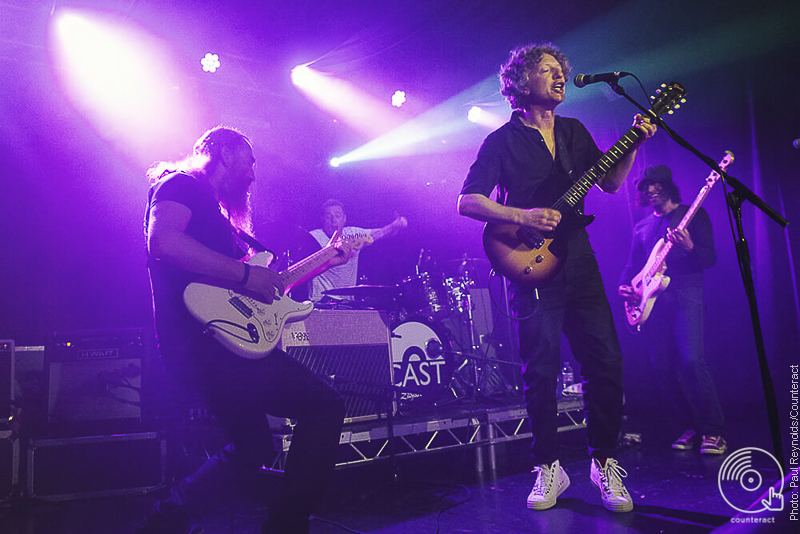 Cast
Spine-tingler 'Walk Away' dragged the night right back to 1996, powerful and flawless this song played as soundtrack as listeners revelled in nostalgia, clubbing together with friends and partners to share in a special moment. To younger attendees the crowds' reaction to this song confirmed Cast's status in the music industry and didn't fail to captivate the room in its entirety as life outside the Academy was momentarily forgotten.
2015's 'Baby Blue Eyes' featured tones of The Who suggesting plausibility for previous dubs. Closing the show with 'History' and the much-loved 'Alright' Cast most certainly demonstrated timelessness and schmaltz throughout their performance, treating the crowds to tastes of what's in store and allowing younger generations to experience some of the nineties music magic. They may not be a hot topic but Cast definitely still have it!
Photographs by Paul Reynolds