Sundara Karma talk new material and wild Brummie crowds
Unless you've spent the past 12 months in isolation, it's been pretty difficult to avoid Sundara Karma and their infectious summer sounds. From a sold-out show at The Sunflower Lounge in 2015, which involved a lot of moshing, a lot of crowd surfing and lot of feel-good vibes, to their recent single 'A Young Understanding' being championed by Annie Mac, this Reading four-piece are getting bigger and better and 2016 is set to be their best year yet. Ahead of their upcoming Birmingham show, Counteract caught up with frontman Oscar Lulu to discuss stepping up, Snobs, and sacrificing lambs.
Having just embarked on their headline tour and fresh from their opening night in Bristol, it's apparent that things are getting exciting for these four teens. "I think even just on one show, we can feel that there's a kind of step up. The venues are a lot bigger, there's more people and there's more of a, you know, an energy thing going on. It just generally feels like a step up, a step in the right direction. We were pretty blown away."
This isn't first time that the band have had a 'woah' kind of moment though. Last year in October, they played a sold out show in Birmingham's Sunflower Lounge to which the band played to a very hyped up and enthusiastic crowd. "The Brummie crowd was delightful; they were really warm and embracing. To be honest, that show was another moment when were like 'woah, fuck, this is fucking nuts'. It's still such a weird thing to get our heads around, that people would actually come out to just see us. It's bonkers, it's just bonkers."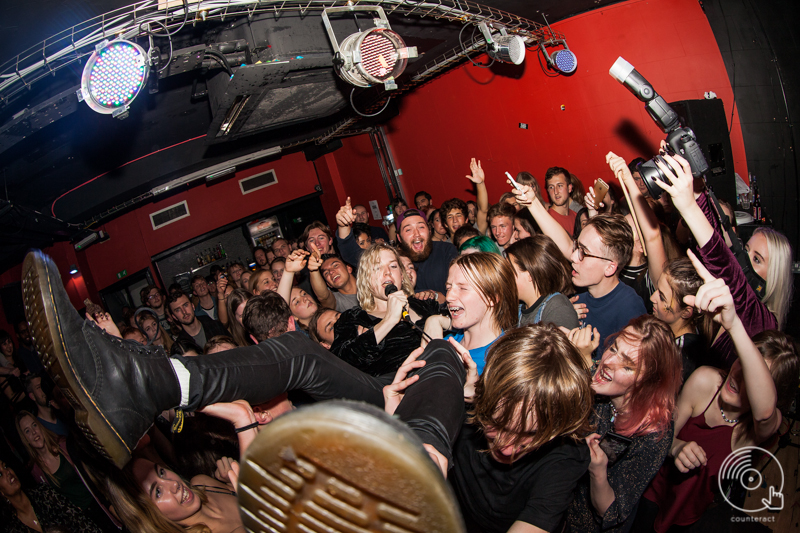 Still chatting about the band's visit to the second city, Oscar continues: "We did go to Snobs, yeah. Unfortunately, I think we went on the wrong day as it was pretty quiet. We ended up going on a massive bar hunt looking for a decent club to go to but everywhere was full and playing things like 'Sex On Fire'. Hopefully on our next visit we'll find somewhere to go."
In between headline tours the band are still hitting the road with other acts such as Wolf Alice, Circa Waves and The Wombats. "It's a completely different dynamic doing those shows. Playing the support slot, you've definitely got to go with the mind set of winning people over and being aware that the crowd don't know who you are. I think having that kind of outlook has worked for us. Plus, we wouldn't tour with a band that we didn't think shared an audience with us."
Despite the sometimes difficult support slot, Sundara Karma haven't quite indulged in a pre-show ritual just yet. "We sacrifice a little lamb before every show, obviously. No, not really, we don't. We're not at the level yet to really get into the ritualistic thing, I think that's something you have to be kind of diva-ish about. At the kind of shows we're playing, there's not enough space backstage to swing a towel around, let alone get ritualistic. One day though we will, and then there will be all sorts happening."
Aside from touring, the band have been busy recording their yet untitled debut album in Berlin. Having spent two weeks solid recording ("it was a bit like Groundhog Day") and having just released their first single 'A Younger Understanding', the band are overwhelmed with the reaction so far. "It's been fucking wicked, like, it's been really incredible. Everyone in the band is really buzzed up about it. We really believe in the song, so that always helps. It's the first track off the album and so far, people's reaction has been really positive.
When it comes to playing the new material live, the band have selected three new songs to share with their fans and so far, so good. "Last night was the first chance to play some new songs live and yeah, it was wicked. The audience responded to how they would have responded if they knew the songs well. It was a really good feeling. We've been playing the same songs for a few years now so it's good to play something new."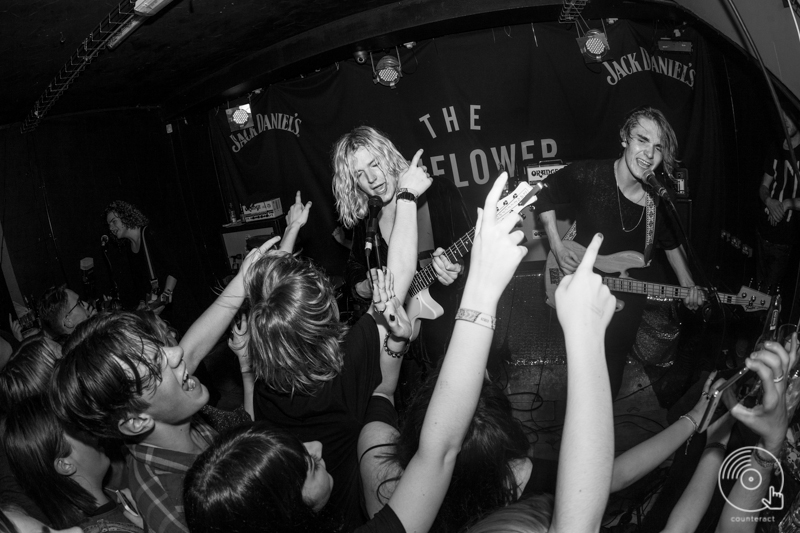 The three new songs will all feature on the band's upcoming debut album, as well as two songs off EP I. When it came to writing the album, there was no set formula, with Oscar admitting that the writing process is still pretty fresh for the band. Whilst that's all the lead singer is revealing about the anticipated first album, he does share what the band were listening to whilst making it. "A lot of War On Drugs, Father John Misty, Jesus And The Mary Chain and Joy Division."
In addition to this, Oscar continues to reveal his key influences. "It's always a difficult one because the people I listen to and the people I love don't necessarily come out in the music we create. In terms of influencers, I'd say Pink Floyd, The Cure and The Doors. I'm also really into Die Antwoord, they're incredible."
Sundara Karma play The Rainbow in Birmingham on Friday June 3rd. Tickets are on sale now via birminghampromoters.com. The band's debut album will also be released later in the year.