Venue guide: The Rainbow Warehouse, Birmingham
Please note: This venue is now closed.
The Rainbow Warehouse is located in Digbeth, Birmingham's arts and music district, and is part of The Rainbow Venues complex.
The venue is renowned not only for its large club nights but also its live bands, ranging from small local acts to nationally touring artists.
Venue Information
The Warehouse is a 1000 capacity standing venue- with a small seating area in the Mezzanine- connected to the main Rainbow building. It has a large bar serving alcoholic and soft drinks. Being on the ground floor, The Warehouse is accessible to wheelchair users, however, the Mezzanine has no wheelchair access. The Rainbow has a cloakroom and a smoking area.
What's On
Find out what's coming up at The Rainbow Warehouse here.
Getting to The Rainbow Courtyard

By car
The Rainbow is located on Digbeth high street, the nearest main road being the A45. Signs towards Digbeth should be available once in the Birmingham city centre area.
Parking
There are a few pay & display car parks dotted around the Digbeth area, though none closer than a short walk to The Rainbow. Advance planning is advised for first-time visitors due to Birmingham City Centre's infamous one-way system.
By public transport
The Rainbow is slightly away from the rest of the town centre, but is a manageable twenty minute walk from Birmingham New Street station. It is also a five minute walk from Bordesley train station.
Many buses stop near The Rainbow, including the 6, 37, 73 and 900 bus routes, and many more stop further up the Digbeth high street or in the centre of town. For more information on public transport in the West Midlands, please visit networkwestmidlands.com.
Spot something wrong? Are we missing a venue? Let us know at richard@counteract.co.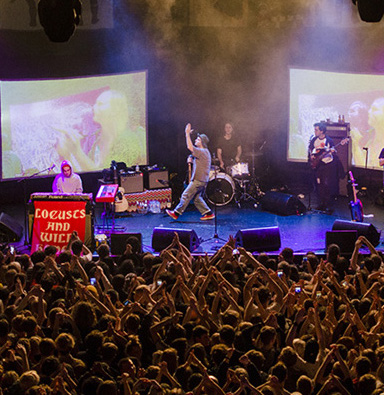 Key information on the best live music venues in and around Birmingham, Coventry, Wolverhampton and the surrounds.