Venue guide: The Roadhouse, Birmingham
The Roadhouse is a 250 capacity venue and bar specialising in heavy rock and tribute bands. It is one of the city's longest serving venues and has hosted acts from all over the world.
Though The Roadhouse is often regarded as a biker bar, the truth couldn't be further away. The venue has been hosting tribute acts, signed touring bands, unsigned bands, jam nights, metal, rock, pop, acoustic, jazz, folk, reggae, ska, hardcore, blues, and funk bands for many, many years, and shows no sign of slowing down. The staff are friendly, and a host of regulars are always on hand to share a story from the venue's colourful past.
Venue information
Next to the large bar (and pool table) is the live room, which has an impressive sound system and a huge stage. It is situated at the side of the south Birmingham canal in Kings Norton, and has ground floor access for disabled patrons. There is a side lounge where during the day musical tuition takes place, and all rooms are fully hireable for functions.
What's on
Find out what's coming up at the Roadhouse, go to theroadhousebirmingham.com.
Getting to the Roadhouse
By car
The Roadhouse is situated just off the Pershore Road, one of the main routes out of the centre of Birmingham. It's not far at all from the Cadbury Factory, and Edgbaston Cricket Ground.
Parking
Parking is available on site, thanks to the huge car park at the rear of the venue.
By public transport
Around a 15 minute bus ride from the city centre will drop you at the venue's door- the 11A and 11C covers most suburban areas in the city and will go through Kings Norton and Stirchley. The nearest train station is Bournville where The Roadhouse is around a 10 minute walk. It is also a 15 minute walk from Kings Norton train station. For more information on public transport in the West Midlands, please visit networkwestmidlands.com.
Spot something wrong? Are we missing a venue? Let us know at richard@counteract.co.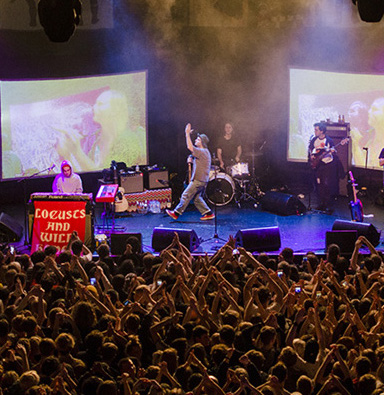 Key information on the best live music venues in and around Birmingham, Coventry, Wolverhampton and the surrounds.