Interview: Nina Nesbitt on her whirlwind year and musical transformation
In preparation for her upcoming second album, Nina Nesbitt is hitting the tour circuit hard. Ahead of her tour support slot with Lewis Capaldi at the O2 Institute on November 3rd, we caught up with the songstress to discuss her rollercoaster journey of a career and what is in store for the future.
Nina Nesbitt is the genre shifting viral pop star of the moment. Having rooted her career as a sweet acoustic singer-songwriter at the young age of 17, she has seen a transformation over the years. Her single 'The Best You Had' has impressively amassed over 30 million streams on Spotify, while her fan-base continues to grow both in the UK and worldwide.
When Nina emerged back onto the scene in 2016 after a few years of silence, her sound saw a drastic sonic evolution. Nina felt this move wasn't quite as drastic as it might appear: "The changes felt natural to me even if it didn't sound like it. When I started, I was on YouTube at the age of 15 and the only thing I could afford was an acoustic guitar, so I started out as an acoustic artist. Then I had a lot of time to experiment and I moved to London."
The whole popstar sound, however, proved to still not quite click. "I tried the whole full-on pop thing with 'Chewing Gum' and I felt like it wasn't really me. I was never going to be someone that would dance on a stage. I'm definitely more of a songwriter that plays instruments, that happens to sing. I love the whole songwriter storytelling thing. I discovered a passion for R&B, so I try to take little bits of that melodically. The combination of these things has formed my sound today. It's been all about growing up and experimenting with different things until I found what clicks!".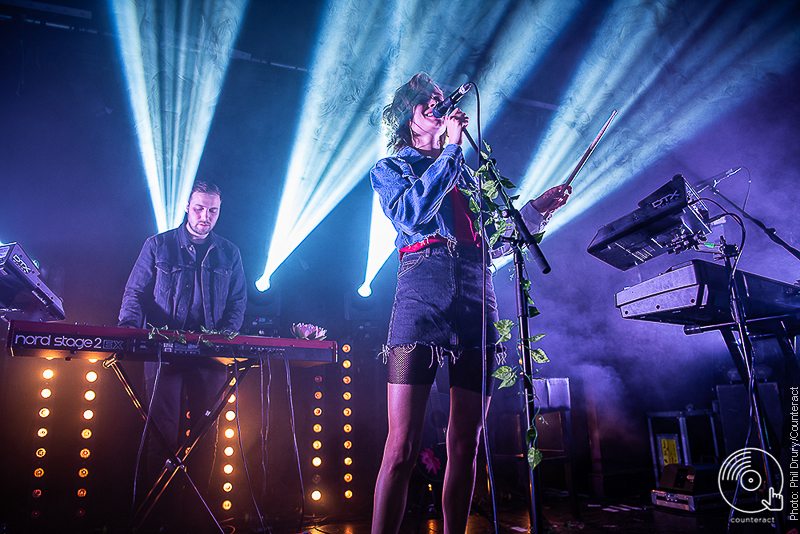 Read: Review: Nina Nesbitt performs an emotive set at the O2 Institute
Spotify has played an integral part in Nina's campaign and recently she joined forces with fellow emerging artists Sasha Sloan and Charlotte Lawrence for a very special Spotify Session release. "Spotify have been really supportive and have led the campaign so far. This collaboration was really exciting and it was the first one they had ever put together," explained Nina.
"I was in LA for a video shoot and we had 6 hours to write and record the song. We wanted it to be empowering, as it was for Women's History Month, whilst still feeling like something we would all release or listen to. It was a really cool experience."
The resultant work, 'Psychopath', is a punchy pop-bop filled with an invigorating, confident energy.
But, what are some of Nina's dream collaborations? "Max Martin, he is a pop genius. I love how his production is so minimal and everything serves a purpose. He is always ahead of the game. Another would be Calvin Harris, a legendary collaborator. And Charlie Puth, I'm obsessed with his new album. I feel like he's got a perfect formula in the way he writes. His sound is really dynamic and each different section of his songs jump out."
Nina's music particularly revolves around its distinctive production. How has the experience been replicating her sound live? "All the songs were written stripped back so they work acoustically, so there's no issue there. I also have parts of my studio on stage; with samples, I'll trigger to play different things. I've got just one band member to do things a little differently. With my guitar, keyboard, DTX, studio, keys and a drum player, we can create the full sound. It's pretty cool."
Some of Nina's work touches on particularly personal aspects that some people may find daunting to expose to the world. Interestingly, it isn't these songs that she gets most nervous about putting out. "I find it more daunting to put a quite poppy and happy song out like Somebody Special. It is still personal, but less serious. I don't get nervous about putting a song out like Moments I'm Missing or The Best You Had, because I feel emotionally attached to it. I don't know why I need to figure that out."
Nina is heavily involved in the production process of her work as well as the songwriting. She shared her view on what makes for great production. "I think there needs to be a core instrument that you write on. I'm still trying to work that out. For me, it's all about the lyrics and the story, but it depends on the song. Some need a banging chorus and some need to be left alone. That's why I love Max Martin, his production is so subtle yet interesting. Everything should serve a purpose on a track, and it's easy to get cluttered and carried away."
Nina has been quite the globetrotter over the past few days, but there's still one place she is desperate to get to. "I had this conversation with my boyfriend asking if I died tomorrow, where is one place I would want to go? And it's Japan. Once I've been to Japan I've quite happily seen everything I want to see. It's just so culturally different and looks so cool, and I love Sushi. My favourite place I've been to is Nashville, and San Francisco was incredible."
'The Moments I'm Missing' has a particularly reflective tone to it. The past year has built up a number of moments that Nina is sure to be missing in years to come.
"Putting the music out has been quite amazing – this time last year I had nothing out. I've noticed a huge difference and so many unexpected things have happened. Getting on Taylor Swift's playlist was absolutely bizarre because she's the reason I got into music. Doing a US tour, the Spotify single, being on a billboard in Times Square. There are so many things that have stuck out…"
The future is only bright for Nina, and it will be interesting to see where she progresses in the next year. "I don't know where I'll be in a year, but hopefully it keeps going. I just like to live in the moment."
Nina Nesbitt is set to return to Birmingham supporting fellow Scot Lewis Capaldi, at the O2 Institute on November 3rd. Tickets are on sale now.
Media and Communications student with a passion for music and discovering new artists. 90% of the time you'll find me at a gig. I listen to a really wide range of artists such as The 1975, Two Door Cinema Club, Bombay Bicycle Club, Ed Sheeran, Disclosure, Lorde, Florence and The Machine, Ben Howard, as well as a tonne of pop music like Taylor Swift and Ellie Goulding.