We went to Bongo's Bingo – and it's absolutely nuts
Not for the faint-hearted, Bongo's Bingo is an insane take on the traditional game of luck. The typical small hall is replaced with a huge warehouse, the usual caller is replaced with a hyped-up DJ blasting 90s music and yes, the silence in between numbers is instead replaced with 1,000 people dancing on benches. Friday night has never been more bonkers.
---
Crane, one of Digbeth's newest venues, is perfect for the job. Upon arrival you'll feel the 'secret location' vibe, and the image of an entirely stripped-down warehouse (with just a bar and a ton of benches lined up) will scream that the night will not be about where you are, but what's about to happen.
You'll get your book and pen on arrival, so have no doubt that the crowd will be taking things very seriously with comical items, alcohol and cash prizes to be won. Five minutes into the night and, no matter what your intentions were, you'll be dancing on the benches along with every stranger around you to whatever tune the host decided to blast around the room.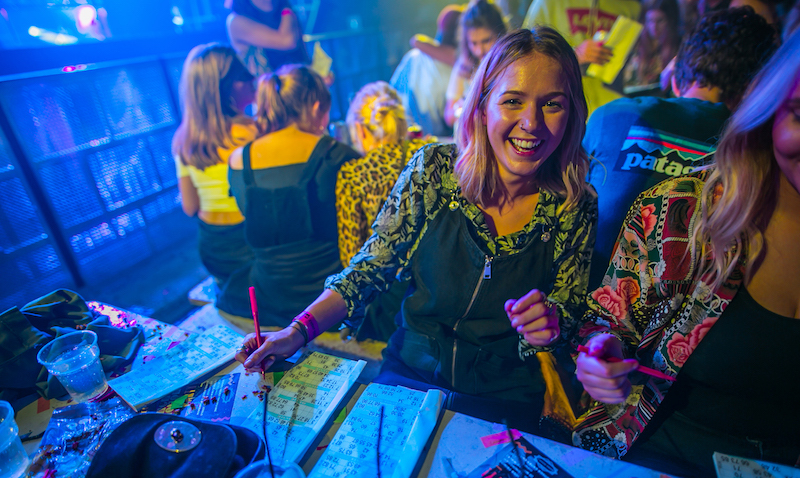 The host will whizz through every number for no more than four minutes before you're up again throwing your arms and glowsticks about to throwbacks like Bewitched's 'C'est La Vie' or Destiny's Child's 'Say My Name'. But rest assured, not one person in the room will hold back when they've hit the jackpot, or at least think they have.
An hour or so into the night and it's clear that the alcohol is a distraction from the game, with players sprinting through the venue to wave their winning numbers at the stage before being sent away with a comical humiliation from the host.
In between dancing on benches and desperately crossing numbers off, the assistants on the stage provide some real laughs; two men, one dressed as a cheerleader with the other dressed as Little Bo Peep, shoot confetti out to the crowd after jumping off speakers and occasionally doing the splits.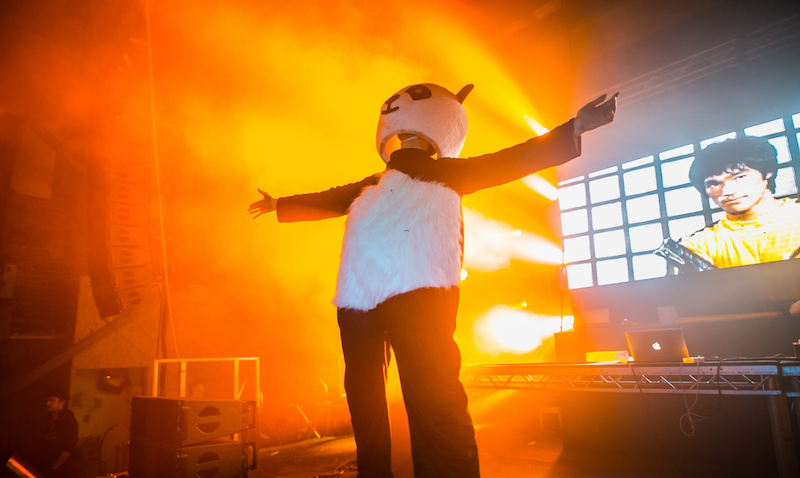 And don't expect the prizes to always be as simple as having the right numbers. Three people storming to the front of the warehouse to win a beloved Henry Hoover only means one thing: dance off. Cue the next five minutes of madness where you'll witness the funniest, most awkward and shocking moments of the night (proving just what people will do for a vacuum cleaner after a few ciders).
An interval is much deserved with time to re-assess the night and look around you: confetti and glitter covers the floor, benches are skewiff and a playlist of dance-on-the-table music continues for everyone still fancying their own dance offs with friends to the likes of Girls Aloud's 'Sound of the Underground', Jay Z's '99 Problems', and The Pogue's 'Fairytale of New York'.
People walked away with a cardboard cut-out of Stormzy, a giant (and that means giant) blow up duck, an even bigger fluffy unicorn, and a box of Coco Pops which undoubtedly was chucked all over the crowd to the cheers and screams of the room.
But Bongo's Bingo doesn't mess about; each full house out of all five games matched up with a cash prize. The further, and drunker, the night gets brilliantly correlates with the amount to be won, with some walking away with £60, £140 and even £1,000 at the very end.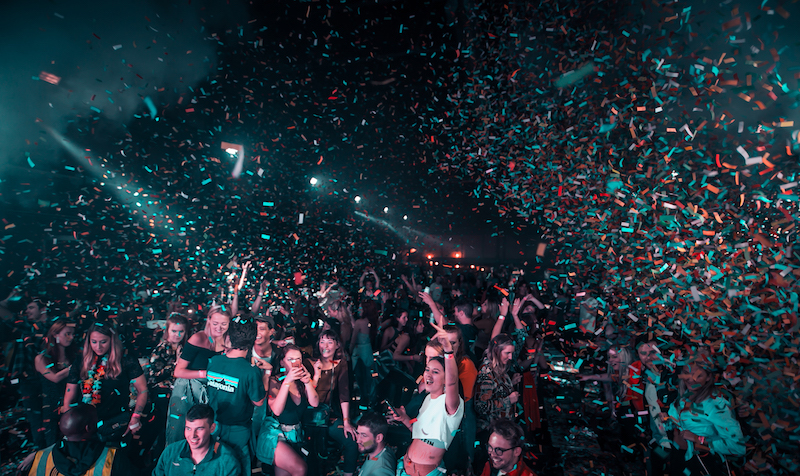 No matter what you win or lose, you'll leave richer or drunker with the most eventful Friday night for a long time under your belt. It's not until you get home and find a coco pop or piece of confetti in your bag that you'll run over the wacky night in your head before searching for the next Bongo's Bingo date. This needs to be experienced, seriously.
To check when Bongo's Bingo is next back in town, please visit bongosbingo.co.uk.
26 year old Brummie journalist with The Twang, The Streets, The Beatles & Elton John sitting amongst my favourite music