The best of Birmingham on Etsy.com
Long since known as home to everything crafty and quirky, Birmingham on Etsy.com is a trove of wonders. Here's our guide, in no particular order, to the local creators you don't want to miss out on, as well as Birmingham-related gifts to die for.
Shops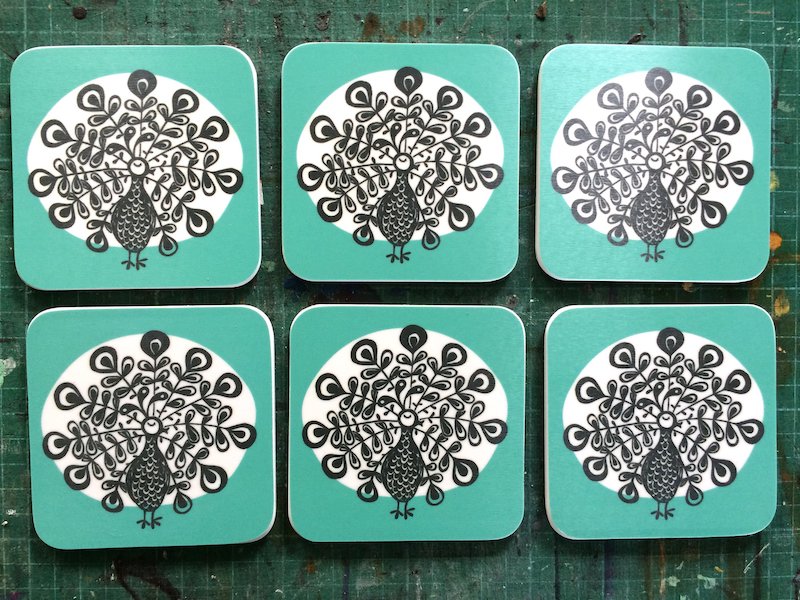 Melamine 'Peacock' Coaster
©RuthGreenDesigns / Etsy
Describing her craft as 'screenprint and design, gifts and limited editions', Ruth Green's unique handprinted pieces are a true star of Birmingham on Etsy. Bold, bright natural designs adorn place mats and coasters, perfect for bringing a pop of colour and quirk to your home, while intricately printed wooden broaches would perfectly compliment any winter coat or bag. She also has a range of hand print zip purses for loose change or all those random bits-and-bobs floating at the bottom of your rucksack.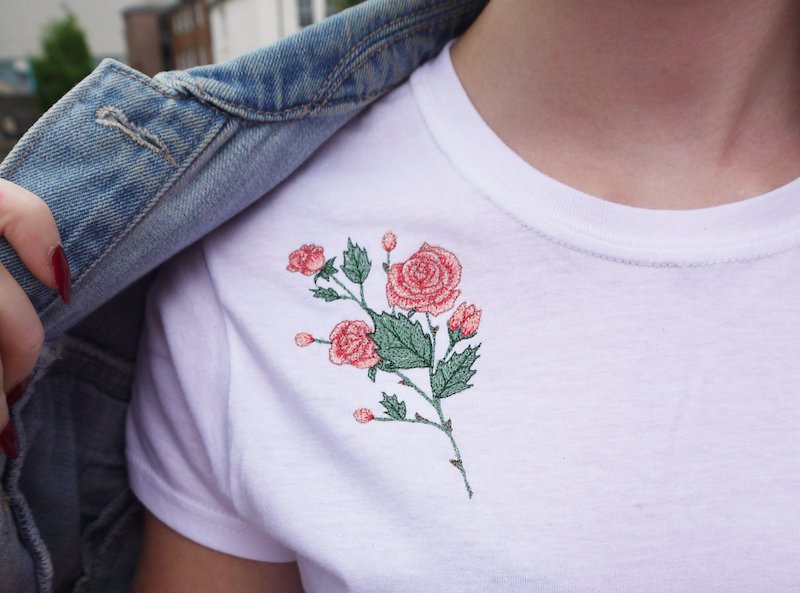 Embroidered June Birth Floral T-shirt
©LintAndThread / Etsy
Having opened her Etsy store in 2017, Connie Mabbott creates beautiful embroidered clothing, and it's all handmade. Focussing mostly on floral designs, Lint and Thread takes simple, monochrome pieces and turns them into something unique and stunning with bright, intricate embroidery. Her range of 'birth month' tshirts, embroidered with seasonal flora according to month, is one of Lint and Threads best offerings, and there is even the option to customise these with the month or a name, making them the perfect gift. It's very reasonably priced, considering the handmade quality (and the reduced chance of seeing 5 other people wearing the same thing when walking down New Street).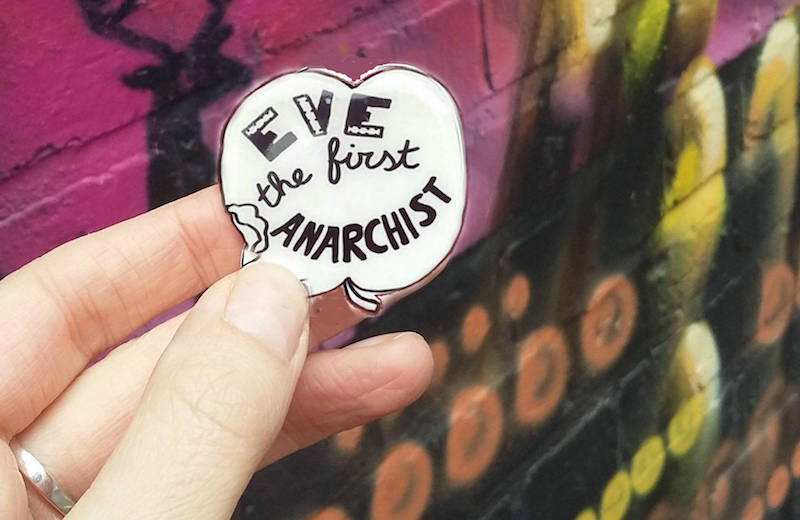 'Eve the First Anarchist' Feminist Pin
©PrettyPolitical / Etsy
One of the cutest, and definitely the most radical, of our list, Pretty Political creates pins, mugs, prints and more for the anarchist in you. Jorine Beck's slogan, 'protest is beautiful' certainly comes across in her edgy, sketched designs which would look at home on any pin-covered denim jacket or shared house wall. Many of her designs are biblically centred, especially focusing around reclaiming Eve from her 'fallen woman' status, but they vary from anti-diet messages to comments on our social media culture. Be radical, get involved with PrettyPolitical.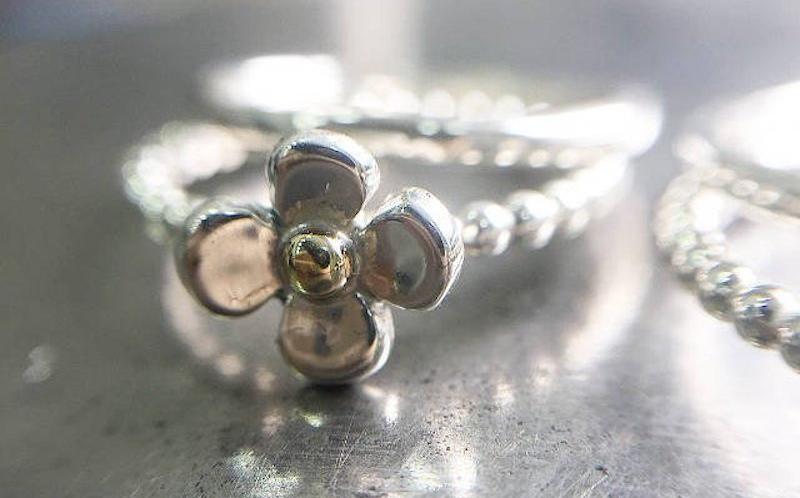 Set of two stacking rings
©madejustbyme / Etsy
Possibly the most traditional shop on our list, Made Just By Me creates simple, elegant jewellery. Having studied at Birmingham's School of Jewellery, the shop's creator is intent on creating unique, meaningful designs counter to the mass produced jewellery so common on todays high street. There is an incredible range here – sets of stacking rings, stone adorned drop earrings, adorable tiny pendants – but all of Made Just By Me's pieces share a delicate simplicity making it perfect for both the every day and special occasions. Incredibly reasonably priced for handmade silver jewellery, stop in at Made Just By Me for your jewellery needs, and avoid the boring mass production of high street jewellers.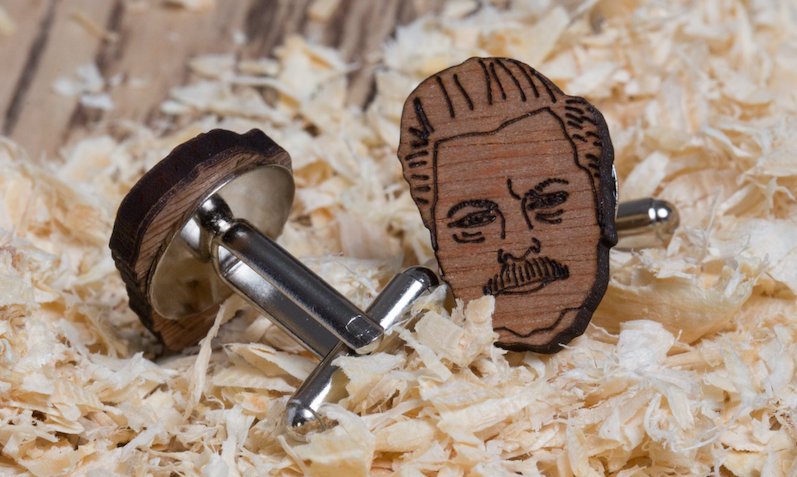 Ron Swanson cufflinks, part of the Geek Dad cufflink set
©FrillyIndustries / Etsy
Although they describe their shop as 'illustrative, statement laser cut jewellery', it's hard to pin down the main theme at Frilly Industries because they just create so much. And it's all fantastic. Cute, city themed 'snow globe' necklaces sit next to 'monster eye' earrings, while further down the page a set of 'Geek Dad' cufflinks features the tiny head of Ron Swanson beside a teeny Spock hand. One of their best ranges is their incredible celebrity pin badges, tiny wooden renditions of Tilda Swinton, Cate Blanchett and Bill Murray, among others. They also offer a 'custom meddle' allowing you to award your loved ones for anything you like in cute laser cut wooden style, definitely earning them the meddle of one of the best in Birmingham on Etsy.
Gifts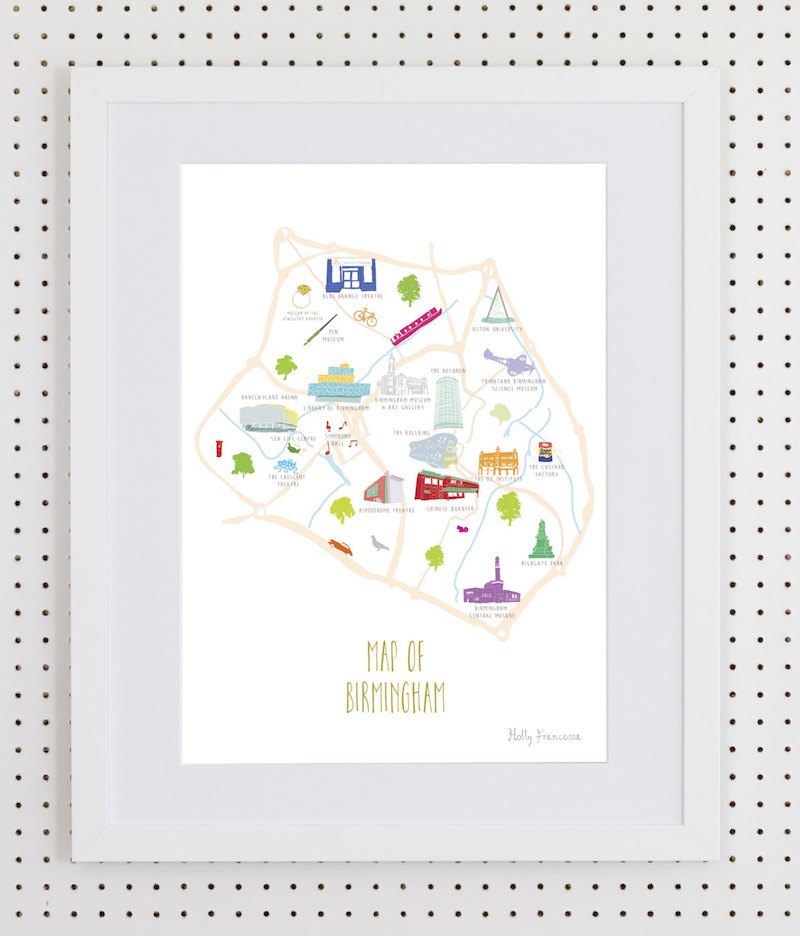 ©hollyfrancesca / Etsy
This lovely map shows all of the top town centre land marks, from Birmingham Hippodrome to Central Mosque, Library of Birmingham and Aston University. Its simple design with pops of colour would stand out on any wall, and beats any generic London map! Designed by Holly Francesca, an artist hailing from Yorkshire's Hebden Bridge, it's one of a collection of UK city maps in a similar style. With all of the places that make us proud to be Brummie, this is the prefect home-warming present.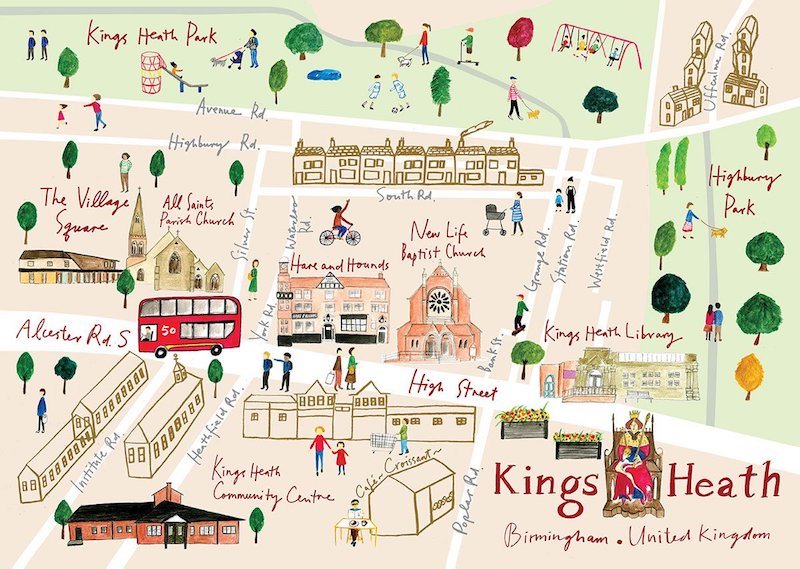 ©tszwan / Etsy
Still on maps but focussing a little more locally, this adorable map of Kings Heath is one of our best Birmingham Etsy finds. Designer Tsz was born in Honk Kong but has lived in Birmingham for over 15 years, and has curated all of her local knowledge into this piece, perfect for any Kings Heath kitchen. Although irrelevant to those who live outside of B14, this map, complete with tiny dog walkers, a no. 50 bus and an intricately illustrated Hare & Hounds, couldn't be missed from our list.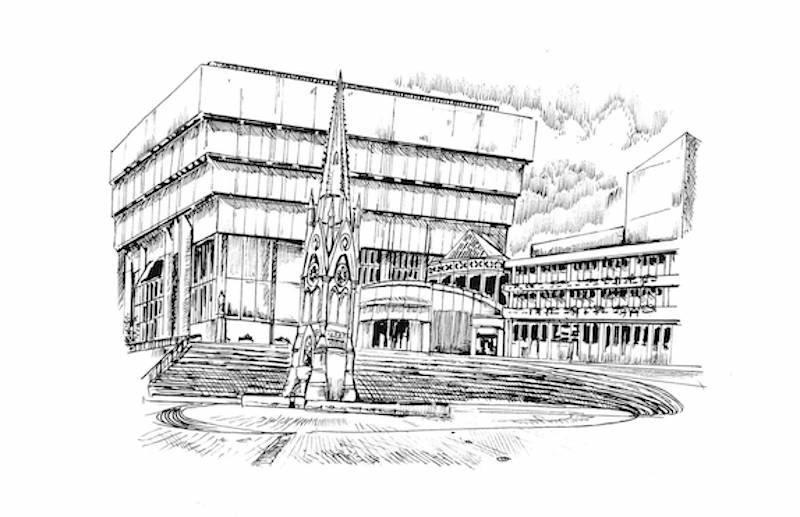 ©JWSketches / Etsy
Almost forgotten since the rise of its yellow and blue replacement, Birmingham Central Library was closed and demolished in 2016. However, though missed, it lives on in all its grey spiky glory in this digital sketch by Birmingham artist Jonathon Whitehouse. Priced at only £5 per print and available in both A4 and A5 sizes, this makes such a lovely addition to any collection while commemorating one of our most iconic lost buildings. Whitehouse also offers a fantastic sketch of Gas St Basin, as well as customisable wedding portraits for and lovers out there!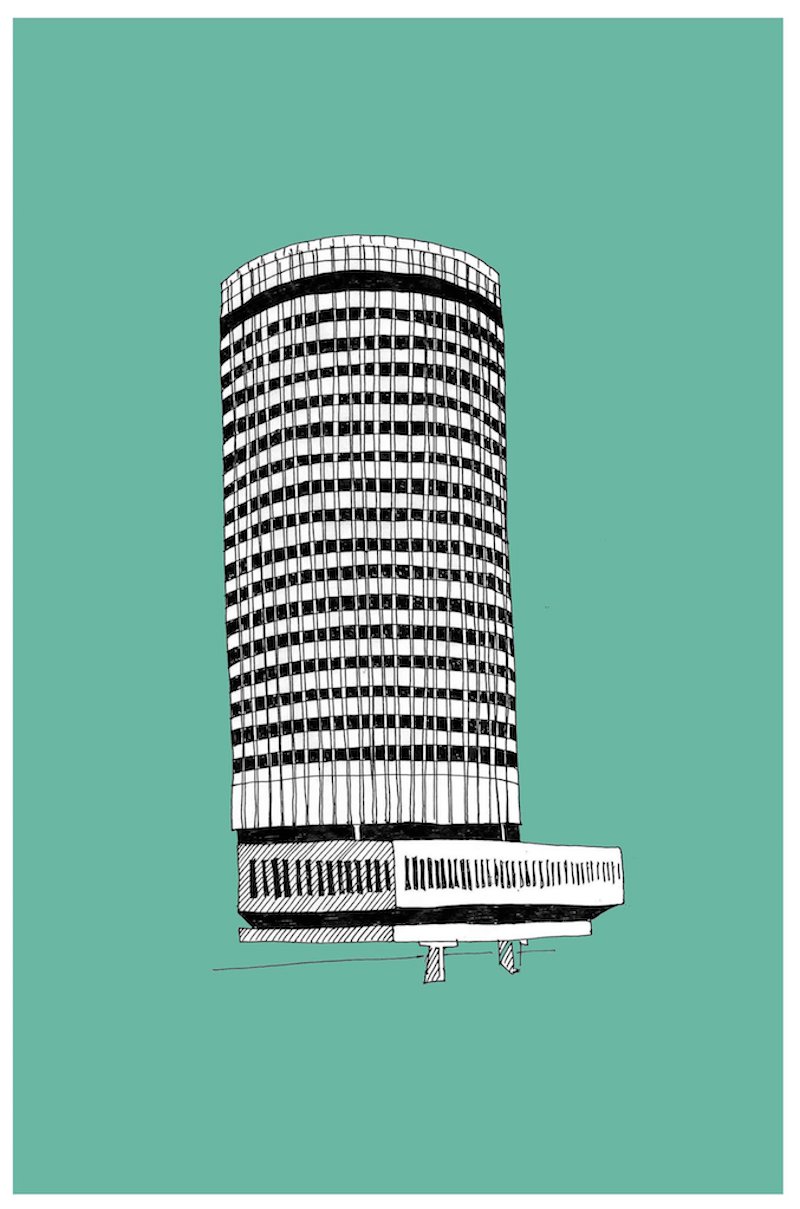 ©MadeByMrsM / Etsy
Taken from a drawing by architect Jim Roberts, this recreation of Birmingham's iconic Rotunda is part of an extensive A-Z of British buildings created by artist Kate Marsden, or Mrs M, which includes buildings from towns and cities all around the UK. One of Birmingham's lesser appreciated buildings compared to the Library of Birmingham or Selfridges, this bold print is perfect for quirkier brummie pals.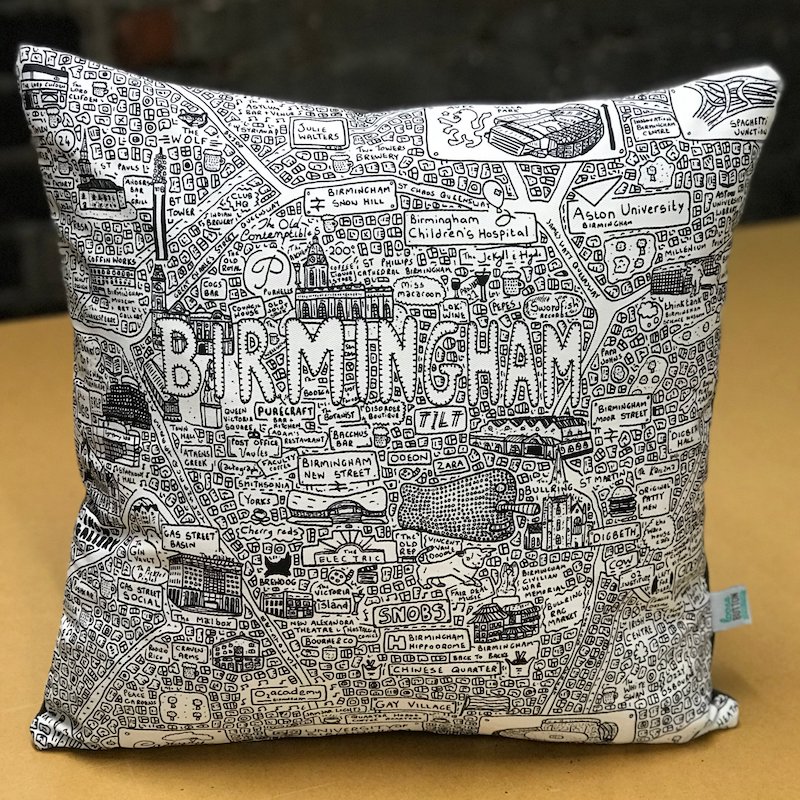 ©LooseButtnUpholstery / Etsy
Probably the most detailed of any of our map related picks, this scatter cushion is the ultimate guide to Birmingham city centre, conveniently placed on your sofa or bed. Complete with every major bar, cinema, theatre and landmark in town, this incredible creation also shows Birmingham's outer wonders, such as Cadbury World in Bournville, The University of Birmingham and Spaghetti Junction. The more you look at it, the more you spot. Truly a fantastic handmade gift.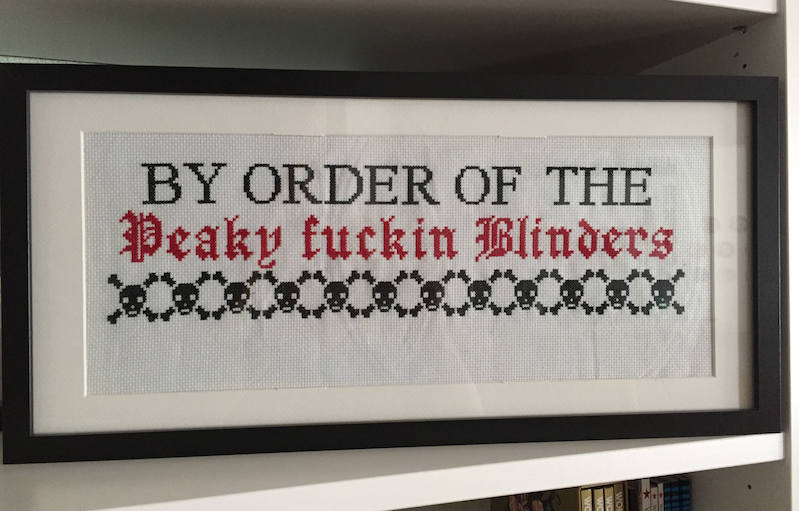 ©onecraftydev / Etsy
No Birmingham gift guide would be complete without something Peaky Blinders related, and this one does not intend to be incomplete. With this rad cross stitch, you can combine the Cillian-esque gangster you wish you were with the craft lover you actually are and adorn your bedroom with twee swearing and skull and crossbones patterns. With an opportunity to purchase just the pattern and materials, you can creative with this one and try out your own cross stitching skills! I'm sure Thomas Shelby would be proud.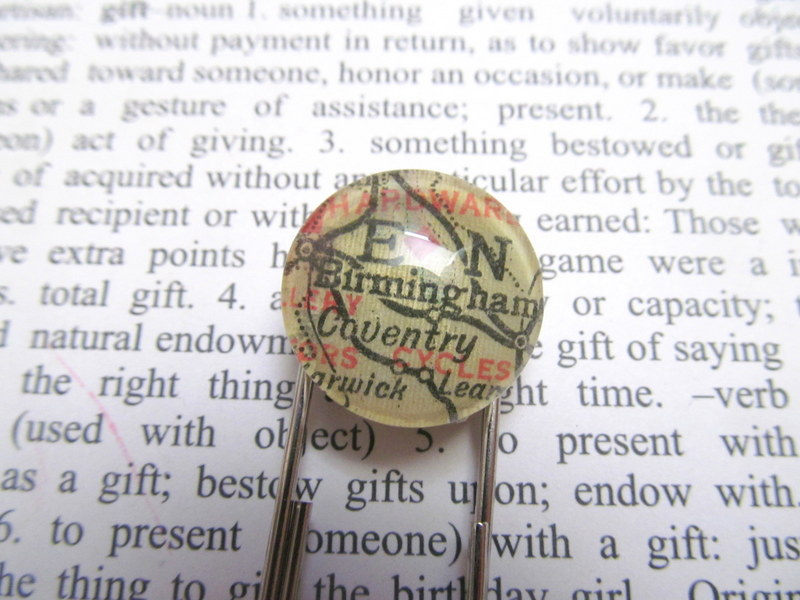 ©MadewithMaps / Etsy
Yep, sorry, we're back to maps. But this is a super cute one. A teeny tiny bookmark adorned with a teeny tiny map of Birmingham. Its metal clasp is perfect for making sure you don't lose your place, while the little map will poke out of the top of your book, showing everyone that you're Brummie and proud. Even cuter, it comes on a little card that says 'I Love This Place', and it's true, we do. At only £4.25, it's a lovely little budget gift.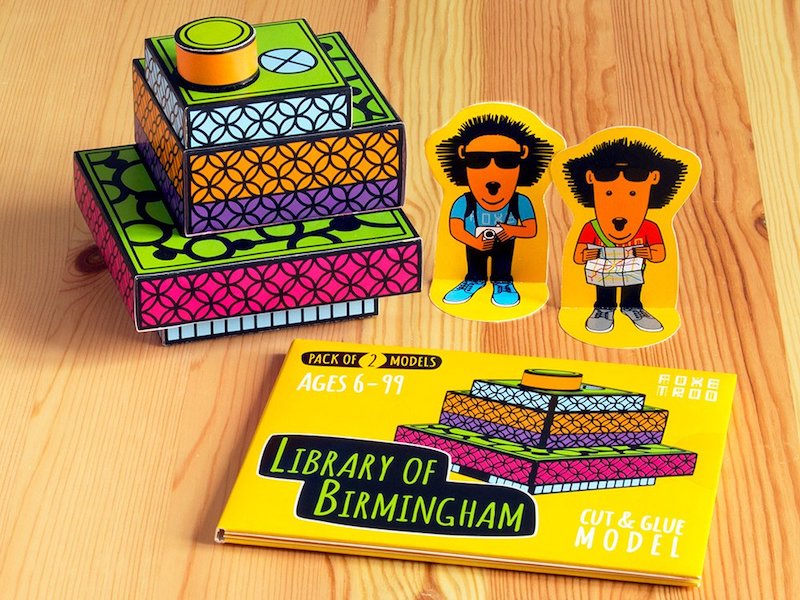 ©FOXETROO / Etsy
Arguably a building weird and iconic enough it almost seems to have been created to trump the Selfridges wall, Library of Birmingham is a relatively recent addition to Birmingham's landmark cannon, and now you can make it yourself out of paper and glue. This little model is a lovely little gift for kids and adults alike, packaged in bright yellow with easy-to-follow instructions. Even more brightly coloured than the library itself, this would make a lovely addition to any windowsill, bookshelf or general pile of kids clutter. Plus, it's so tiny that you can take it with you anywhere as a reminder of the wonderful second city.
Header image ©FOXETROO / Etsy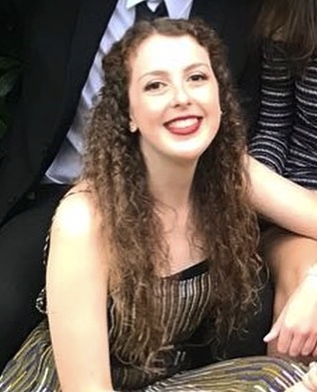 Music lover, beanie wearer and vegetable enthusiast.