A Guide to a Night Out at Birmingham's Casinos
There's always plenty to do in Birmingham, from restaurants and bars, to clubs and live music tours. But it's the casinos in and around town that make for a decent night out; something a bit different to the usual bars and clubs.
Casinos offer far more than just gaming. Most of the well-established casinos in Birmingham also have their own bars, restaurants and entertainment. Many are open late into the night, and a few open 24 hours a day, seven days a week.
We've already covered Birmingham's Casinos, but since then we've had a major casino close down and another one reopen. This guide also aims to set you up for a great night out, so you know which casinos are most suitable, what you should wear and how you will be expected to behave.
Casinos in Birmingham
There are two major brands operating in Birmingham, along with a handful of smaller, independently run companies.
Grosvenor Casino have two locations open. One is on Hill Street, conveniently located near New Street train station. The other is on Broad Street. Both offer the full Grosvenor Casino experience, including table games, bars and food, live sports and 24-hour gaming.
If you really want to push the boat out, check out the Grosvenor Full House package. It costs £30 per person and comes with a host, drink on arrival, 3-course meal, one-hour gaming tutorial, £5 gaming chip and £5 slot chip. It's the ultimate casino night out and great for large groups.
Birmingham also has several Genting casinos. The most centrally located one is in Chinatown. It has an Asian restaurant and is more focused on Baccarat, so it offers a different kind of experience to other casinos in town.
There's also a Genting in Edgbaston and this casino offers a more poker orientated gaming experience. You don't need to sign up or become a member to enjoy the casino, but those who do will receive the best offers and free bets.
The Club Star City Genting casino has recently closed down. Do not despair though, Genting Resorts World has opened, and it more than fills the gap left by its predecessor. It focuses on offering a combination of casino gaming and pure entertainment and indulgence, so it's perfect for a night out. There's also a hotel with spa for a weekend stay.
Resorts World is located at Pendigo Way. It has a TGI Fridays, tapas, pub, skybar and live DJs on Friday and Saturday nights. The sports bar has eight big screens and private booths to enjoy the game. Poker tournaments run every day, with buy-ins ranging from £17 – £52, and you can even play a freeroll on Tuesdays.
If you want to make your whole night casino orientated, but also eat, drink and have a great time, then Resorts World is the one. If you want to combine your night out with a bit of gaming earlier or later on, with bars in between, then head to Grosvenor, or to one of the Genting casinos in the city.
What Games to Play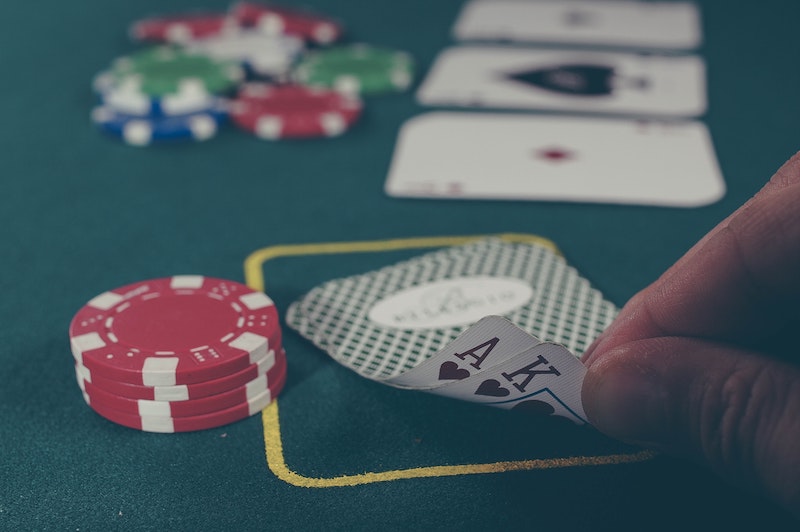 There's more than just slots available at the casino
If you weren't going to play at least a couple of casino games, then there really wouldn't be much point having your night out at a casino. It's the combination of entertainment and gaming that makes the casino a hit.
The question still remains — what games are best to play on a night out? The answer obviously depends a lot on preference, but here are some guidelines:
Poker – Poker is one of the more difficult games to understand and to master. It makes for a great night out in itself, so it's worth the effort to learn, but before you sit down at a proper casino game you should learn the poker strategy basics for beginners. A bit of skill goes a long way, and also makes the game more enjoyable.
Roulette – Roulette is on the other end of the spectrum. It doesn't require any skill, and it's easy to learn how to play. Simply place your chips on the numbers that you want to cover before the dealer declares the betting over and spins the ball. If the ball lands on your number, you win. This simplicity makes roulette ideal for casual players on a night out.
Blackjack – Blackjack is a happy medium between poker and roulette. It's easy to learn. You just either draw or stick, with the aim of getting closer to 21 than the dealer without going bust. At the same time, experienced players can improve and get better odds. It's also a slow game (as long as you don't go crazy on sidebets). You can make minimum bets and relax with a drink.
Slots – A lot of people like slots, but to be honest they are not the best for having a really fun night out with friends. They are very individual, with each player having their own machine. You could have a go on them with friends for a bit, but move on to other games and mix it up.
Casino Dress Code and Etiquette
If you're wondering what to wear on your night out to the casino, the general rule is smart casual. That means no trainers and sportswear, but also you don't need a suit either. You can just dress how you feel comfortable, like you would for a night out at a typical bar. Check the casino dress code to be sure.
Casinos serve alcohol and it's fine to have a few drinks. However, if you have overindulged and start to affect the atmosphere for others, then the casino will stop serving you or may even politely ask you to leave.
It's all about common sense really. You don't want to be causing mayhem at the poker tables or spilling any drinks on the roulette wheel. However, if the casino has entertainment, music or a major sporting event on in the bar, then you can expect the vibe to pick up a bit.
Be respectful and have fun!