Venue guide: Suki10c, Birmingham
Suki10c is a unique live music venue, club and bar situated on the border of Birmingham City Centre and Digbeth.
The venue hosts an eclectic range of events from Drum n Bass to Rock, Dubstep to Reggae and more.  Known as a creative hub and landmark in Digbeth due to its eye-catching graffiti, Suki10c is a must for anyone looking for somewhere a bit alternative.
Venue information
The venue has a good selection of cheap beers, ciders and spirits and is open Thursday to Sunday for weekend revellers. Although from the outside it looks like a pub, the vibe inside is definitely that of a club, albeit an intimate 150 capacity one.
What's on
Find out what's coming up at Suki10c here.
Getting to Suki10c
By car
Suki10c is situated on Bordesley Street, a short drive from Digbeth High Street (B4100). When on the B4100, turn right on to Meriden Street, pass the crossing at Coventry Street and take the next left on to Bordesley Street. The venue will then be on your left. It's covered in graffiti, you literally won't be able to miss it!
Parking
On-street parking in Digbeth is available or Bullring has 3 dedicated car parks offering over 3,000 car parking spaces. Other nearby car parks include Moor Street and Edgbaston Street.
By public transport
The nearest train stations are Moor Street or New Street Station, both around a ten minute walk away from the venue. There are also a number of bus routes that pass nearby including numbers 6 and 50. For more information on public transport in the West Midlands, please visit networkwestmidlands.com.
Spot something wrong? Are we missing a venue? Let us know at richard@counteract.co.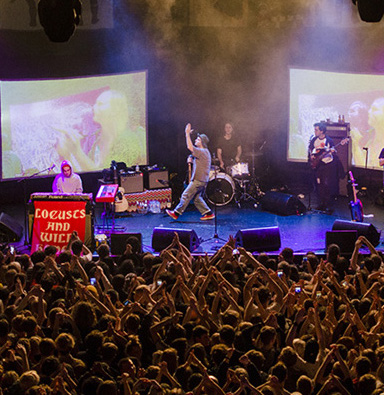 Key information on the best live music venues in and around Birmingham, Coventry, Wolverhampton and the surrounds.