Venue guide: Kitchen Garden Café, Birmingham
The Kitchen Garden Café is a cosy cafe by day which holds a host of acoustic music nights from Sunday to Wednesday evenings. Based in the village of Kings Heath, Kitchen Garden Café is on York Road, a stone's throw from the Hare & Hounds, and is nestled amongst terraced buildings.
The Kitchen Garden Café is known as a tranquil oasis, featuring folk, roots and Americana music.
Venue information
Pre-gig, this venue is perfect for some delicious home-cooked food and fair trade coffee and tea. The café also caters for vegetarians, vegans and dietry issues. For wheelchair access, contact the venue before booking your ticket to make sure they can provide the facilities. Access to the café is via an alley on York Road, but this is clearly sign posted above.
What's on
Find out what's coming up at The Kitchen Garden Cafe via kitchengardencafe.co.uk.
Getting to The Kitchen Garden Cafe

By car
From the Bullring Shopping centre go down the A441 or via A38. You can also follow signs for B4114 until you get to B4100 then take the 3rd exit on the A4540, continue to follow until you get to another roundabout, taking the 2nd exit (A435). Then simply turn right onto York Road.
From all other directions follow signs to South Birmingham and head towards Kings Heath.
Parking
Kings Heath offers plentiful street parking which is free on evenings.
By public transport
While Kings Heath has no direct train access, buses 35, 50 and 50a stop only a 2 minute walk away from the café. For more information on public transport in the West Midlands, please visit networkwestmidlands.com.
Spot something wrong? Are we missing a venue? Let us know at richard@counteract.co.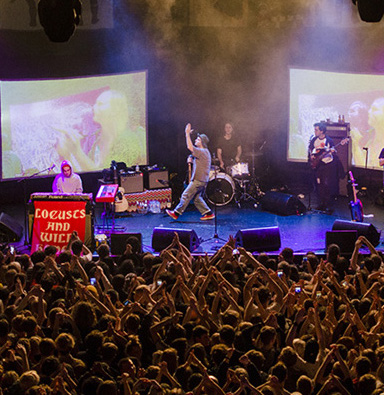 Key information on the best live music venues in and around Birmingham, Coventry, Wolverhampton and the surrounds.