Review: Violet's Heaven Adores You is a misty shoegaze anthem
Midlands based shoegaze band Violet reinvent their indie/grunge inspirations with the powerful new single 'Heaven Adores You'.
Both singles gained prestige from Dork and Clash magazine, whilst 'Feel' garnered heavy rotation on Steve Lamaq's show on BBC 6 Music. A roaring show at the Sonic Gun Weekender and a sold out Sunflower Lounge headline among the other awards this five piece Britpop/grunge reinvention have gathered.
Slower pace to the anthemic 'Feel' and 'Jaded' that have made their live sets notorious in Birmingham, 'Heaven Adores You' bodes an icy introduction brings softer, pedal immersed guitars, subtle drums and a romantic ballad, hidden amongst the mist. This slower pace time warps and snaps into that indie spark for a dramatic, climatic chorus. The stand out phrase 'Heaven Adores You' concludes this number with a heavenly cadence.
A slower pace in the first introduction would fool you into thinking this isn't the typical Violet anthem. 'Heaven Adores You' nestles perfectly with the rest of their calibre. Drenched in dreamy ocean reverb, with drums perfectly following the waves created. It's the same type of hard hitting single that will captivate like 'Feel', impress like 'Jaded' and show the flying potential these local music scene leaders have.
Violet release new single 'Heaven Adores You' at The Castle and Falcon on Friday, 12th October in support of Sugarthief.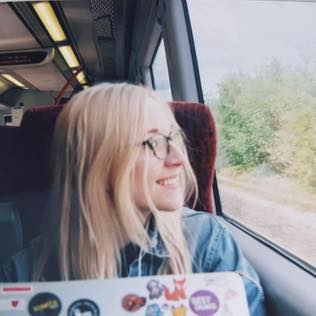 PR, events and social media by day, lover of all things geeky and retro. Can often be found scribbling notes at the back of the gig.