Review: Yo La Tengo push their musical boundaries at Birmingham Town Hall
Yo La Tengo played Birmingham Town Hall on May 1st
Having quietly developed a reputation as one indie rock's most creatively dynamic groups, Yo La Tengo turned in a multi-layered performance which defied genre classification
The band divided the performance into two disparate sets

 

to a hushed and respectful audience
[amazon_link asins='B0791XV7QC,B00YQIFWVY,B00OPMI0QK' template='ProductCarousel' store='counteract03b-21′ marketplace='UK' link_id='641be87d-4e0a-11e8-9319-6364c8a5a462′]
Taking full advantage of the elegant surroundings of Birmingham Town Hall Yo La Tengo summon the spirit of a bygone era, by taking to the stage early and performing under kitschy baubles suspended by long silvery strings which reflect and refract the stage lights. With little fanfare, the band shuffle on to a stage crammed with pedal boards, guitars, and even a double bass, invoking less the spirit of rock 'n' roll excess and more the spirit of a sepia tinged American prom band. 
Tonight's performance has even been divided into two sets of equal parts designed to showcase alternating elements of the groups enormous body of work. This only serves to heighten a sense of nostalgia and collective towards the Town Halls' illustrious past. All that is missing is an attendant stalking the isles to sell ice cream during the interval.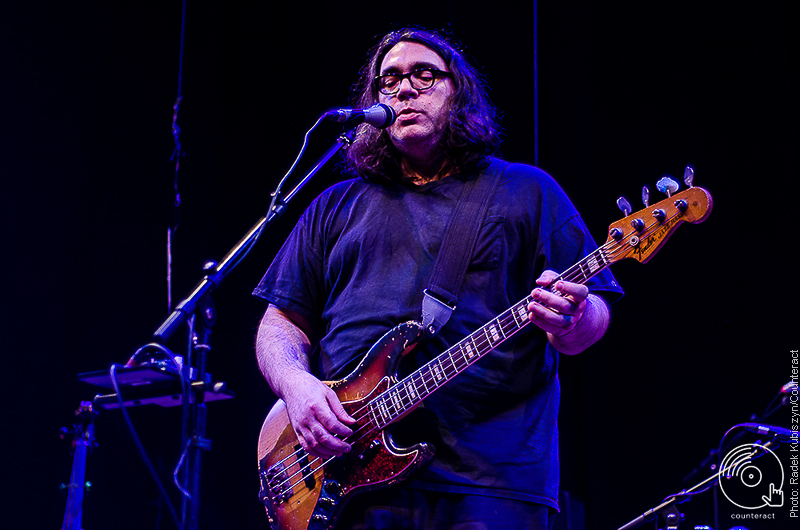 Yo La Tengo
Thankfully the musical accompaniment is, for the most part, anything but retro, and is often so forward thinking in its approach  that it pushes the conventions of traditional song structure to breaking point. 
Set one opens with low, rumbling, locomotive guitar drones and builds slowly. It is part juddering krautrock experiment, part low key Americana. A highlight comes in a delicate rendition of 'Ashes' from recent release There's a Riot Going On which layers interlocking, fragile keyboard lines to create a piece that is stunningly beautiful. After an hour, their first set draws to a close, fracturing under the weight of a deep, multilayered sound built on languorous pedal loops, reversed tape samples and jangling percussion.

Yo La Tengo
After a short break set two slowly ramps up the intensity of sound, escalating from fragile anti-pop keyboard waltzes to the an unmitigated sonic assault of guitar histrionics. Solos swoop and dive bomb, squalling in their ragged glory. Yo La Tengo's cover of Beach Boy's 'Little Honda' from 1997's I Can Hear The Heart Beating As One, is used as a kicking off point to bring the set to a gloriously noisy crescendo. 
They finish the evening's performance by returning to the stage to host an impromptu covers segment, which seems to find the band mentally rummaging for the most appropriate track to play, finalising the arrangements of each song mere seconds before they play it. They cover 'Astral Plane' by The Modern Lovers, 'With a Girl Like You' by The Troggs and 'You Tore Me Down' by Flamin' Groovies. It's just the right kind of spontaneous segment to cap off the tour through Yo La Tengo's past.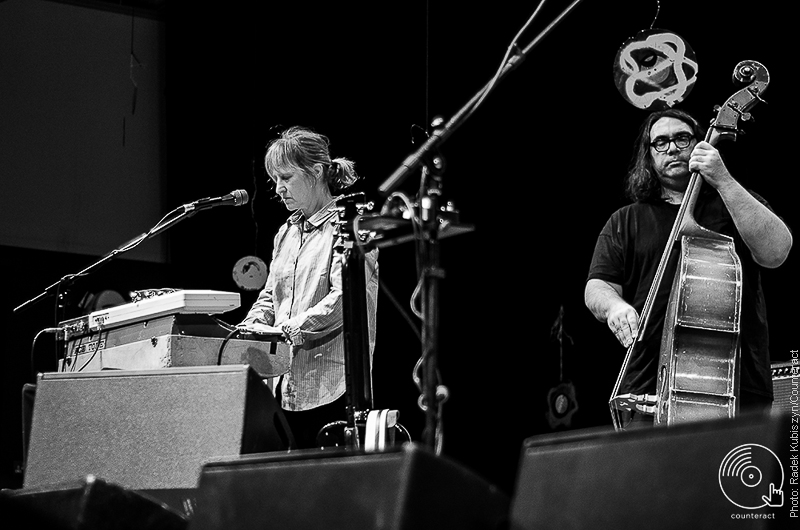 Yo La Tengo
Photographs by Radek Kubiszyn
An avid follower of the Birmingham music scene who enjoys strong black coffee, and staring at pictures of cats on the internet.