Review: The Prodigy tear up Wolverhampton's Civic Hall
The Prodigy played a sold out show at Wolverhampton Civic Hall on Tuesday 19th December
Support came from Special Request
An intense performance included a mixture of new and old tracks
The Civic Hall is a cracking venue but we found the Checkpoint Charlie security a bit disconcerting, according to the police, yes there was an actual police presence with undercover officers inside, this is normal for Wolverhampton. Should we feel reassured or frightened walking past the row of concrete blocks, steel fence and through the airport style scanner? Hats off to the security guys though, friendly and efficient, and once inside there's no problems, but rather presciently part of The Prodigy's stage dressing includes banks of CCTV cameras.
[amazon_link asins='B000A0ULXQ,B01M2A1UJJ,B000006TNS,B001KH68GM,B000026XST' template='ProductCarousel' store='counteract03b-21′ marketplace='UK' link_id='97892a8f-e5cb-11e7-aabc-73cd0d534171′]
Inside, the renown Civic acoustics are already getting a battering as Paul Woolford aka Special Request begins a warm up set. He rips though a barnstorming hardcore session with a definite old school flavour getting a burgeoning crowd into a rave state of mind. Woolford is possessed of a furious energy, he doesn't stop moving for some two hours and his enthusiasm is infectious. Everyone is revved up for the main event.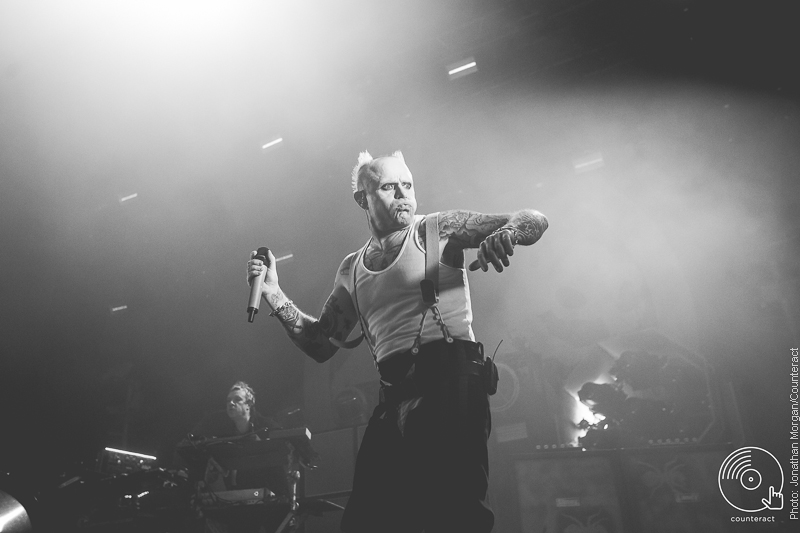 A few strains of Walter Carlos' unsettling score from A Clockwork Orange seep through the PA as The Prodigy take the stage. It's an appropriate intro, there's an intimidating simmering almost violent edge to The Prodigy's sound. A punked up theatre of aggression that informs their music and style, after nearly three decades it's an edge that has sharpened notably. Most recent album The Day is My Enemy is a raging slab of nightmarish ideas and angry noise, we get two versions of the title track tonight.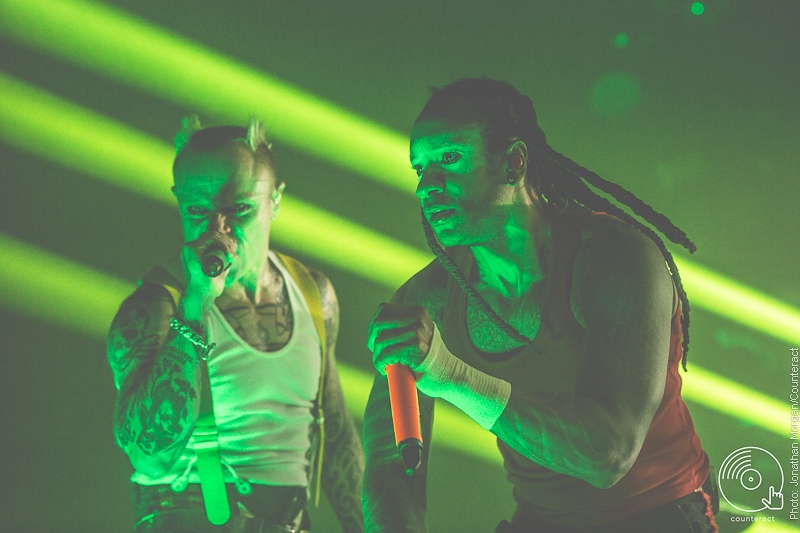 Maxim and Keith prowl the stage unremittingly, fiery human bundles of muscle, sweat and scowls, when Maxim exhorts 'bring the fucking noise Wolverhampton' no one would dare argue. The live onslaught is ratcheted tenfold by Brummie guitarist, Rob Holliday. This is what sets The Prodigy apart from many of their peers, artists hidden behind banks of buttons and equipment can be a stultifying live experience. Yes, Liam does exactly that but around him are the buzzing chainsaw riffs of Holliday and the jackhammer percussion of long time live drummer Leo Crabtree. It's a ferocious mix.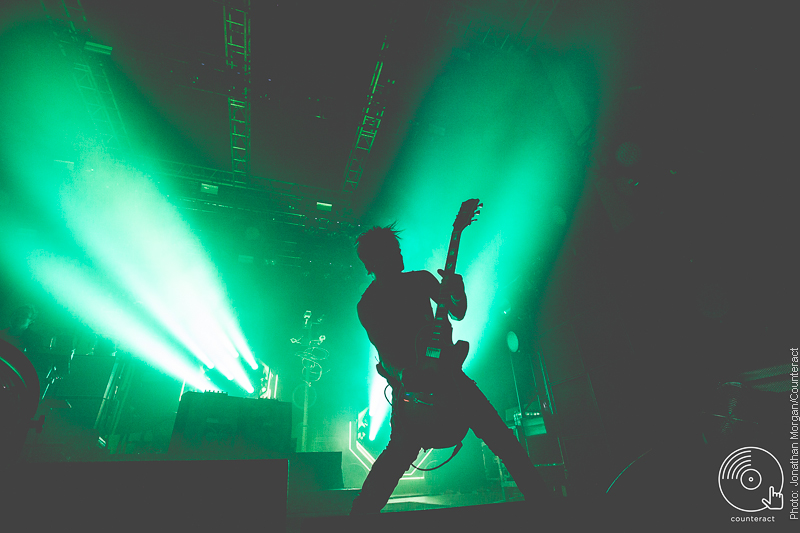 Set highlights include crowd favourite Firestarter, cue a three-thousand voiced Keith singalong and heaving mosh pit, an intense Breathe and opening track Omen, which set the tone for the whole show as a clued up crowd switch into full on punk rave mode and stay there. Front to back a mass of movement and energy. Absolute standout was Smack My Bitch Up, with a tortuously teased out intro from Maxim and Holliday building tension to unbearable levels before the beat dropped in a cacophonic seizure of strobes and bass, this was the moment The Civic's roof came off.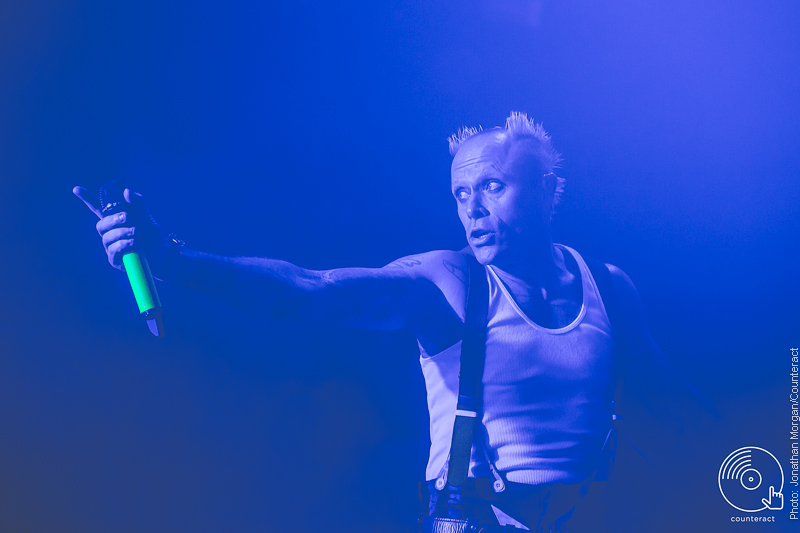 There were a couple of new songs, the industrial breakbeat power of Resonate and the anthemic banger Need Some 1, which bode well for a new album, their seventh, due out in 2018. The Prodigy are a unique live beast, an enduring sinewy mass of homicidal pantomime, miss them at your peril.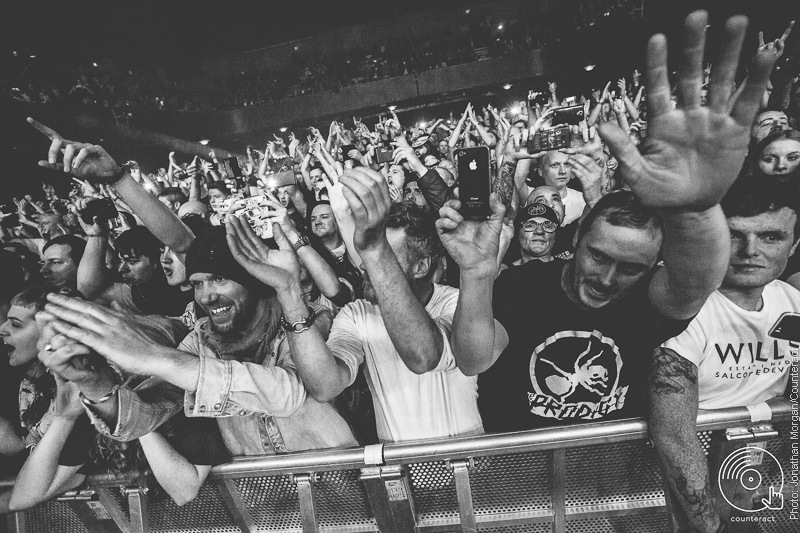 Photographs by Jonathan Morgan
"Reviewer, previewer and writer of just about anything. Can usually be found with my eyeballs plugged into sleazy 70's exploitation cinema or riding an antique bike around Harborne. I have no issue with being bought pints or accepting bribes of any sort."